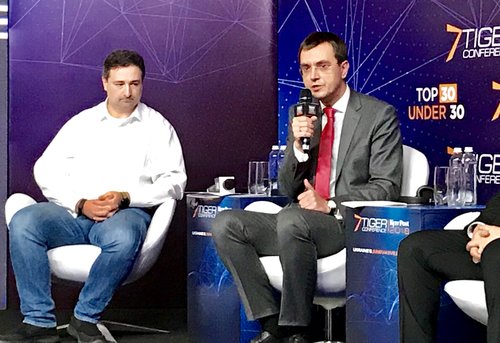 The EU has transferred to Ukraine EUR 500 million, the first half of EUR 1 billion in financial aid approved last summer. Valdis Dombrovskis, the Latvian politician who is the European Commission's vice president for Financial Stability, tweeted Tuesday: "Today the EU allocates 500 million euros of macro-financial assistance to Ukraine. The EU continues its active work in Ukraine and supports its people." Next Tuesday, the IMF Board is to meet in Washington to review a $3.9 billion, 14-month standby program for Ukraine.
The sale of Centrenergo, the only major state company scheduled for privatization this year, has been canceled, Vitaly Trubarov, head of the State Property Fund, announced Tuesday afternoon. There was no alternative date set for the sale, which was to take place Thursday morning. The sale was canceled due to 'insufficient documentation' by the two qualified bidders: a unit of Interservice of Belarus, and Ukrdoninvest LLC, controlled by Vitaly Kropachev, Ukraine's biggest private non-integrated miner of steam coal. The starting price for the 78% of state-owned shares was set at $214 million by Ernst & Young, privatization advisors.
Although the government plans on $600 million in revenue from large privatizations in 2019, analysts say it will be hard in a year with two elections to privatize large, socially sensitive state companies like Centrenergo. One of Ukraine's leading electricity producers, Centrenergo supplies electricity to Kyiv, Kharkiv and Donetsk regions. Fired by coal or natural gas, Centrenergo's three thermal power plants – Vuhlehirska, Zmiivska and Trypilska – have a design capacity of 7,665 MW – 14% of Ukraine's generating capacity.
Privatization of 'small' state properties – under $9 million – are to continue. Since August, sales through ProZorro.Sales, the electronic auction platform, have brought the state about $15 million. Stepan Kubiv, said last week at a government meeting: "Of the 3,444 enterprises that operate in Ukraine, no more than 500 generate profit." Last summer, the government listed 23 large state companies for privatization.
The goal of Russia's "de facto blockade of Berdyansk and Mariupol" is to "economically suffocate Azov and eastern Ukraine," says Michael Carpenter, senior director of the Biden Center for Diplomacy and Global Engagement. To restore freedom of shipping, he told the Kyiv Post's annual Tiger Conference, the US and the EU should apply blanket sanctions on Russian banks, suspend Nord Stream 2 pipeline until "Russian troops leave Ukraine," create a standing NATO maritime force in the Black Sea, and provide Ukraine's armed forces with real-time aerial intelligence and "land-based ship-killing missiles."
Ten bills before the US Congress target Russia's energy sector, Francis R. Fannon
Assistant US Secretary of State for Energy, told reporters Monday. Fresh from a visit to Croatia, Hungary, and Czech, he said that after "the Sea of Azov hostilities…we anticipate that Congress' resolve on this issue — going after the Russian energy exports sector –will only increase." He stressed the Trump Administration's opposition to Nord Stream 2, saying: "With respect to the notion of trusting Putin to maintain gas transit to Ukraine, we don't see that as real at all."
Martial law is dampening an already quiet investment period leading up to the March 31 presidential election, according to foreign business participants — all long time Kyiv residents — interviewed at Tuesday's Tiger conference. An American private equity investor said: "We are putting all investments on hold until April." An American investment banker complained: "Our roadshow is canceled."
"For people who are outside, they definitely are not coming [to Ukraine]," Ivan Svitek, a Czech who is general manager of Alfa Bank Ukraine, told a Tiger panel. "Roadshows are not taking place. I can't imagine people going to London to raise money. [Martial law]  raises the uncertainty: if they [Ukraine's leaders] do it once, why would they not do it again?"
Orders for electric trucks from the Bohdan Motors factory "are exceeding the capacity of the company 3 to 4 times," said Infrastructure Minister Volodymyr Omelyan, who last month visited the factory in Lutsk, Volyn. Noting soaring demand in Europe, he told the Tiger conference: "We can produce lithium batteries in Ukraine. We can produce electric vehicles in Ukraine."
On Tuesday, German's automotive company Daimler AG announced plans to order EUR 20 billion worth of car batteries by 2030. By 2022, the company plans to make electric versions of all 122 models of its passenger cars. Ukraine has Europe's largest known deposits of lithium. The Rada is considering legislation that would promote electric battery and vehicle production in Ukraine.
Uzbekistan, the largest importer of Ukrainian sugar, has resumed imports of sugar and drugs from Ukraine, reports Ruslana Butyl, head analyst for Ukrtsukor, the National Association of Sugar Producers. Uzbekistan accounts for 47% of sugar purchases from Ukraine, followed by Azerbaijan with 14.5%, and Libya with 7.4%. Last month, Uzbekistan halted imports of Ukrainian sugar and pharmaceutical drugs, in response to Kyiv's investigation of alleged subsidies by Uzbekistan in the manufacture of small cars — the Chevrolet and Ravon. Last week, Ukraine's Interdepartmental Commission on International Trade dropped the investigation.
The Viking shuttle container train connecting the Baltic Sea to the Black Sea is carrying 40% more containers this year, matching a similar increase last year, Paulius Grubinskas, representative of Lithuanian Railways, said last week in Kyiv, at the fourth Ukrainian-Lithuanian Economic Forum. This increasingly popular freight train takes two days to run its 1,734 km sea-to-sea route – Klaipėda-Vilnius-Minsk-Kyiv-Chornomorsk.
By tracking millions of movements of Ukrainian SIM card owners, aviation consultants built the case last year for Ryanair and Wizz Air to enter the Ukrainian market and to expand across the country in 2019, Yevgen Treskunov, founding partner of Aviaplan aviation consulting, told the Tiger conference. Rejecting arguments that discount airlines will not fill their Ukraine flights, he predicted these 'invisible movements' will shift from land – car, bus or train – to air, if airlines meet their goals of offering EUR 40-50 tickets. Such low prices are possible with Boeing 737s and Airbus 320s and by serving regional airports where there is pent-up demand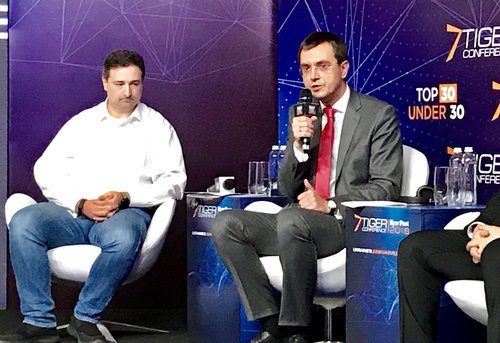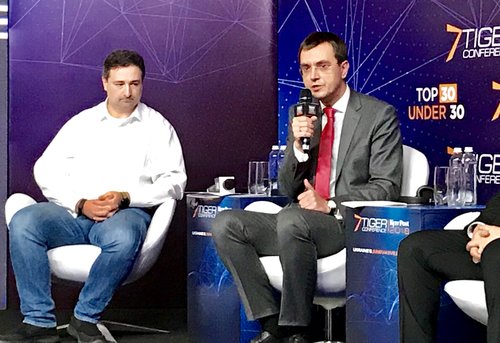 Rejecting the argument that foreigners do not want to visit Ukraine, Minister Omelyan said that a new Infrastructure Ministry survey of "the more than 10 new airlines" serving Ukraine indicates that half of the seats are occupied by foreigners. He told the Tiger conference: "They are discovering Ukraine. They are making business here."