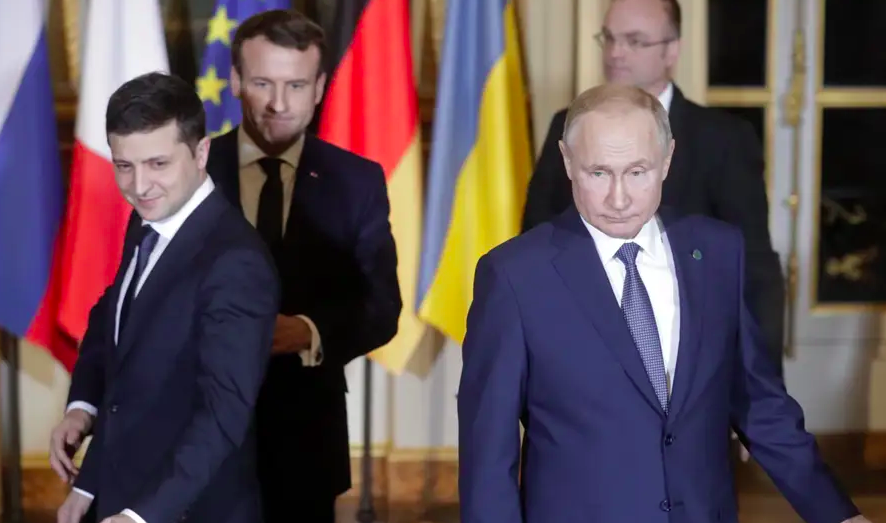 Steps toward a détente in the Donbas were agreed in Paris Monday night by Presidents Putin and Zelenskiy. Within one month, a ceasefire is to be imposed, new civilian crossing points are to be opened, an 'all for all' prisoner swap is to talk place, and soldiers are to pull back at three sections on the 500 km line of control. If the killing stops, it is conceivable that the presidents could announce at their next meeting, in April, a resumption in Donbas trade. This would help Mariupol, the only port for Donetsk region, and DTEK, which is cut off from several of its coal mines.
Leonid Bershidsky argues on Bloomberg that the most realistic short term future for the secessionist-controlled half of the Donbas is a Transnistria east. Referring to the leaders of Germany, France, Russia and Ukraine, he writes: "If they go for it, Europe will get another deep-frozen conflict like the one in Moldova, where a pro-Russian enclave, Transnistria, is tolerated and largely integrated into the broader economy. There's no fighting and no deaths, and life in Transnistria is no humanitarian disaster."
"It's Time for Ukraine to Let the Donbass Go" headlines an essay by Ukrainian-American political scientist Alexander J. Motyl in Foreign Policy. Estimating that the GDP of the secessionist area has contracted by 75% since 2014, with the loss of 1.5 million residents, Motyl says it is unlikely that the US, EU, or Russia will contribute much to the $20 billion needed to rebuild. Imbued with a statist world view, Donbas voters would retard or reverse the free market, pro-Western changes going on in the country, Motyl argues. Urging 'slow walking the talks,' he writes: "Perhaps the time will be right in a decade or two, when Ukraine has the economic, political, social, and military wherewithal to cope with reconstruction and reintegration of this scale."
Summarizing a one hour, one-on-one night meeting with Putin, Zelenskiy told reporters Tuesday  morning "it seems to me we have unlocked this issue" of a gas transit contract. With Gazprom's 10-year transit contract with Naftogaz due to expire in three weeks, Zelenskiy added: "At the level of advisers the possibility, format, volume, price and other details of the gas transit agreement will be discussed." On settlement of Gazprom's $3 billion debt to Naftogaz, Zelenskiy said: "Our position is simple – we are ready to take gas."
Strengthening Ukraine's hand at the bargaining table, the nation has 20 billion cubic meters of gas in storage, 30% more than at this time last year. In addition, the US Congress made moves Monday to impose sanctions on Western companies building Nord Stream 2, the Russia-Germany trans-Baltic gas line.
For Russia, Putin offered to sell gas directly to Ukraine at a 25% discount, "especially for the industrial consumers." Separately, Ukraine's Naftogaz announced Tuesday that low regional gas prices allow it to cut gas prices this month to consumers by 13%. This follows an 11% cut in November. Under an earlier agreement with the IMF, all domestic gas prices in Ukraine are to be pegged to regional gas prices, starting May 1. Today, EU gas prices are about half the levels of one year ago.
"Moscow is being forced to changes its energy strategy," headlines a story written before the talks by Nick  Butler, Energy Commentator for the Financial Times. Noting that Russia agreed last week to follow OPEC's oil production cuts, he writes: "Russia is a prime example of the shift of power in the energy market from producers to buyers." After shrinking in the last decade by 10%, Europe's gas market is expected to continue to shrink as utilities move to renewables. Butler writes: "In common with all the other Petro economies, Russia is trapped by circumstances beyond its control and highly exposed to any further downward shift in global energy prices."
Gazprom no longer makes enough money exporting gas to subsidize domestic Russian prices, Viktor Yatsenko, deputy head of the state monopoly company's pricing department, told the Russian Gas forum last week in Moscow. Referring to the drop in European prices, he said: "The pillow is gone."
With Ukraine's central bank expected to cut the prime rate by one percentage point or more tomorrow, strong bond buyer demand allowed the Finance Ministry to make that rate cut yesterday. At the weekly hryvnia treasury bond auction Tuesday, the Ministry shaved about one percentage point off 3- and 4-year bonds, the bonds most popular among foreign investors.
With the 4-year bonds almost four times oversubscribed, the Ministry cut the average yield to 11.67%. Two weeks ago, comparable 45-month securities sold for 12.64%. Similarly, demand for three-year bonds was double supply yesterday. The cut-off yield was 12.05%, compared to 13.12% four weeks ago. In contrast, demand for 5- and 10-month bonds was weak.
Last week, the Finance Ministry broke the 4% yield barrier, selling some two-year dollar bonds for rates as low as 3.49%. The average weighted yield was 4.08% per annum.
Foreign investors own 13% of Ukraine's domestic government bonds – not a level to threaten the financial system, Finance Minister Oksana Markarova said Friday during question time at the Rada. She said: "Considering that the debt is mainly concentrated in long-term securities – for three, four and five years, it does not pose a threat to the internal financial system of Ukraine and is a very modest share compared to any country." Comparable rates are: Czech Republic — 42%; Romania — 20%; Hungary – 19%; and Turkey – 12%.
The government plans to gradually cut Ukraine's debt-to-GDP region from 50% to 40% in 2024, the last year of the Zelenskiy government, Markarova said. In 2015, this ratio was 80%.
Exports to China helped to drive cargo to a record 50 million tons at Pivdennii Port. Founded 41 years ago as Yuzhne, this Odesa region port is Ukraine's deepest and busiest port. Of the cargo, exports account for 73% of the tonnage and China is the top export destination, reports The Center for Transportation Strategies.
From the Editor:  Since Saturday, Ukraine's investment picture has brightened like a Christmas star. First the preliminary IMF agreement. Then the Russia-Ukraine progress on gas transit and, equally important, an agreement to step down the war. In the coming days, images of returned prisoners and frontline pullbacks will replace those of death and destruction. The Associated Press has a photographer, not a writer based in Ukraine. Gloomy photos sell – and they shape a nation's image. Best Regards, Jim Brooke jbrooke@ubn.news.