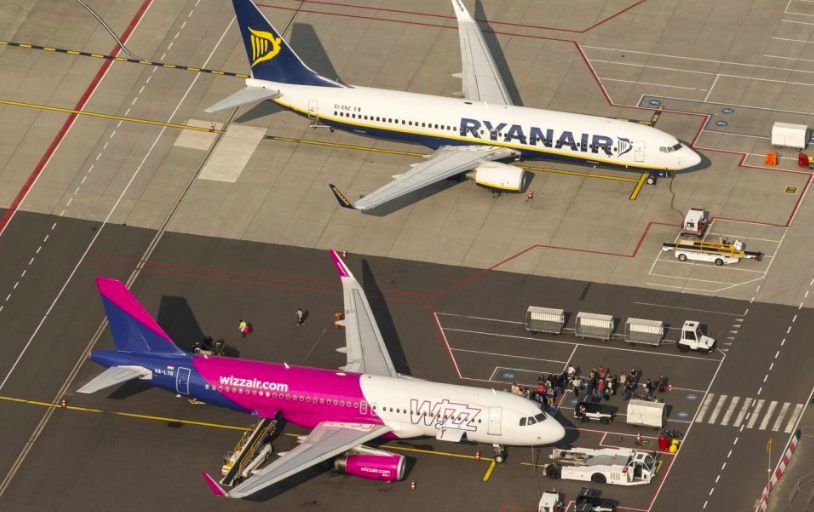 Wednesday, August 7
Wizz Air, Ryanair Jostle for Odesa's Air Market...New Discount Airlines Plan to Carry 7 Million Passengers on Ukraine Routes This Year...SkyUp Revives Domestic Flights Lost with USSR...SkyUp Bets on Zaporizhia as Future Airport for SE Ukraine
Without waiting for Odesa airport's long overdue runway, Europe's two largest discount airlines are elbowing each other to start flights to the "Pearl of the Black Sea." In dueling announcements Tuesday, Wizz Air said it will start flying from Odesa on the weekend of Nov. 1-3, with flights from Odesa to six EU cities: Berlin-Schönefeld, Bratislava, Budapest, Gdansk, Katowice, and Wroclaw.
Ryanair came back with its new Odesa flights, all starting Oct 28-30. They go to Berlin-Tegel, Gdansk, Katowice, Poznan, and Wroclaw. In June, Ryanair had launched it service from Odesa, with a flight to Krakow. Flights to Poland are popular among migrant workers impatient with the city's economic stagnation due to corruption and incompetence.
Odesa airport officials are negotiating with Kyiv this summer for another 1.1 billion hryvnia, or $45 million, to complete construction of the new runway. Contracted in 2013 at $63 million, no work was done until 2017 for lack of money. Construction started in 2017, but stopped a few months ago with the 2,800-meter long runway half built. The State Enterprise Directorate for Construction of the International Airport Odesa says it ran out of money. Also, an audit found that the new concrete may not be hard enough to handle long haul jets, reports the Center for Transportation Technologies.
Despite these setbacks, there were celebrations at Odesa airport last week as the brand new departures terminal opened — for domestic flights. International flights will start using the departures this fall, presumably in time for the Wizz Air and Ryanair flights. Construction started on the Spanish-designed terminal seven years ago. Oddly, the arrivals terminal opened first, two years ago. Happy to foresee the day when arrivals and departures will be reunited once again, Pavel Prusak, the Odesa airport director, said: "The new terminal will allow us to serve our passengers in comfortable modern conditions."
In the dueling media announcements, Wizz Air and Ryanair released their latest Ukraine numbers Tuesday, with each vying to be seens the largest European carrier serving Ukraine.
Wizz Air said it is increasing its Ukraine routes by half to 53 EU destination. Flying from Kyiv Sikorsky, Lviv and Kharkiv, Wizz Air carried 1.3 million passengers on its Ukraine routes this year through July. Paulina Gosk, a Wizz Air spokesman, predicted to reporters in Odesa that by the end of this year the carrier will carry twice as man — 2.6 million.
Ryanair says that by October, it will be flying out of the same four Ukrainian cities to 40 EU destinations. With load factors averaging 96%, Ryanair expects to carry 1.4 million passengers on its 113 Ukraine weekly flights this year. In November, Ryanair's subsidiary, Laudamotion, adds Stuttgart from Kyiv Boryspil. Ryanair started flying from Ukraine one year ago, with a flight from Kyiv Boryspil to Berlin-Schönefeld.
Ukraine's discount air champion is the start up, SkyUp, which plans to carry 2.8 million passengers this year. Through June, SkyUp carried 668,500 passengers – 27% on scheduled flights, the rest on charter flights. The most popular destinations for regular flights were: Barcelona, Tbilisi, Batumi, Alicante, and Larnaca. The most popular charters were to Sharm el-Sheikh, Hurghada, Marsa Alam (Egypt), Antalya, and Monastir (Tunisia
Reviving Ukraine's 10 biggest regional airports outside of Kyiv is part of SkyUp's strategy. "I am proud SkyUp gives life to regional airports," Oleksandr Alba, co-owner of the 14-month old airline, tells UBN. "SkyUp will fly from each and every airport. It's our commitment to give life to the regions." Although Ukraine is larger than France, domestic aviation is repressed by the 20% VAT tax levied on all internal sales, he says.
In October, SkyUp launches $20 flights from Kyiv Boryspil to Kharkiv, Lviv, and Zaporizhia. "After one hour on board the plane, you will be able to have lunch with partners in Kharkiv or enjoy time with friends from Lviv – at the price of a train ticket," SkyUp CEO Yevgeny Khainatsky tells Avianews. Also in October, SkyUp will launch flights between Lviv and Kharkiv, connecting Ukraine's second and third largest cities for the first time since Soviet days. Earlier this summer, SkyUp restored another historic route – Kharkiv-Odesa.
Turning to Lviv, SkyUp plans in October to base a Boeing in Western Ukraine's dominant airport and to start flights to Dubai, Prague, and Poprad, a Slovakian ski resort town near the Tatra mountains. Separately, Wizz Air starts flights from Lviv to Larnaca, Cyprus. With these flights, Lviv will have 16 airlines flying to a total of 38 destinations, largely in the EU. Ukraine's fastest-growing regional airport, Lviv saw its passenger flow hit 1.2 million through July, 41% more than during the same period last year. In 2018, traffic was up 48% y-o-y.
From regional airports, SkyUp plans these international flights this fall: Uzhgorod-Sharm El Sheikh, Chernivtsi-Sharm El Sheikh and Antalya, and from Lviv and Kyiv to Poprad. Next year could bring: Kyiv-Mykolaiv, Cherkasy-Antalya and basing a jet in Zaporizhia. This summer, SkyUp flies charters from Kherson, Mykolaiv and Poltava to Antalya and Sharm El Sheikh. Two weeks ago, SkyUp got an unexpected boost when Russian authorities started hourly daytime bus service between Simferopol and the line of control at Kherson. About one third of SkyUp's passengers for its Kherson flights to Egypt and Turkey come from Crimea.
SkyUp is betting on Zaporizhia airport as the future dominant airport of Ukraine's southeast. Bolstering Zaporizhia in the short term, Dnipro airport, 100 km to the north, is to be closed 2020-2021 to rebuild the runway and terminal. Longer term, a thaw in relations with Russia-controlled Donetsk would bring passengers to Zaporizhia, a 3-hour drive in peacetime.
On Sept 2, Zaporizhia airport closes to all flights for the resurfacing of its cement runway and asphalt aprons. In contrast to Odesa, this work is to be completed in six weeks for $12 million. This is part of a $45 airport renovation that includes a new steel and glass terminal capable of handling 1 million passengers a year. Through July, traffic was up 27% to 280,000 passengers. Two weeks ago, President Zelenskiy toured the airport, and authorities assured him that the terminal will open on schedule, in December.
From the Editor: Ukraine Business News is now in English, Ukrainian, Russian and German. Check out our website – www.ubn.news. Share with friends and colleagues who want to follow Ukraine, Europe's next Emerging Market. Best regards Jim Brooke – jbrooke@ubn.news