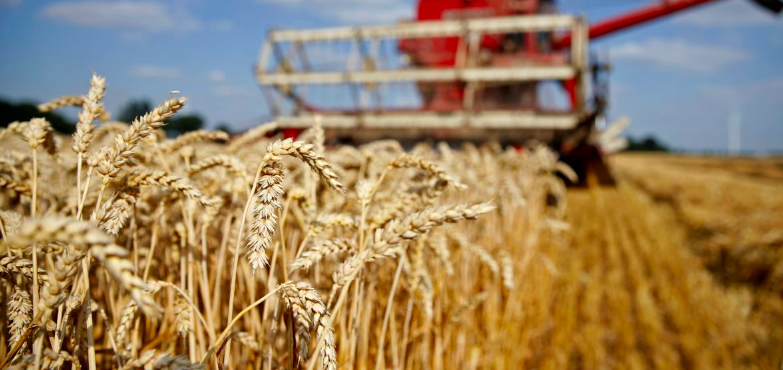 Wednesday, August 5
Forecast: 100 Million Ton Harvest...King Corn to Expand 10.5%... DCH to Work With Chinese at Motor Sich... FBI Raid Kolomoisky Offices in US...SkyUp Loses $30 Million, UIA Cuts Flights to Europe, Turkish Offers Flights to 9 US Cities...Speed Traps Set for Summer Drivers...
Ukraine is on track to reach this year the symbolic target of a 100 million ton harvest of grain and oilseeds, predicts the Ukrainian Grain Association. This would be 2% higher than last year's overall harvest. Whilst drought is pushing the nation's wheat harvest down 5% yoy, to 26.8 million tons, corn, Ukraine's largest crop, is expected to grow by 10.5.% to 38.9 million tons.
Ukraine harvested 27 million tons of grain from 48% of its sown area as of July 30, reports Successful Farming, an Iowa-based news site. This volume included 18.3 million tons of wheat, harvested from 72% of the area sown, and 6.9 million tons of barley, from 82% of the area sown, reports Ukraine's Ministry of Economic Development, Trade and Agriculture.
Kernel has doubled its grain exports in two years, becoming Ukraine's largest grain exporter. In the recently completed marketing year, Kernel exported 8 million tons, or 13.3% of Ukraine's total grain exports. "Two years! This is exactly how much time it took to double our exports," the company reports. Kernel now has 2.7 million tons of storage capacity, second only to the State Food and Grain Corporation.
With domestic consumption flat, exports are to increase by 5% this year, to 61 million tons. Increasingly seen as a world food power, Ukraine was second only to the US last year in grain exports. Ukraine $9.6 billion, Argentina exported $9.3 billion, and Russia exported $7.9 billion.
In "Feed and Rule," an essay on ZN site, Foreign Minister Kuleba says Ukraine's new status of a food power allows it to gain "authority and influence on the world stage." Noting that the coronavirus pandemic has disrupted food marketing networks and incomes, he writes: "The issue of food security has every chance to become more relevant than the issue of energy prices." In the arena of food politics, he writes: "In June, Ukraine's trade representative was elected Deputy Chairman of the International Grains Council. We are preparing for the presidency next year."
In China, a move by a local unit of Sinograin to ban smartphones and cameras from its granaries has provoked national worries about levels of reserves. A cellphone video that showed moldy and dirty grain at a granary went viral in recent days, reports the South China Morning Post. "China corn video stokes food security fears amid coronavirus pandemic, flooding and drought," headlines the story. In recent years, Ukraine was the largest supplier of corn to China. But to redress its trade balance with the US, China recently bought 3.9 million tons of corn from the US, the US Department of Agriculture reported Thursday.
DCH, one of the largest investment groups in Eastern Ukraine, has reached a deal to develop airplane engine maker Motor Sich with Chinese investors Skyrizon Aircraft Holdings Limited. Last year, the US sought to block a Skyrizon takeover the company, which makes advanced engines for fighter jets. Erik Prince, a US private security contractor and informal adviser to President Trump visited the Zaporizhia plant several times over the last year. "Both parties will conduct comprehensive cooperation by carrying out activities to improve the Ukrainian aircraft industry jointly and, in particular, PJSC Motor Sich in Zaporizhia," DCH said of the partnership with China, without specifying investment amounts or targets. DCH built the new air terminal for Kharkiv. Now it is building a new airport for Dnipro, about 90 miles north of Zaporizhia.
The FBI raided offices yesterday of U.S. companies belonging to Ukrainian oligarchs Ihor Kolomoisky and Hennadiy Boholyubov in Cleveland and Miami, reports RFE/RL and Cleveland.com. "I can confirm that we are at both locations," FBI Special Agent Vicki Anderson-Gregg told RFE/RL from Cleveland. Last month, Privatbank filed a lawsuit in a Delaware court charging that the duo, former owners of the bank, laundered $760 million in the US, largely buying commercial real estate and steel companies. Through this weekend, RFE/RL plans to post two major stories on Kolomoisky's US investments.
No surprises at yesterday's weekly auction of hryvnia domestic government bonds. The auction raised the equivalent of $370 million, slightly less than last week, the Finance Ministry reported on Facebook. Yields were unchanged: 6 months – 7.74%; 1 year – 9.2%; and 2 years – 10.25%.
SkyUp, Ukraine's discount airline, lost more than $30 million in the first half of this year, the airline tells Interfax-Ukraine. During the first half of this year, SkyUp's passenger count fell 15% yoy, to 568,900 passengers. It also laid off 10% of its staff. The airline reports flights on his domestic routes average 62% full. Charging $18-28 for a one-way ticket, SkyUp serves Kyiv, Kharkiv, Kherson, Lviv, Odesa, and Zaporizhia. Its international flights — to Tirana, Albania and to Burgas, Bulgaria — are 100% full.
With the EU largely closed to Ukrainians, UIA has cancelled its flights to 10 cities for the rest of August: Athens, Barcelona, Baku, Berlin, Chisinau, Frankfurt, Larnaca, Prague, Rome and Vienna. Ukraine's flag carrier is also cutting frequencies from Kyiv Boryspil to these EU cities: Amsterdam, London, Milan Naples, Nice, and Paris.
Turkish Airlines resumed its pre-lockdown network of flights from Istanbul to Ukraine, with direct flights from the new Istanbul Airport to Kyiv, Kharkiv, Kherson, Lviv, Odesa and Zaporizhia.  For Americans and Ukrainians holding US visas, Turkish offers convenient service, with transfers for flights to Atlanta, Boston, Chicago, Houston, Los Angeles, Miami, New York, San Francisco, and Washington. For passengers flying to Ukraine, transfer times often allow for taking a Coronavirus test, needed for dispensing with two weeks of quarantine after arriving in Ukraine.
In the latest effort to rebuild the East, the European Investment Bank is planning to lend €100 million to Ukravtodor to finance almost two thirds of a road building project in government-controlled Luhansk. Separately, the state highway agency is rebuilding 343 km of roads this year in government-controlled Luhansk.
August drivers will encounter almost 400 speed cameras across Ukraine. In addition to 116 speed guns held by police, more than 250 stationary cameras are being activated, reports TSN.ua.  During the week of July 20-26, cameras clocked 187 cars traveling at more than 170 kph (105 mph). The most egregious case was the driver of a Mercedes-Benz C63 AMG who was clocked going 227 kph (141 mph) on the Kyiv-Kharkiv highway. During the week of July 23-29, police stopped 10,000 speeders and 2,037 drunk drivers, reports the National Police.
Flaunting the $8 speeding fine, one driver broke the speed limit 60 times in 50 days, says Volodomyr Karavaev, chairman of the National Road Safety Forum. As a result, Rada deputies are discussing a bill that would suspend the driver licenses of repeat offenders. For excessive cases, the law would require mental exams.
From the Editor: Eagle-eyed UBN reader Kateryina Gulidova spotted a crucial typo in my item yesterday on polls of Ukrainians working in Poland. The sentence should read: "In the new national survey, 24% of Ukrainian workers said they would like to stay in Poland permanently, 14% for three years or more, and 23% for one year or less." Coincidentally, a reader friend in Melbourne starts this week proofreading the English UBN email for mistakes, misspellings, dropped words, etc. At 2 am Kyiv time – 9 am Melbourne time – she will pick up the UBN baton, then turn it around in time for Andrew Pryma to lay out the email and to send it out at 6 am Kyiv time. Thanks to everyone for their help and support! With Best Regards Jim Brooke