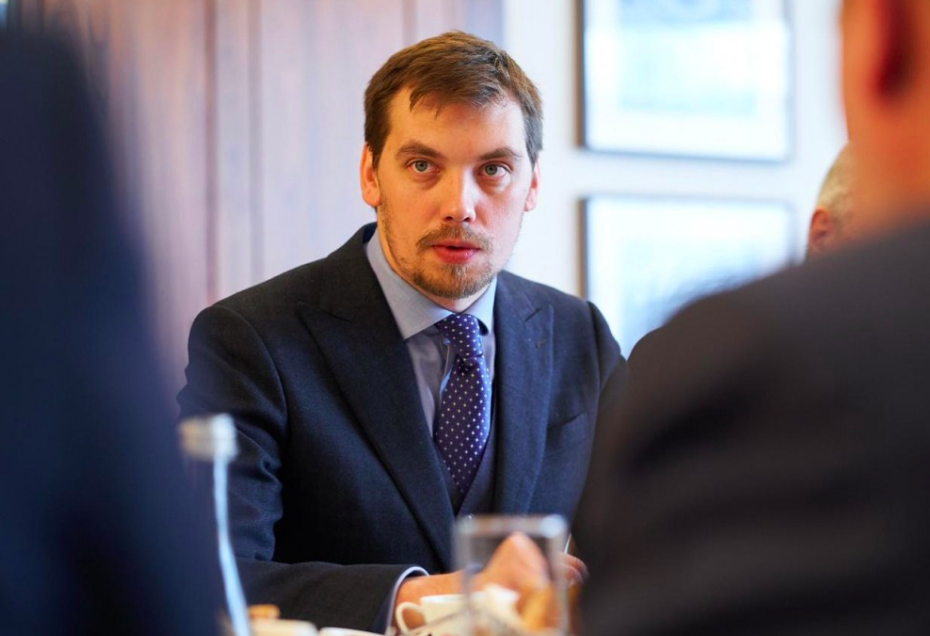 President Zelenskiy will nominate Oleksiy Honcharuk, the deputy chief of his staff, as prime
minister tomorrow reports online media Ukrainska Pravda. A 35-year-old lawyer, Honcharuk is part of the generational change embodied by the Zelenskiy who is 41– the average age of the new Rada. Elected on July 21, the new parliament convenes tomorrow and elects a new Prime Minister. The new Cabinet is to be known within one week. Honcharuk's lead position was clear Friday when he sat next to Zelenskiy for a meeting with David Malpass, visiting World Bank President.
Malpass calls for establishing a farmland market and breaking a monopoly where "one oligarch controls a group of companies which produces over 80 percent of the domestic output for several varieties of mineral fertilizer." Malpass, a former Treasury official for three Republican presidents, writes in the Financial Times: "Establishing an efficient market for agricultural land will encourage improvements, including more investment in mechanization and irrigation, a shift to higher value-added products, and better access to finance for smaller farms."
The World Bank will loan $200 million to help Ukraine to use 21st-century technology to create a fair and transparent farmland market. The loan will pay for satellite mapping of Ukraine, creation of a publicly accessible State Agrarian Register, and creation of a publicly registered inventory of state-owned farmland, about one-third of Ukraine's 32 million hectares. The loan will also pay for an automated trigger system to alert landowners to changes in their properties on the Zemkadastr, or Land Cadaster. Designed to promote private investment in farming, the loan agreement was signed Tuesday by Finance Minister Oksana Markarova and World Bank regional director Satu Kahkonen. The World Bank estimates that the creation of a private land market will generate up to $1 billion in additional annual economic activity.
The World Bank's International Finance Corporation may provide Ukraine with a $40 million loan for energy efficiency and renewable energy projects, reports Energoreform. The loan would be administered by OTP Leasing Ukraine LLC. Last December, IFC launched a four-year Green Finance program to attract investment in energy efficiency and renewable energy in Ukraine. A legacy of the cheap gas era of the Soviet Union, Ukraine still has one of Europe's most energy inefficient economies.
At the request of President Zelenskiy's office, Ukravtodor is drawing up a five year, $20 billion, 24,000 km road building and repair program, reports Slawomir Nowak, acting head of the state highway agency. Nowak, a Pole, said he hopes to attract EU and World Bank funding for much of the program. Ukraine has about 165,000 km of paved roads, many unrepaired since the 1970s.
A concession law allowing for privately constructed toll highways should be approved by the Rada next month, Vladislav Krikliy, the leading candidate to head the new parliament's Transportation Committee, tells the Center for Transportation Strategies. He also said "all port zones and key transport arteries" should have concrete roads.
In October, the five main highways leading to Kyiv will have "Weight-in-Motion" systems for detecting overweight trucks. Building on this €7 million, World Bank-funded pilot project, Ukravtodor wants to install 100 more of the sensor systems, with a priority to protecting newly rebuilt roads. Using Canadian technology, Weight in Motion sensors calculate speed, total mass of a vehicle, and weight on axles. A camera records license plates for identifying owners and for mailing fines. Violations are also sent to transit police who are to escort trucks to unloading areas.
Borrowing another technology popular in Europe, Ukravtodor plans to introduce an electronic system of collecting tolls from trucks and buses traveling on Ukrainian highways. The tolls would go to the Road Fund. Enabling legislation is expected to be passed this fall by the Rada, Nowak tells Interfax-Ukraine.
With farmers moving bumper wheat and barley harvests to the Black Sea ports, July truck freight was up 25% y-o-y. The June-July grain harvest was 33.5 million tons – 33% higher than the same period last year.
Wages sent home by Ukraine's 5 million workers abroad accounted for 11% of the nation' $125 billion GDP last year, reports the Financial Times, drawing on World Bank statistics. The record $14.4 billion sent home in 2018 is double the level of five years ago. The flow of money – partly through wire transfers, partly through friends, fuels a construction boom. Standing in a street in Mykolaiv, a Lviv region town 100 km east of the Polish border, a local woman rattles off to the FT the nations where the homeowners work– Italy, France, Czech, Poland.
Trading places: since 2015, remittances from Russia have almost dropped in half, while remittances from Polance have tripled, according to a graph by RFE/RL, based on National Bank of Ukraine data. Rivaling Russia for second place, remittances from the Czech Republic have increased 5-fold since 2015, to almost $250 million in the first quarter of 2019.
The Czech Republic has doubled its quota for Ukrainian workers, to 40,000, reports České Noviny, citing the Czech Cabinet of Ministers. Once restricting work permits to Ukrainian farm workers, the Czech government now also looks for trained personnel, including scientists.
Construction was a pillar of Ukraine's surprise second quarter 4.6% growth, new number indicates. While retail grew 10% and agriculture grew 12%, construction was up 22% through July, compared to the first seven months of last year. The performance was uneven across the country, ranging from a 12% drop in Ivano-Frankivsk to a 117% growth in Vinnytsia. In Kyiv, home to almost one-quarter of national volume, construction was up 23%. Fueled by consumer and business confidence, commercial real estate construction surged 35%.
 Ukraine's export of services – often an indicator of IT outsourcing – grew 8% during the first half of this year, compared to the same period last year, reports the State Statistics Service. The exports hit $5.9 billion, making for a half-year surplus of $2.9 billion.
Investors bought $71 million worth of hryvnia T-bills at Tuesday's auction, two thirds more than the previous week, reports the Finance Ministry. In keeping with the Ministry's strategy of pushing investors toward longer-term bonds, 77% of bonds sold were five-year notes. The weight-average yield was 15.30%. As of last week, short term borrowing accounted for 61% of outstanding bonds, down from 97% at the start of the year, reports ICU.
From the Editor: With the new Rada assembling tomorrow, we now put away our August tea cups and brace for Zelenskiy's first 100 days. Unlike FDR's First 100 Days — a big government, big spending exercise – Ukraine seems poised to embark on an Eastern European libertarian adventure. If the Ze project goes well, enormous business opportunities will open up – farm land investments, toll highways, and big privatizations. Best regards Jim Brooke – jbrooke@ubn.news