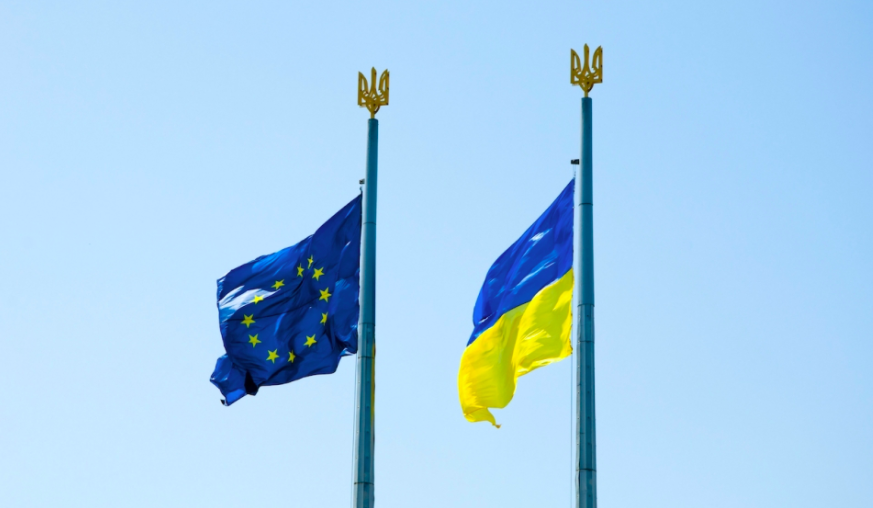 The Rada ratifies a memorandum of understanding between Ukraine and the EU for €1.2 billion of pandemic-related financial assistance, according to the results of yesterday's extraordinary session. The agreement is to be the largest tranche of EU funds directly disbursed to Ukraine, according to Prime Minister Shmygal.
The money is conditioned on the government's pledge to ensure competitive selections for key positions, including the heads of Ukraine's tax and customs agencies. Other conditions include dissolving the existing State Fiscal Service and creating a new agency to investigate economic and financial crimes.
The exact terms of the pandemic-relief loan have not yet been revealed, but previous EU liquidity programs were offered at 2% annual interest or lower to European Neighborhood Policy countries.
Back in May, the European Parliament and Council decided to extend macro-financial credit assistance to European Neighborhood Policy countries. The ENP countries are Algeria, Armenia, Azerbaijan, Belarus, Egypt, Georgia, Israel, Jordan, Lebanon, Libya, Moldova, Morocco, Occupied Palestinian Territory, Syria, Tunisia and Ukraine.
The Rada signs off on a European Investment Bank program worth €450 million to help Ukraine's big road building program, according to the government.  The Bank says: "The financing will increase safety and help modernize parts of the network included in the extended Trans-European Network for Transport (TEN-T), which links the country internationally and to the EU in particular."
The €450 million in EIB financing covers:
Construction of a new northern motorway bypass in Lviv region. The bypass is expected to serve 20,000 vehicles a day and will connect Kyiv's Chop international highway and the Lviv – Lutsk national road. It will connect Lviv to Rava Ruska, Lviv to Krakovets and Lviv to Shegyni international highway on the route from Ukraine to Poland.
Upgrade of a 314 km section of the M05 highway on the Kyiv-Odessa route. This is the main connection between Kyiv and the Black Sea ports and serves 10,000 to 25,000 vehicles daily.
Ukreximbank signed an agreement with the State Roads Agency to purchase local currency bonds worth UAH 2.87 billion at 9.99%, the press service of the bank reports on Facebook. The state-owned bank raised funds for the purchase in the form of a refinancing loan from the National Bank of Ukraine, which was with a 3-year tenor and 6% interest rate. "Using a new instrument for the market, introduced by the NBU to stimulate investment and long-term lending, on August 19, the bank took part in the auction of an interest rate swap. After that it signed agreement with Ukravtodor," said the bank's board chairman Yevhen Metzger.
Ukreximbank combined three instruments at once – a refinancing loan, an interest rate swap and purchase of securities. Metzger said: "This is the first market transaction of this magnitude."
Capital investments are down by 345% ($2.56 billion) in the first half of 2020, compared to the same period last year, reports Liga Busines,s citing the State Statistics Service. Investment in agriculture decreased by 45.5%, in heavy industries by 32%, in construction by 23%, in  trade by 32.5%, in transport by 54.4%. Investments in courier services were up 39% and telecoms by 10%.
The Rada approves state guarantees on $183 million of loans made to small and medium-sized enterprises, according to the government. Should borrowers default, the government will be obligated to repay up to 80% of the principal on loans made to entrepreneurs by state-owned banks.
The Rada authorizes the Ministry of Finance to issue more domestic local currency bonds (OVDPs) for the additional capitalization of the State Mortgage Agency to expand mortgage lending, reports Liga.net.
The central bank plans to regulate the debt collection market, the bank reports on Facebook. The National Bank of Ukraine  says it received hundreds of complaints about shady debt collectors using unethical methods, including force. First Deputy Governor Kateryna Rozhkova says the central bank will create a public register of authorized collection companies.
Yulia Tymoshenko, leader of Ukraine's Fatherland party, is in serious condition after being hospitalized for Covid-19, r her press secretary Marina Soroka writes on Facebook. "Unfortunately, there is no good news now. Yulia's condition remains difficult…Since last night, she has been receiving an intensive therapy course, according to the COVID treatment protocol." She said Tymoshenko's temperature hit to 39 degrees (102F). Segodnya Ukraine reports Tymoshenko is connected to a ventilator.
The Cabinet of Ministers calls for some quarantine measures to be extended until November 1, according to the office of the president. Over 108,000 people in Ukraine are known to be infected with Covid-19. The most affected regions today are Chernivtsi, Ivano-Frankivsk, Kharkiv and Ternopil.
"But quarantine must remain adaptive and un-burdensome for entrepreneurs," Zelenskiy stressed. "Small and medium-sized businesses should be able to properly maneuver in the new conditions."
The government is in the process of developing regulations to ban citizens from "red zone" countries from entering Ukraine for 30 days, said the president. Globally, nearly 25 million people are confirmed to be infected with Covid-19, with the real number likely to be higher due to undertesting.
Zelenskiy suggests Ukraine should open up for Belarusians, given the increasing instability and continuing protests against President Lukashenko. "How can we ban Belarusians from entering, especially given the extremely tense domestic political situation in them? I think that it is necessary to reasonably prescribe easier conditions for Belarusians to enter us. This is a very delicate topic – everything must be taken into account."
UIA will operate two Kyiv-New York-Kyiv flights – one next Monday and the other on Sept. 9. The jets leave Kyiv Boryspil in the morning, turnaround at New York's JFK, and then take off again for Ukraine at 5:45 pm. The one-way fare is $482. Americans and residents of the United States have to undergo Covid tests on arrival in Boryspil and start 2-week self-isolation, until tests come back negative. Tickets can only be bought through the UIA website: https://www.flyuia.com/ua/en/home.
From the Editor: Alert reader Petro Rondiak, Board Manager of Winner Group, the new car importer, points out that that the latest numbers on car imports show that new car imports were up 15.9% yoy in July — and down only 2.2% for the first seven months of this year, compared to last year. Ukravtoprom, the automobile trade association, reports that used car imports were down 41% yoy for the first half of this year. For the first half of 2020, Ukrainians imported 37,600 new cars and 155,900 used cars.
In response to a note by alert reader Vitaliy Sych, editor of NV business news site: the government plans to use almost 500,000 cubic meters of metallurgical slag for road building this year. Arcelor Mittal has transferred 50 million tons of slag to Ukravtodor. To convert tons to cubic meters, simply use your handy online slag-o-meter. With Best Regards, Jim Brooke