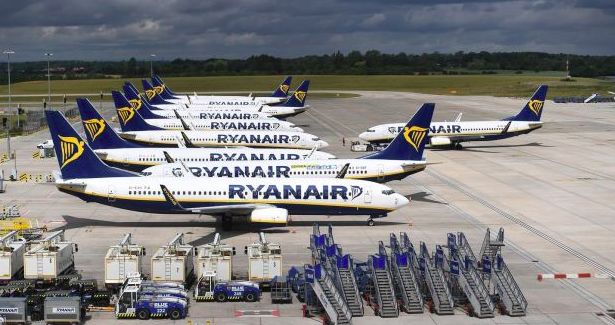 Wednesday, August 2
Ryanair Cuts Most Flights Between EU and Ukraine...PM Sees 50% Jump in Ukraine Corona Cases...Antonov-Turkey Talks on JV for Cargo Jet...Pro-Russia MP's Want Court to Turn Back the Clock...Honcharuk: Washington Think Tanker - Volker: Kyiv Train Engineer...
Ryanair, Europe's largest low cost carrier, has canceled almost all its flights to Ukraine for the second half of September, the airline's booking system shows, reports Evropeiska Pravda. With 52 routes from Ukraine to EU cities, Ryanair is moving preemptively ahead of EU regulations that require full repayment for tickets for flight cancelled within two weeks of travel dates. Ryanair's booking system shows only a handful of flights between Kyiv Boryspil and Cyprus, Spain and the UK. There are no flights from the four other Ukrainian cities previously served by Ryanair: Kharkiv, Kherson, Lviv and Odesa.
UIA, Ukraine's largest carrier, has cancelled or reduced frequencies for a long list of flights. Signaling that it believes that the ban on most foreign visitors will last until the Oct. 25 local elections, UIA is cutting its flight program through Oct. 24. Compared to the planned schedule, UIA seem to cut about half of its seats in and out of Ukraine this fall.
Kyiv hotel owners and tour guides protested last Friday outside the Cabinet of Ministers saying the new one-month ban on most foreigners entering Ukraine is a heavy blow to tourism, an industry which has struggled since the first Covid lockdown in mid-March. One Kyiv hotel owner told the UBN that he knows of three business groups that cancelled their trips to Ukraine this month. Inside the government building, a senior official said that legitimate business people arriving at Boryspil this month will be admitted.
Prime Minister Shmygal expects that within one month Ukraine's Covid-19 cases will be 50% higher than today. "Today we have from 2,000 to 2,500 new cases of the disease every day," he told 1+1 television channel yesterday. "By the end of September and early October, this figure will rise to 3,000 patients every day. This will load hospitals by more than 80%." Government officials are talking about test trials for a vaccine in November and mass vaccinations in March. It is unclear where this vaccine will come from.
Ducking the issue: Ukraine's Antimonopoly Committee has declined to consider an application by Kharkiv's DCH Group to purchase Motor Sich shares from China's Skyrizon to run the Zaporizhia aircraft engine factory as a Chinese-Ukraine joint venture. The decision was made public yesterday, five days after US Secretary of State Michael Pompeo called President Zelenskiy and warned about "malign" Chinese investment. DCH, which also makes tractors, complained that the Committee's requested information "not related to the core business" of the jet engine maker. DCH asked: Can Motor Sich "potato planters, potato diggers, harrows, plows, cultivators, mounted rotary mowers" be attached to DCH tractors?
Concorde Capital's Alexander Paraschiy writes: "The Antimonopoly Committee has been trying to avoid any decision on the Skyrizon / Motor Sich deal for about three years, and its latest move indicates it is trying to continue postponing the solution for as long as possible…such uncertainty might be harmful for Motor Sich's future as a going concern."
Kyiv's Antonov is negotiating joint production with Turkey of its short range An-178 military cargo jets, reports Turkey's Daily Sabah, a pro-government daily. Oleksandr Los, Antonov's new CEO, visited Turkey last month for talks. Ukraine's Foreign Minister Dmytro Kuleba tells CNN Türk that both governments "want to start more daring projects. Projects where Turkish and Ukrainian technologies are used together. These will be competitive projects in the global sense."
Turkey's new import tariffs on 115 goods are spurring Turkey and Ukraine to restart talks for a Free Trade Agreement. The two economy ministers, Ruhsar Pekcan for Turkey, and Igor Petrashko, for Ukraine talked week. Taras Kachka, deputy economy minister, writes on Facebook that he will travel to Ankara in coming days to advance talks. Two weeks ago, Turkey hiked tariffs by 15 to 20% for the goods that are non-EU.
In a key anti-corruption case watched by the IMF, Artem Sytnyk insists he is still director of the National Anticorruption Bureau, NABU. Last Thursday, days after NABU released audio recordings where judges appeared to discuss corruption plots involving including rulings Constitutional Court rulings, the Court ruled that President Poroshenko violated the Constitution five years ago, when he appointed Sytnyk as NABU director. Although President Zelenskiy now calls Sytnyk 'acting director,' legal experts say Sytnyk can only be removed by a Rada vote.
Concorde Capital's Alexander Paraschiy writes Monday: "It looks like there is a high chance for Sytnyk to remain at his position till the end of his seven-year term, which expires in spring 2022."
The Constitutional Court acted in response to a petition by 51 MPs, many of the same pro-Kremlin or pro-Kolomoiskiy Rada members, who successfully asked the Court to open five proceedings aimed at Ukrainian anti-corruption legislation, Tetiana Shevchuk, legal counsel at Ukraine's Anti-Corruption Action Center, writes in a new Atlantic Council essay: "Pro-Kremlin MPs and Oligarchs Wage Lawfare on Ukraine's Reform Agenda." She writes of the Court decision on NABU'd director: "Anti-corruption activists fear the decision could now pave the way for a host of similar legal verdicts with the potential to undermine Ukraine's Euro-Atlantic integration and reverse the progress made since the country's 2014 Revolution of Dignity."
Bonanza for TV stations and billboard owners: The Central Election Commission announces that campaigns for mayors and city councils officially start this Saturday. With the coronavirus pandemic ruling out large gatherings, advertising is expected to play a central role in campaigning leading up the Oct. 25 vote.
On the Move:
Former Prime Minister Oleksiy Honcharuk joins the Atlantic Council's Eurasia Center as a distinguished fellow, the Washington-based organization tweets. The youngest prime minister in Ukraine's history, Honcharuk, then aged 35, led the government during the first six months of President Zelenskiy's five-year term. Zelenskiy dropped Honcharuk on March 4 as part of a wider purge of the cabinet.
Kurt Volker, who served until last September as the State Department's Special Representative for Ukraine Negotiations, joined BGS Rail yesterday as an independent board member of the Kyiv-based car leasing company. Volker also will advise the chairman and board of directors of BGS' parent company, Avia Solutions Group, a company of Lithuanian origins. In Ukraine, BGS, or Baltic Ground Services, has 3,000 wagons for transporting coal, iron ore and grain. Volker said in an Avia press release: "By working with Avia Solutions Group in its development of BGS Rail, I see an opportunity to strengthen Ukraine's economy, build world-class services, and create jobs for Ukrainian citizens."
From the Editor: The UBN is pleased to announce that CMS Cameron McKenna Nabarro Olswang Ukraine has agreed to sponsor the Ukraine Business News. It is great to see such a prestigious international law firm support independent business news in Ukraine, Europe's next frontier market. With Best Regards Jim Brooke