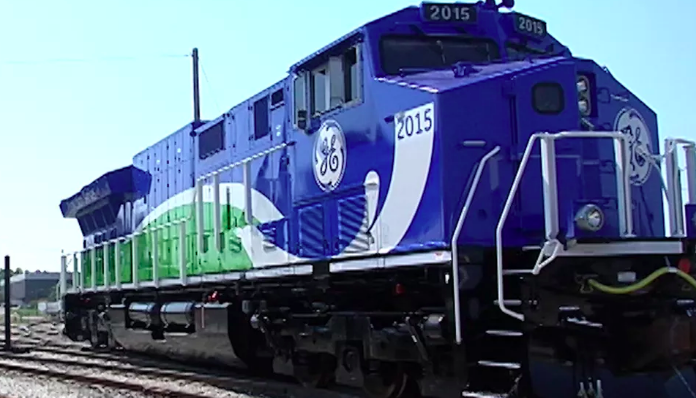 Wednesday, August 14
Ze Transport Aide Gives Green Light to Private Freight Trains...UZ talks to US for More Locomotives...A River of Grain Will Swamp Trains, Trucks and Barges...Port Cargo Up 16% This Year...Cruising is Cool: Ship Passengers Nearly Double
Private locomotives should be allowed to pull private freight trains down public tracks, argues Vladislav Krikliy, the leading candidate for head of the Rada's transport committee. "We have no competition, Ukrzaliznytsia is a monopolist," Krikliy, a 33-year-old economist, tells Gordonua. "Private companies should be given the opportunity to operate the railway, pay rent and provide services." Last December, the old Rada narrowly rejected a bill to allow private cargo trains. Ukraine's four EU neighbors – Romania, Hungary, Slovakia, and Poland – have private cargo rail companies.
Private Ukrainian companies already have a fleet of 2,500 of their own locomotives, writes Magistral, Ukrzaliznytsia's in the house news site. About 1,500 of these are shunting locomotives, built for assembling freight trains in rail yards. About 1,000 are certified to make short runs on public tracks, typically to grain elevators. About one-third of UZ's 3,566 locomotives are shunting locomotives. One-half of UZ's locomotives, or 1,758, are long haul locomotives. The Center for Transportation Strategies estimates that half of the long haul locomotives are out of service, a figure disputed by UZ CEO Yevhen Kravtsov.
Morgan Williams, president of the U.S.-Ukraine Business Council, wrote in a recent essay in the Kyiv Post: "Ukraine should allow private companies to own locomotives and operate large commodity trains….The President should recommend, and the Parliament should approve, legislation allowing private companies to invest and participate in the railroad industry. The starting point is to allow private companies to own and operate locomotives to move grain and other commodities on the state railroad system. UZ, like Naftogaz, seems to be saying: 'We love the private sector as long as they work for us.'
UZ CEO Kravtsov tells UNIAN news agency that he supports the idea of partial privatization of the state railway, via an IPO or the placement of shares. Concorde Capital's Paraschiy writes: "Kravtsov's vision on a possible share placement of Ukrainian Railways is line with the position of the new Ukrainian power brokers that the company is at the top of the list for a possible partial privatization, as voiced in late July by Oleksiy Honcharuk, deputy head of the presidential office and one of the top candidates for the Prime Minister's position."
Ukrzaliznytsia is negotiating with Wabtec Corporation (successor company to GE Transportation) to buy up to 40 new diesel locomotives, says Kravtsov. The locomotives would come in 2020. Last March, Ukrzaliznytsia received the last of an order of 30 GE diesel locomotives. In Feb. 2018, UZ signed a framework agreement with GE to buy up to 225 GE locomotives over the next 15 years, at an estimated cost of $1 billion.
Concorde Capital's Alexander Paraschiy writes: "Ukrainian Railways' leverage allows the company to expand its orders for new locomotives, while the poor condition of its existing fleet underscores the necessity for such moves."
Due to a lack of locomotives, "a significant part of the harvest will rot in the fields because it will not be delivered to elevators," Leonid Kozachenko, president Ukraine's Agrarian Confederation, writes in Apostrophe. "Losses of farmers can reach 5 million tons of grain and oilseeds. Wheat, barley, buckwheat, whose losses can be up to 1% per day, suffer because they simply cannot be transported" to elevators in time, he writes.
In contrast, Nikolay Gorbachev, president Ukraine's Grain Association, writes in Obozrevatel: "I don't believe that we will not be able to take out grain. We're sure we will take out absolutely everything." However, without more UZ locomotives or private freight trains, he warns: "We will live in conditions of constant traffic collapse…If the railroad stops coping, we'll take trucks."
Ukraine's corn crop coming in this month will be another record – 36.5 million tons – forecasts the US Department of Agriculture. The USDA raised its forecast by 7% compared to earlier estimate. With China stopping purchases of American corn, Ukraine is expected to export 30 million tons, the same amount as last year. The USDA reported in February that 'sources' told their office here that 5% of Ukraine's corn was left to spoil in the fields last fall because there were not enough silos or grain hopper rail wagons. Undeterred, farmers expanded their corn plantings this year by 9%.
Ukraine's early grain harvest was up 17% Friday, compared to the same day last year. Pushing the early harvest up to 37 million tons, wheat yields are up 10% y-o-y, and barley yields are up 15%. Good weather and more investment improve yields, the Agriculture Ministry says.
Dnipro River cargo is up by 32%, to 5.5 million tons, through July, reports the Sea Ports Administration. As barges get bigger, the actual number of river trips fell to 5,775, down 31% compared to the first seven months of last year. Grain cargo more than doubled, hitting 2.2 million tons. Last year, Dnipro River cargo grew by 22% over 2017.
Pushing the northern limits of Dnipro River shiping, Agrostudio Group, which has silos in Chernihiv region, shipped 1,300 tons of wheat from Stayki port, "the northernmost shipping point of Ukraine," reports Latifundist news site. Coordinated with Bunge and the Belarussian Shipping Company, the wheat was shipped to Mykolaiv.
Nibulon, the nation's largest river shipper, is also Ukraine's largest food exporter. In the marketing year that ended June 30, Nibulon exported company 5.2 million tons of grain and oilseeds – 27% more than in the previous marketing year. With this volume, this Mykolaiv-based company had a 9% of Ukraine's grain and oilseeds exports. The top export was corn – 2.2 million tons. The top buyer was China – 19% of sales.
In a key economic indicator, Ukraine's seaports handled 16% more cargo through July than in the first seven months of last year. Grain accounted for one-third of the 85.5 million tons. Grain shipments were up 35% y-o-y. Using ever bigger ships, companies opt for the efficiencies of Ukraine's largest ports. The three largest grew faster than the national average: Pivdennii +24%, to 28 million tons; Mykolaiv + 23%, to 18 million tons; Chornomorsk +19%, to 14.2 million tons. Odesa was below the national average, growing 14%, to almost 14 million tons.
Danube and the Black Sea cruising is back in vogue as the number of boat passengers through July almost doubled — to 322,000. Favoring day trips from Odesa or Ust-Dunaysk, in the Danube delta, all but 4,680 people traveled domestically.
From the Editor: Were you forwarded this email? Sign up for your own daily delivery at www.ubn.news/subscribe. Ukraine Business News is sent as an email every weekday morning before 6:00 a.m. Kyiv time. Tell your friends! Best regards Jim Brooke – jbrooke@ubn.news