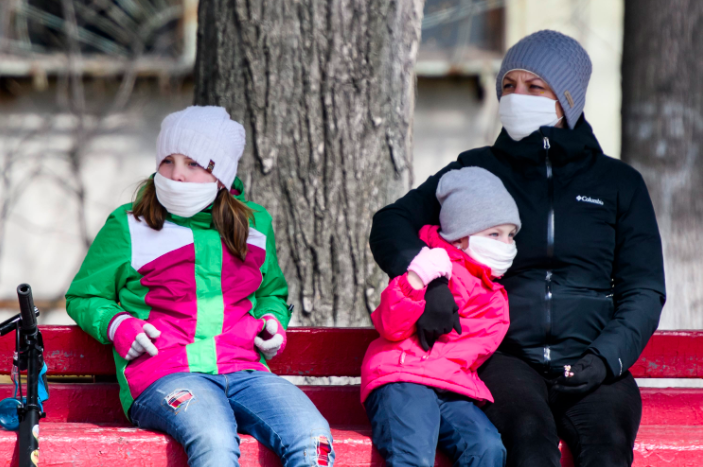 Mandatory face masks in public and other restrictive measures could stretch through the summer to September, Prime Minister Shmygal told a meeting of Servant of the People Rada deputies, according to LIGA.net. Under one new restriction, people aged 60 and over are asked to stay home. Before then, he expects most Ukrainians will return to work after the May holidays.

Nationwide, there are 1,462 known coronavirus cases, with 45 fatalities. Starting today, all but essential vehicles are banned from entering Dnipro, the City Council reports. Emergency vehicles and food trucks are exempt. In Nadvirna, Ivano-Frankivsk, Ukraine's first soldier died on Monday of Covid-19. She was the fourth coronavirus case in the armed forces.
Kyiv's publicly confirmed cases increased Tuesday by 12, to 279. Of the 12 new cases, 10 are being treated at home, Mayor Klitschko says. Most of Kyiv's cases have not recently traveled outside of Ukraine, meaning they were infected here. There was one new fatality in Kyiv, a 36-year-old man.
One more coronavirus casualty: the new budget will not fund the national census that was to take place in December, the first in 20 years. The "window of opportunity" for preparing for the 2020 census has passed, Oleh Nemchinov, Minister of the Cabinet, tells UA-Times news site. In January, his predecessor, Dmytro Dubilet, conducted a 'digital census' that produced an estimated population for Ukraine of 37.3 million. Ukraine's population peaked in 1993, at 52.2 million people. The loss of 29% percent of the nation's population in one generation is due to emigration, low birth rates, and loss of control of Crimea and of the most populous part of the Donbas.
Ukraine's international reserves fell by almost 8% in March, to $25 billion reports, the National Bank of Ukraine. Most of the $2.1 billion was used to defend the hryvnia. Since then, the central bank has bought $576 million, including $142 million purchased yesterday. The dollar currently trades at 27 hryvnia. Yesterday, the Finance Ministry, for the third time in one month, canceled its weekly auction of government bonds.
The central bank cut its real estate portfolio by almost half a million square meters last year, privatizing or transferring to other government agencies 34 buildings and six land plots. Since 2015, the bank has cut its real estate holdings in half. By 2025, it plans to unload another 400,000 square meters, the National Bank of Ukraine press service tells Interfax-Ukraine.
Ihor Kolomoisky, former owner of PrivatBank, will face trial at London's High Court, following the UK Supreme Court rejection of his appeal of an October verdict, Reuters reports. PrivatBank predicts the trial on the charge of of fraud by prior conspiracy will start next year. The Supreme Court also ruled Monday that Kolomoisky, business partner Hennadiy Boholyubov and six allied companies must pay PrivatBank legal costs from their failed appeal. PrivatBank's new management said after the ruling: "The Bank is confident that it will ultimately succeed in recovering the sum of more than $3 billion claimed in the proceedings." In legal actions in Cyprus, Israel, UK, and the US, PrivatBank seeks a total of $10 billion from Kolomoisky and his business partners.
Concorde Capital's Alexander Paraschiy writes: "The bank and its new owner, the Ukrainian government, have a solid chance for victory in the UK…Kolomoisky and his partners…are likely to grow more aggressive in lobbying the return of Privatbank under their control, seeking favorable decisions from Ukrainian courts. The key impediment to their goal is the IMF-required law on banking resolution (the so-called anti-Kolomoisky law), which is currently being prepared for its second reading in the parliament. These rising stakes in the fight for Privatbank have already reduced the chance for the bill to be approved this month, and in turn decreases the likelihood of IMF and other IFI support for Ukraine arriving soon."
By orchestrating a record 16,335 amendments to the 'anti-Kolomoisky' bill, the oligarch may be trying to "strengthen his negotiating positions and then make a deal," Sergii Leshchenko, a former Rada member, writes in the Kyiv Post. "It can't be ruled out that Kolomoisky simply offers the authorities a chance to negotiate on more favorable terms," writes Leshchenko, now a Post columnist. "It can be just a game to up the ante — for example, an attempt to bargain for the termination of criminal cases in Ukraine or the suspension of cases on PrivatBank abroad, including in London. It is the consequence of a British court that he should fear the most."
Concorde Capital's Alexander Paraschiy warns: "Over 96% of the amendments have been filed by just seven MPs, all being aligned with Kolomoisky…If IMF support is delayed by six months, the government will face critical liquidity issues."
Adamant Capital believes a parliamentary solution will found: "We continue to believe that this piece of legislation will eventually be passed (most likely within the next two weeks)…All in all, we find [Finance Minister Serhiy] Marchenko's assessment of the timeframe for the next IMF disbursement (May) to be realistic."
The last word goes to Kolomoisky who gave a telephone interview to NV (Novoye Vremya). He said he did not organize the Rada amendment campaign: "I would not call this law 'anti-Kolomoisky,' but 'anti-Ukrainian.' Trading sovereignty and the constitution for 30 silver coins is, however, very expensive." He said he did not discuss the bill with President Zelenskiy: "I did not discuss at all. People choose their own path. [The IMF] is a path to nowhere, as shown by the experience of their predecessors: Yatsenyuk, Poroshenko, Groysman, and Honcharuk."
In the latest musical chairs at the top of government, Željko Marček, acting CEO of Ukrzaliznytsia, is being let go after two months on the job, Infrastructure Minister Vladyslav Krikliy, told reporters Tuesday. Krikliy did not clarify why he was firing Marček from the post of running the state railroad, Ukraine's largest employer. Marček, an ethnic Serbian veteran of Ukraine corporate posts, had been on the UZ board since 2016. Once the quarantine is lifted, Krikliy will hold competitions for the CEO posts at UZ and at the Ukrainian Sea Ports Authority. Currently, candidates cannot travel to Kyiv for interviews.
Ukraine's air passenger traffic will only return to last year's levels by the end of next year, Krikliy predicts to the European Business Association. "If we start to recover a little in June, then by the end of the year we'll reach about half of the passenger flow that was earlier," he said in an online briefing. As for airlines and airports that are dying, he said: "There isn't enough in the Ukrainian budget to save every enterprise."
Ukraine would like to have a Chinese airline open direct flights between Ukraine and China, now Ukraine's largest trading partner, Krikliy told the EBA. UIA dropped its China flights last fall because Russian sanctions requires Ukrainian airlines to fly costly detours around Russian airspace. China is neutral on Russia's military moves in Ukraine. Chinese airlines fly through Russian airspace. Krikliy said: "I told the Chinese ambassador – both the previous and the new – that we really want Chinese airlines to have direct flights with Ukraine.
"At least seven aircraft from China and South Korea" carrying medical equipment will fly into Ukraine this week, President Zelenskiy said in a video address last night. According to China's Civil Aviation Administration, the volume of cargo carried last week by Chinese airlines was 17.5% higher than the weekly volume before the coronavirus pandemic.
From the Editor: UBN reader Nolan Peterson has a good roundup and analysis of China winning corona points in Kyiv: China Swoops in to Help Ukraine Fight Coronavirus. With Best Regards, Jim Brooke  jbrooke@ubn.news