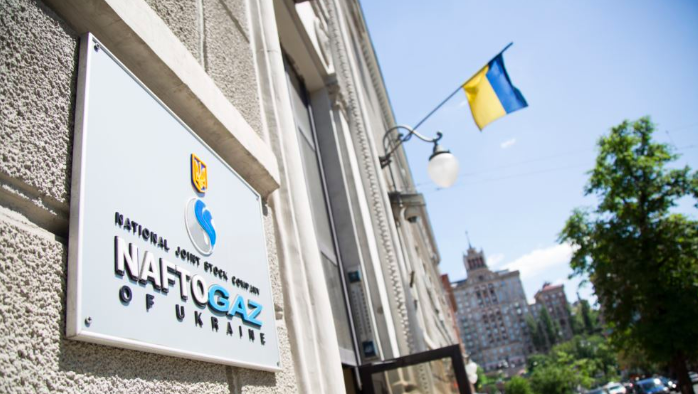 In a big switch, China's state export credit agency is extending $1 billion of insurance cover to allow Naftogaz to get low-cost credit to buy high tech Chinese equipment. Known as Sinosure, the Beijng-based agency covers political risk such as currency devaluations and war. Only two years ago, Beijing discouraged state companies from investing in Ukraine, citing the war with Russia in Ukraine's southeast corner.
The first $160 million will allow Naftogaz to get cheap financing for 13 drilling rigs bought last year from Honghua International Co., Ltd. Ukrgazvydobuvannya, the Naftogaz gas production unit, bought the rigs with a five-year payment delay. Ukrinform reports that use of the other $840 million to cover purchases of Chinese equipment "will be agreed in the near future with the Chinese side."
Russian gas flowing through Ukraine's pipelines to Europe increased by 5.3% during the first quarter of this year, compared to last year, reports Ukrtransgaz, the pipeline system operator. Interfax-Ukraine calculates that Russia sent 20 billion cubic meters through Ukraine. One year from now, Russia plans to open two bypass gas lines around Ukraine – Nord Stream 2 through the Baltic Sea and TurkStream through the Black Sea. With these new lines, Russia says it will not need Ukraine's pipelines.
Ukraine cut gas imports for domestic use by 15% during the first quarter, compared to the same period last year. Tilting toward Poland, which imports liquefied natural gas from the US, Ukraine increased Polish imports by one quarter. Imports from Slovakia dropped 24% and imports from Hungary dropped by 9%. Most gas from Slovakia and Hungary originally comes from Russia. Ukraine stopped direct gas purchases from Russia in Nov. 2015. Due to conservation and substitution of fuels, Ukraine cuts gas imports last year by one quarter, to 10.6 billion cubic meters.
Norway's international law firm Wikborg Rein Advokatfirma AS has signed a €14 million contract with Naftogaz to continue Ukrainian state oil company's litigation with Russia's Gazprom. In 2014, Wikborg Rein and Naftogaz signed a €50 million contract to pursue Naftogaz claims in the Arbitration Institute of the Stockholm Chamber of Commerce. As a result of this arbitration, Gazprom was ordered to pay Naftogaz a net $2.6 billion.
Israel's Perion Network is buying Ukrainian startup Septa Communications for $3.75 million. Better known as Captain Growth, Septa has developed 'Value Unlock,' a patented artificial intelligence platform for analyzing advertising. The company was founded two years ago by Dmitry Bilash and Dmitry Pleshakov.
A US-funded Business Incubator project launches across Ukraine this week with the goal of providing intensive business training to 60 to 90 Ukrainian startups a year. Executives of selected startups and SMEs will go through four-month training sessions, learning business fundamentals, idea shaping and fundraising from mentors, largely Americans from the IT sector. Funded by USAID through the end of 2022, the program is directed by Charles K. Whitehead, the business law professor at Cornell Law School. Open to tech-based businesses, the program will be offered in Dnipro, Kharkiv, Kyiv, Lviv, and Odesa. Companies interested in the first session should apply by May 3 through www.eo.in.ua
Turkey's Özaltın Holding is in talks with Ukrhydroenergo on completing two Soviet-era hydroelectric projects on the Dnipro. Near Kaniv dam, in Cherkasy, there are plans to resume construction of a 2,500 MW project. Further downstream, at Kakhovka, there is a plan to build a second power generating facility, the seventh and last on the Dnipro. Funding has not been obtained.
Norway's AICE Hydro A.S. plans to bid in the first privatization of a small hydro plant in Ukraine, the State Property Fund reports. Next week an appraiser is to be chosen for the 2 MW hydro plant across the Southern Bug in Pervomaisk, Mykolaiv region. Soon after the appraisal, the 90-year-old plant will be put up for auction on ProZorro.Sale, promises Vitaliy Trubarov, head of the State Property Fund. Arne Jakobsen, CEO of AICE, says foreign investment can renew Ukraine's small scale hydro production. Norway is Europe's largest hydropower producer, drawing 98% of its electricity from hydro.
In election news, many analysts write that Zelenskiy is favored to win the April 21 vote.
Timothy Ash, the senior sovereign analyst for Blue Bay Asset Management in London, writes: "Given a poll on second-round preferences from losing candidates, voters from all the above seem to favor Zelenskiy over Poroshenko. Unless he self destructs, Zelensky could be on for a landslide second-round win – think something like 60:40….It's an uphill struggle for Poroshenko, and the risk now for him is that there is a migration of softer voters/supporters to the Zelensky camp, as is inevitable in the Ukrainian political context, as business likes winners."
Dragon Capital writes: "Zelenskiy won in 19 out Ukraine's 24 provinces and in the capital Kyiv, erasing the east-west divide that marked prior presidential polls and emerging, somewhat surprisingly, as a potential consolidating figure on a national level."
"Zelenskiy is not saying that he's an expert in all matters," Zelenskiy advisor and former Finance Minister Oleksandr Danylyuk said Monday night on a national TV political talk show. "But he's saying that he will bring together a strong team, the strongest team, and will listen and cooperate with this team." Concorde Capital's Zenon Zawada writes: "The Poroshenko campaign will allege Zelenskiy is incompetent to become president, while the Zelenskiy campaign will produce an impressive team of advisers that it will assert will work closely with the neophyte."
Yulia Tymoshenko conceded defeat Tuesday. She accused President Poroshenko of using dirty tricks to push her into third place but said she would not file legal complaints. Tymoshenko said she would not endorse either candidate in the April 21 second round. Instead, she will focus on the Oct. 27 parliamentary elections. Timothy Ash writes: "She has long had her eye on the parliamentary elections, and constitutional reform, which she has seen as her route to leading the country as PM in a new constitutional set-up where parliament is supreme."
A key advisor to Volodomyr Zelenskiy signaled that Zelenskiy, the front runner in Sunday's vote, will not debate the Poroshenko on TV. Advisor Ruslan Ryaboshapka told Hromadske: "I just don't see the point of starting these, excuse my language, dog fights, where people make a shout show rather than a discussion or exchange of opinions on their campaign programs." Zelenskiy has only lightly sketched out his positions, saying: "No promises, no apologies."