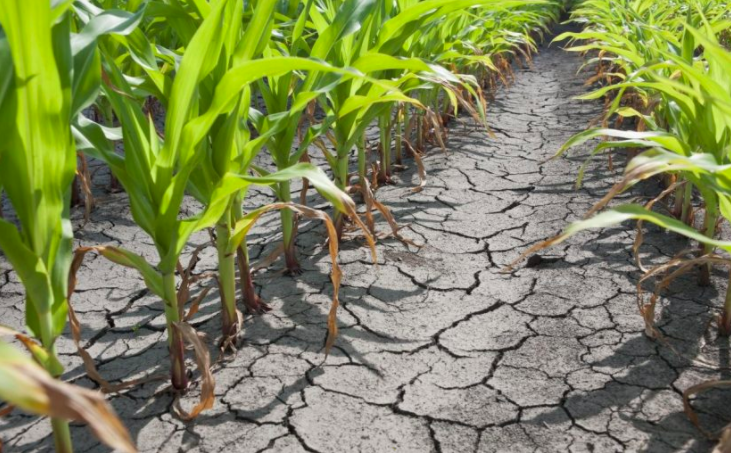 Dry weather, bordering on drought, will push Ukraine's grain harvest down by 20% this year, from last year's record 75 million tons, predicts the Ministry of Economic Development of Trade and Agriculture. "Due to moisture deficit and economic factors caused by the Covid-19 pandemic, farmers will collect 60 million tons of grain and leguminous crops," the Ministry says in a statement. Despite the dry land, about half of spring sowing of corn and sunflower are complete. In the second half of March, sales of seeds and fertilizers were stopped as part of the government's effort to stop the spread of the coronavirus.
The Dnipro and several other rivers in Ukraine have hit their lowest water levels in 100 years, the Kyiv Post reports, citing several experts. "The maximum daily inflow of water to the Kyiv water reservoir in late March was four times lower than normal," the article says, noting the threat to agriculture this summer. Separately, Ukrinform, the state-owned news agency, notes that the State Water Resources Agency warned in early March 2020 that for the first time in 120 years Ukraine could prioritize access to water by users.
In response, the Agency said Monday the six reservoirs on the Dnipro are 94% full and there is sufficient water for shipping, irrigation and drinking. After December proved to be snowless, the government started filling reservoirs in January, well ahead of schedule, the agency said. "We continue to provide agrarians with water for irrigation of the south of Ukraine, the source of which is Dnipro water accumulated in the cascade of the Dnipro reservoirs," the agency said. "Dear media representatives, please do not create or spread false information. Do not create panic among the population and farmers!"
Ukraine grain exports hit 50 million tons yesterday, 18% more than at the same time last year, reports the Ministry of Economic Development, Trade and Agriculture. For the marketing year that started July, the big three cereals have seen this growth: corn +7% to 30 million tons; wheat +41% to 15.6 million tons; and barley +52% to 3.7 million tons. With two months left in the marketing year, the ministry expects exports to total 54 million tons.
With food importing nations increasingly nervous over supply disruptions caused by coronavirus curbs, Saudi Arabia's state grain buyer has bought 60,000 tons of wheat from its Ukraine farms, Reuters reports. SAGO's purchase from SALIC marks Saudi Arabia's first purchase from Saudi agricultural investments overseas that are aimed at enhancing the country's food security. To bolster wheat stocks, the kingdom have asked Saudi private investors with foreign farmland to supply it with 355,000 tons of wheat, about 10% of nation's needs this year.
Facing international pressure, Ukraine's government has reversed itself and decided not to limit corn exports this year, APK-Inform agriculture consultancy, reported Monday.
Ukraine's farm land market is to start July 2021, according to a new law signed yesterday by President Zelenskiy. "This is a historic moment for all Ukrainians and for me personally," Zelenskiy said on signing the bill. "Ukraine has been waiting for this law since independence." The law bans sales to foreigners and limits sales to Ukrainians to 100 hectares. On Jan. 1, 2024, this limit is to expanded to 10,000. Allowing foreigners and companies with foreign capital to buy land is to only be decided in a national referendum.
To experiment with foreign investment, voters could open up "severely drought distressed areas of the country where investment is desperately needed to build out irrigation and reverse declining agricultural yields," Bate Toms, Chairman of the British Ukrainian Chamber of Commerce, writes in an Atlantic Council Ukraine blog. "This is a growing concern in much of southern Ukraine, including Kherson Oblast, where the Oleshky Sands is Europe's largest desert. Stable land tenure is necessary to attract the kind of long-term large investments needed for expensive irrigation initiatives."
Without land titles for collateral, 2,000 Ukrainian small farmers have obtained $1 billion in financing over the last five years through 'crop receipts,' reports the International Finance Corporation, the private sector oriented arm of the World Bank. Under this project, implemented with Swiss aid, farmers use future harvests as collateral to obtain money to buy  seeds, seedlings, and fertilizers. Jason Pellmar, IFC regional manager says: "Crop receipts cover over 40 unique value chains, including traditional grains and oilseeds, as well as niche, organic crops, and other agricultural products such as hay, honey, milk, and cattle."
Ukraine's steel production is to drop by 25% in April-May, compared to the same time last year, predicts Andriy Tarasenko, chief analyst for GMK Center, Ukraine's metal and mining news site. He predicts low prices will continue through the year, as world steel demand may contract by 10% this year. Cutting demand for Ukraine's semi-finished products, several rolling plants in Europe have been stopped, ostensibly due to coronavirus curbs. He predicted the Ukraine's steel production will only return to 2019 levels in 2021.
With metallurgy output down 16% y-o-y in March, Ukraine's overall industrial production was down 7.7% y-o-y in March, according to the State Statistics Service. Measuring the month when coronavirus fears started to grip the nation, pharmaceutical production jumped 22%, while manufacturing output dropped 8.5%.
Interest rates rose only slightly yesterday when the Finance Ministry held its first – and only – government bond auction for April. The government sold $164 million worth of dollar bonds. The most popular, 9-month securities, went for 3.5% per annum. The 6-month securities went for went for 3.3% per annum, compared to the March 24 auction where 3-month securities went for 3%. Last week, Ukraine's central bank slashed the prime rate to 8%, from 10%.
Ukraine's confirmed coronavirus cases inched up by 401, to 9,410. It appears that the majority of positive cases recover at home, without hospitalization. "We're not having a peak load on our healthcare system," Deputy Health Minister Viktor Lyashko said Monday night on Svoboda Slova on ICTV. "We're not having a spike this week. Perhaps there'll be one though as it's only been seven days since Easter."
The Cabinet is expected to decide today to open 280 of the nation's fresh food markets, says Prime Minister Shmygal. In recent days, farmers have protested in Kherson and Chernivtsi, saying their produce is spoiling and they are losing money. On Monday, Lviv Mayor Andriy Sadovyi joined the chorus, writing on Facebook: "I really wouldn't want millions of people suffering from one or two [health] offenders." The Health Ministry plans to mandate masks, temperature screening, and the spacing and sanitizing of stalls.
Concorde Capital's Zenon Zawada writes: "We were expecting for the Ukrainian public to grow impatient and start protesting in May, but the patience of those most affected by the virus wasn't able to endure even that long. The first nine days of May are among the most important holiday seasons on the Ukrainian calendar, so these farmers and vendors want to be able to sell their produce then…If they get the green light, then other business sectors will soon follow with their demands, particularly non-food retailers."
Czech Railways, or Českе dráhy, resumed on Sunday long distance passenger service inside the Czech Republic, reports Gudok, the railroad news site. The railroad is negotiating to buy Leo Express, the 10-year-old, Prague-based private rail operator that has been hit hard by the coronavirus lockdown.  Croatia Airlines restarts domestic flights on May 11. Throughout the coronavirus crisis, the airline maintained its flight between Zagreb and Frankfurt, flying 23,000 Croatians home.
From the Editor: When I was a freshman in university, on two balmy fall nights in a row, my friends and I took off all our clothes and ran around in circles. It was called streaking. Looking back, I ask myself: 'Why did we do that?' Similarly, this spring's corona hysteria is looking a mite silly and based on squishy science. Today, the weather is to hit 23C (73F). Kyiv, the Garden City, is in full bloom. But Kyiv, the Business City, looks like a post-apocalypse movie set. Disappointing last month's prophets of doom, Ukraine apparently has lost 239 people to corona-triggered illnesses since the first death, on March 13. That is five deaths a day. At this rate, coronavirus will wipe out Ukraine's entire population – in 20,000 years. (Do the math). By comparison, five Ukrainians died every day last year in house fires and 10 in traffic accidents. Now that we all have had a global civics lesson in washing our hands and not coughing in each other's faces, let's get on with it and enjoy the summer! With Best Regards Jim Brooke jbrooke@ubn.news