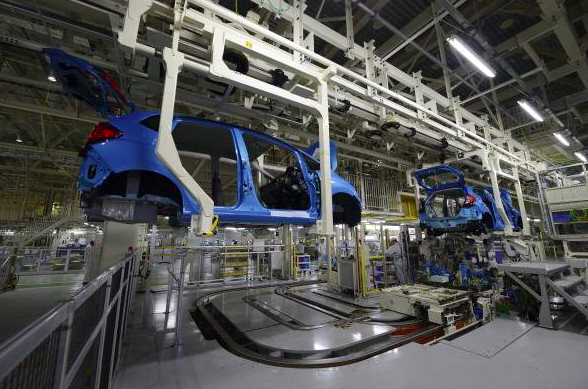 Germany's Kostal Group is to invest €39 million to build an auto electronics plant in Dudarkiv, 15 km north of Kyiv Boryspil airport. Construction starts in May. The plant is to employ 900 people, reports the district administration. Undertaking the project is Kostal Ukraine LLC which opened a plant five years ago in Pereiaslav, about one hour south of Boryspil. Employing 1,000 workers, the Pereiaslav plant makes parts for Audi, BMW, Ford, Mercedes, Renault, SKODA, SEAT and Volkswagen.
Germany's Bader GmbH is resuming production in Lviv of leather seats for high end German cars — Audi, BMW, Mercedes, and Skoda. Work stopped March 23, partly due to Ukraine's quarantine and partly due to falling orders from Germany. By May 4, all workshops should be back in production, Kristina Gorishna, deputy director of Bader Ukraine, tells Interfax-Ukraine.
British Steel is in talks with Ukrzaliznytsia to supply rails to Ukraine, Infrastructure Minister Vladyslav Krikliy tells the state railroad's news site, Magistral. Taken over last month by China's Jingye Group, British Steel includes a French rail unit, Sogerail, located in the Lorraine region. Minister Krikliy has met twice in the last two months with French Ambassador Etienne de Poncins to discuss France's offer to finance €100 million worth of rail modernization in Ukraine, largely in government-controlled Luhansk.
The French government has selected Ernst & Young Global Limited, or EY, to conduct a forensic audit of UkrOboronProm and to implement a corporate government system for the state arms making conglomerate. France made the choice because France is largely paying the bill.
French-owned Expert Petroleum has signed a 15-year contract with UkrGazVydobuvannia to increase gas production from depleted fields in western Ukraine. Billed as "the first ever full production Production Enhancement Contract in the history of Ukraine's oil and gas industry," Expert Petroleum commits to investing $30 million over five years to drill wells and develop infrastructure. The contract foresees the company producing at least 300 million cubic meters of gas for 13 small fields. "The agreement envisages the largest foreign investment in Ukraine's gas production over the past five years," says Otto Waterlander, the Dutch national recently appointed as executive director for Transformation at the state energy company. CMS advised Expert Petroleum, which is based in Bucharest.
China's Cainiao, a logistics unit of Alibaba Group, has joined forces with Nova Poshta to ship Ukraine-bound cargo from China to Riga, Latvia. Once a week, Cianiao flies 20 tons of packages to Latvia. From there, the cargo shuttled down to Lviv in An-25 turboprop planes of Eleron, the Ukrainian air cargo company.
Austrian, Dutch, German, Lithuanian, Polish and Turkish companies have applied to participate in a tender to build a waste recycling complex in Lviv, Mayor Andriy Sadovyi writes on Facebook. Financed in part by the EBRD, the plant is be capable of sorting 240,000 tons of garbage a year, or about 50 truckloads a day.
Russia is a big loser in the collapse of oil and gas prices. On Tuesday, Urals oil was selling on the spot market at $9.60 – the same nominal price as during the 1998 default. Due to inflation, that crisis price is today's equivalent of $15.17.  For gas, Tuesday's price at Britain's main hub was $48.50/1,000 cubic meters – compared to $64 in western Russia, before export duties. During the first two months of this year, Russia's gas export revenues were down by $5 billion, a 51% drop over last year. At the same time, physical exports fell by 25%, to 32.5 billion cubic meters.
Russia's ruble now trades at 77 to the dollar, a one quarter devaluation since the start of the year. For Ukraine, an oil importer, the devaluation of the hryvnia over the same period has been 14%, to 27.20 today.
With oil storage at a premium worldwide, Ukraine's Naftogaz could profit by storing oil in its little used pipelines and refinery tank farms, Naftogaz Executive director Yuriy Vitrenko writes on Facebook. On Tuesday, lack of storage capacity and weak demand, pushed June prices for Brent down to $19.76/barrel and for West Texas Intermediate to $11.60.  "Sellers are willing to pay extra to have their oil taken away," the state energy company executive writes. "This can be explained by the fact that there is nowhere to store the oil, and it is impossible to stop production without significant losses." Naftogaz offers EU companies 10 billion cubic meters of gas storage in its western Ukraine reservoirs.
Facing Ukraine's first GDP drop in five years, the central bank is expected to cut its prime rate on Thursday, according to a Reuters poll. Eight of 16 analysts expect a rate cut to 9%, from 10%.  Three see a cut to 9.5%. Five see no change. Strengthening the argument for cutting the rate, inflation is now only 2.3%, brought down by low energy prices and faltering consumer demand.
For the fifth time in six weeks, the Finance Ministry did not hold its weekly government bond auction, traditionally on Tuesdays. With reserves of $25 billion, the government says it has enough money to meet foreign debt payments due in May. For now, it is waiting for international markets to calm down.
In a warning to Ukrainians who advocate trying to muddle through this year without an IMF deal, Argentina's biggest bondholders have rejected the government's offer to restructure $83 billion of foreign debt, raising the prospect of the country's ninth sovereign debt default, reports The Financial Times. In what may be the first round of negotiations, three creditor groups rejected the government's terms to restructure debt issued since 2016 and to re-restructure bonds issued in 2005 and 2010.
In Kyiv, the Rada is to meet in special session on Friday to consider a bill designed to break the logjam around the 'anti-Kolomoisky bill,' a financial bill required by the IMF.
"Several dozen" companies are interested in participating in the pilot project to allow private locomotives to pull freight trains down Ukrzaliznytsia tracks, Minister Krikliy tells Interfax-Ukraine. "Basically, these are all members of the European Business Association and the American Chamber of Commerce," he said, adding that participating companies will be chosen by May 10. Lemtrans argues that the test sections of track should go all the way to Black Sea ports. Krikliy plans to re-introduce a bill in the Rada to create an independent, tariff-setting regulator for transport. The goal is to reduce political influence on freight rates.
The next UIA flight to the US leaves Sunday for Miami, departing from KyivBoryspil. Travelers should buy their tickets on line, visiting www.flyuia.com. Ukrainian passengers should verify their admissibility to the US by emailing their passport and visa information to the US embassy: KyivUSCitizen@state.gov.
From the Editor: Everyone may have their own reasons to want to fly to Miami, but 'evacuation' is not one of them. At last count, Ukraine has 6,125 officially confirmed COVID-19 case and 161 deaths. The US has 816,385 cases and 45,174 deaths. Florida has 27,498 cases and 839 deaths. In the final scene of the 2003 movie 'Lost in Translation', Bill Murray walks out of his Tokyo hotel, and the Japanese staff bow deeply. In a cheery chorus, they wish him: "Have a nice fright!" With Best Regards Jim Brooke jbrooke@ubn.news