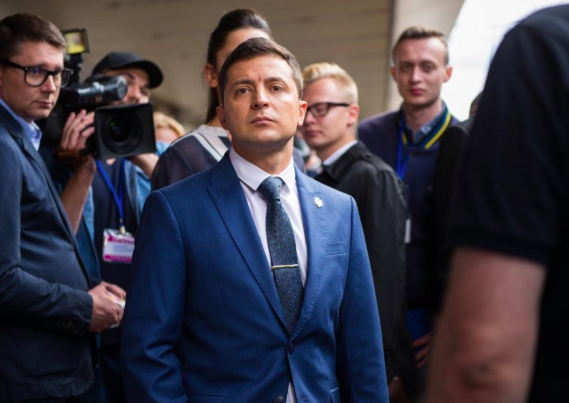 Comedian Volodymyr Zelenskiy is increasing his lead over President Poroshenko, according to the latest nationwide poll, conducted through Sunday by the Kyiv International Institute of Sociology. In a poll of 2,004 people, 72% of respondents who plan to vote and who have made up their minds will vote for Zelenskiy. Poroshenko was favored by 25%. Zelenskiy is the favorite in all regions. Poroshenko's support trails off, going West to East. In the West, he is favored by 46%. In the East, it is 12%, and in the Donbas 5%. The candidates are to hold one debate, Friday night. The vote is Sunday.
Zelenskiy's close ties to oligarch Igor Kolomoisky are increasingly clear, Reuters reports in a story headlined: "Mutual friends and borrowed cars: how Ukraine's would-be leader is linked to the tycoon." "The two men have business partners in common, Zelenskiy uses security staff also seen in the past accompanying Kolomoisky, a former Kolomoisky adviser is on Zelenskiy's campaign team and at least two vehicles used by Zelenskiy and his entourage are owned by people or entities linked to Kolomoisky," Reuters reports from Kyiv. The report notes that Zelenskiy's recent stardom has been made by Kolomoisky's 1+1 TV channel.
Volodymyr Fesenko, director of Kyiv's Penta think-tank, describes the potential payoff: "If Zelenskiy becomes president, taking into account that he basically doesn't have any people, or has very few, Kolomoisky can suggest different people to him (for government office) through whom he will then exert his influence on power."
Concorde Capital details Zelenskiy's 13 flights in the last three years to Geneva and Tel Aviv, ostensibly to see Kolomoisky. Several flights were on private jets belonging to Kolomoisky's business partners. "There can be no doubt about Zelenskiy's close ties to Kolomoisky," writes Concorde analyst Zenon Zawada. "Ukrainian political tradition has been that the oligarchs sponsoring political campaigns get special treatment, and even preferences, as a reward for their support."
The ratio of unemployed people to vacancies, has fallen from 5 people per job opening in January, to 3 people per vacancy in March, reports the State Statistics Service. Overall, the official unemployment rate fell to 8.8% at the end of 2018, from 9.9% one year earlier. Faced with labor migration, Oleg Bakhmatyuk, owner of Ukrlandfarming, a major agro holding, tells UNIAN that in the last two years, he has nearly doubled the average farmworker salary, to $407 a month. Skilled mechanics earn over $1,000 a month.
A Dutch-Ukrainian poultry farm on the border with Poland is investing €38 million to double its production, says Alina Sych, general director of the company, Volodymyr–Volyn Poultry Factory. A new plant will be capable of processing 13,500 broilers an hour, she tells Interfax-Ukraine. The farm accounts for 6% of national production.
Ukraine's poultry exports were up 39%, to 103,600 tons, in the first quarter of this year, compared to the same period last year, reports the State Fiscal Service. In dollar terms, exports were up 31%, to $147 million. As of April 1, there were 205 million chickens in Ukraine, reports the State Statistics Service. While cows, sheep and goats were down slightly year-over-year, chickens bucked the trend, increasing by 3.7%. Poultry in industrial farms were up 6%. Reflecting the industry's dominance, in March poultry accounted for 69% of total meat production in Ukraine.
Racing the grain harvest, Nibulon is tripling its construction workforce to 1,500 to complete a new $19 million Dnipro river transshipment terminal by July. With the 300,000 ton a year terminal in Ternivka, Nibulon will have three Dnipro river ports in Zaporizhia region. "The need for farmers to use heavy trucks will disappear," Nibulon CEO Oleksiy Vadaturskyy predicted on a visit to Ternivka, saying river ports cut out the expense of long drives to Black Sea ports. "This certainly will save each farm from $3 to $5 a ton…it is a colossal amount of money that farmers will be able to invest in the development of their farms."
Ukraine, the world's largest exporter of sunflower oil, is exporting 7% more oil than during the last marketing season. Two-thirds of the way through the September to August marketing season, Ukraine has exported 3.3 million tons of the cooking oil, according to APK-Inform. The largest buyers are India, the EU, and China.
With food exports leading the way, Ukraine's largest trade exports last year were: India $1.6 billion; Egypt $1.4 billion; Netherlands $827 million; Spain $741 million; and Moldova $671 million. Source: State Statistics Service.
The International Court of Arbitration has ruled that Russia must pay Ukrnafta $48 million for gas stations and buildings stolen five years ago with the annexation of Crimea. Last October, Switzerland's Supreme Court ruled that the Arbitration Court has jurisdiction. The compensation to the state oil and gas company covers the value of stolen property, interest since April 2014 and arbitration costs. It is unclear if Russia will pay. Ukrenergo, the state electricity company, also plans to sue Russia to stealing its assets in Crimea.
In ranking of 1,028 big city 'startup ecosystems' around the world, Kyiv jumped 29 places last year, to come in 34th. Among European cities, Kyiv came in 6th. For the other cities of Ukraine's big five, the rankings by StartupBlink are: Odesa –235; Lviv – 299; Kharkiv –435; and Dnipro – 561. The report says: "Kiev, Ukraine Startup Map has 321 startups, and the most popular startups…are Grammarly, Hotelscan and Template Monster."
As part of the new foreign exchange liberalization, PrivatBank terminals now allow users to deposit hryvnia or use their bank card to replenish their dollar or euro foreign currency account. Under the Feb. 7 foreign exchange law, individuals can buy online every day up to 150,000 hyrvnia, currently $5,555.
No change at the coffee shop? The volume of hryvnia banknotes and coins in circulation is almost $1 billion less than at the start of the year, reports the National Bank of Ukraine. Currently, UAH 375.4 billion — $13.9 billion — in cash circulates in Ukraine, or 6.2% less than on Jan 1. The government encourages the use of credit cards and bank cards to collect more sales taxes.
Meal delivery is the fastest growing sector for Kyiv restaurants, says Michael Don, a 23-year veteran of the capital's restaurant scene. "Delivery is growing by 30% a year, traffic is heavy, and people don't want to drive," says Don who maintains 90 small cars to make deliveries for his 74 restaurants.  In addition to handling orders by Internet, Don's USG Holding is investing in brick and mortar this year, opening two new Sushi-Yas and two more Il Molino. Currently, USG has 42 Sushiyas and 18 Il Molinos. He also mulls opening a small chain of Lebanese restaurants, "depending on how quiet the election is."