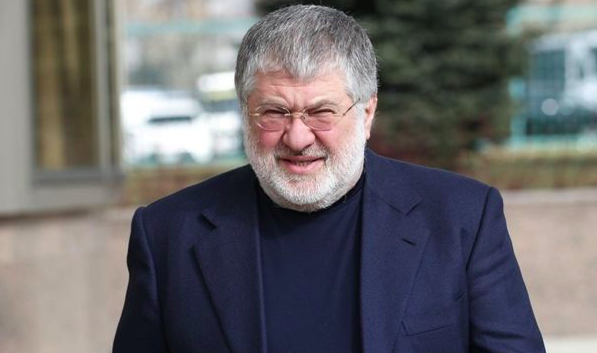 Election Watch:
Ihor Kolomoisky, the former owner of PrivatBank and backer of presidential candidate Volodymyr Zelenskiy, has demanded $2 billion in PrivatBank capital be returned to him. The nation's largest bank, PrivatBank, was nationalized in December 2016. One year later, Kroll Inc., the New York investigation company reported of "large scale and coordinated fraud over at least a ten-year period ending Dec. 2016, which resulted in the Bank suffering a loss of at least $5.5 billion."
"They want to keep PrivatBank?" Kolomoisky asked Economichna Pravda magazine in an interview. "Let them. I don't need PrivatBank. But there was $2 billion in the capital there. Let them return it to me and there will be no problems." Speaking from self-exile in Israel, Kolomoisky said the IMF "instigated" the bank seizure, adding: "They said that they would not give Ukraine money until the bank was taken." Only under a new president, Kolomoisky said, would he get a "fair court and fair legal assessment" of Privatbank nationalization.
In the largest bank rescue in Ukraine's history, the government contributed $5.5 billion to its equity and bailed in $1.1 billion of the bank's liabilities, including $550 million in Eurobonds. Concorde Capital's Alexander Paraschiy writes: "We do not believe in the prospect for any sizable compensation to Kolomoisky from the state for Privatbank's alleged "expropriation," even under a Zelenskiy presidency. At the same time, we do see a solid chance for Kolomoisky, who is among the holders of Privatbank Eurobonds, to secure recovery of the bonds that were bailed in."
With ties between Zelenskiy and Kolomoisky clear, the US Embassy in Kyiv tweeted before the first round vote: "The US Embassy closely monitors the development of events around PrivatBank. Its nationalization was an important stage in economic reform and the fight against corruption."
This week, President Poroshenko flies to Germany and France for photo ops with Chancellor Merkel and President Macron. Zelenskiy also will meet with Macron. Then, Poroshenko says he will be at the Olimpiyskiy Stadium Sunday evening to debate Zelenskiy. Zeleneskiy says he will only go to the Stadium on Friday evening April 19, 36 hours before the second round vote.
The Kyiv Post, historically critical of the Poroshenko administration, is increasingly skeptical of the comedian candidate. "The more scrutiny that is applied to presidential candidate Volodymyr Zelenskiy, the worse he is holding up," writes Chief Editor Brian Bonner, citing Zelenskiy's links to Kolomoisky and to Russia. "On national security issues alone, Poroshenko is the safest choice."
"While he surrounds himself with a group of reformers — ex-Finance Minister Oleksandr Danylyuk, ex-Economy Minister Aivaras Abromavicius and lawmaker Sergii Leshchenko — how much influence they have over the candidate is questionable," the editorial continues. "Their presence looks more and more like window-dressing."
Anders Aslund in an Atlantic Council essay writes that "financial markets are happy," pacified by "the freest and fairest election in Ukraine's history." He elaborates: "The hryvnia strengthened by 3% in relation to the US dollar in the week after the first round of the presidential election. The yield on sovereign Eurobonds has fallen to 7-8%, while it was 9-10% a couple of months ago. The financial market is thin, but it is intelligent and well informed. Why shouldn't the market respond positively?"
Investments by foreigners in Ukrainian domestic treasury bills hit a new record last week, increasing by UAH 2.5 billion, to nearly UAH 23bn, or $852 million. ICU writes: "For three weeks in a row, domestic bills have been favored by foreign investors. It is very likely that demand from this category of investors will continue to be high during the following weeks."
A new China-Hungary container train, rolling 1,200 km through Ukraine, starts weekly service on Friday. Last week, a 41-container test train carrying consumer goods from Shanxi, China, completed the 12-day trip to Eperjeske, Hungary, arriving on Sunday. The train enters Ukraine at Zernove, Sumy, and then runs in a southwest diagonal to Batevo, Zakarpattia. Promoters of the service  — Rail Cargo Logistics of Russia and KTZ Express of Kazakhstan — say the train opens a "southern corridor" from China to Hungary, Austria, Romania, Italy, and Balkans.
Planners are drawing up blueprints for a €600 million industrial park and logistics hub to turn Kovel into a gateway for Chinese goods to the EU. Trains from China to the EU face two railroad gauge breaks. The first is at Dostyk, Kazakhstan, where the wide Soviet gauge starts. The second is at Poland's eastern border, where the narrow European gauge starts. Currently, the main gauge transfer point – Brest, Belarus / Małaszewicze, Poland – is overloaded, says Yevhen Kravtsov, CEO of Ukrazalinytsia.
With five rail lines radiating out of Kovel, Western Ukraine's rail hub, Ukrzaliznytsia is electrifying the 85 km stretch southwest to Izov on the Polish border and planning to use EU loans to rebuild the 65 km of European gauge section that runs due east to Chelm, Poland. The rail route from Dostyk, on the Chinese-Kazakh border, to Kovel, is only 4% longer – 206 km – than the rail route to Brest. By shipping products by rail, some Chinese factories can cut shipping times to the EU in half, compared to sending by sea.
"The [Kovel] region has a unique opportunity to turn into a transport and logistics hub and become the western gateway of Ukraine to Europe," Oleksandr Savchenko, Ukraine's chairman of the regional administration, recently told a meeting in Kovel of the Volyn Regional Development Council, according to Zalіznichne postachannya magazine. He estimated construction of an international "dry" cargo port with a trackside industrial park would create 3,500 jobs.
One year after restoring its Zurich-Kyiv route, Swiss International Air Lines increases its frequency this week by 50%, to six times a week. In July, the flight will increase to daily, says Rene Koinzack, country manager for Lufthansa Group, the parent company for Swiss. The flight had been dropped Oct. 1, 2014, due to the hostilities between Ukraine and Russia.
Ukraine new discount airline SkyUp starts flying to France in the first half of June, company CEO Eugene Haynatsky tells U Vidpustku travel site. SkyUp will fly three times a week from Kyiv Borispol to Paris Orly and two times a week from Kharkiv to Orly. It will also fly twice a week to Nice, competing with a UIA flight on that route. In a reciprocal deal, discount French carrier Aigle Azur starts flying between Kyiv Boryspil and Orly on April 18.