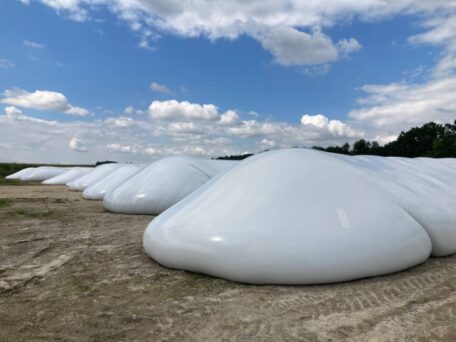 Friday, October 14, 2022
Ukrainian farmers will receive more than 30,000 crop storage sleeves.
Small and medium-sized agricultural producers submitted 1,494 applications to receive 30,120 sleeves for temporary grain storage through the State Agrarian Register. The project is implemented by the Ministry of Agricultural Policy and FAO with the financial support of Canada, Japan, and the Minderoo Foundation in the total amount of $60.5M. This assistance is expected to provide 30% of the national need. The issues of grain storage became relevant after Russia invaded Ukraine and blocked the export of Ukrainian agricultural products. However, despite the partial resumption of sales and transportation, the prospects of the grain corridor remains uncertain, so the issue of storage has not lose its relevance, as it ensures proper storage of the new harvest, said the Minister of Agricultural Policy Mykola Solskyi.