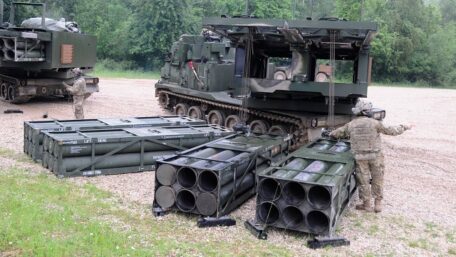 Friday, August 12, 2022
Ukraine will receive long-range multiple-launch rocket systems from the UK.
 The United Kingdom will send more multiple-launch rocket systems (MLRS) to Ukraine, announced UK Defense Secretary Ben Wallace. In addition, according to the defense secretary, the UK will give a significant number of precision-guided M31A1 missiles that can strike targets up to 80 km away. Also, the Ministry of Defense said other equipment currently being delivered to Ukraine includes more than 20 155-millimeter self-propelled guns, 105-millimeter artillery guns and ammunition, more than 50,000 rounds of ammunition for Ukraine's Soviet-era artillery, and at least 1,600 more anti-tank weapons. Moreover, the UK and other NATO countries are also committed to providing infantry skills training for up to 10,000 Ukrainian soldiers. The Ministry of Defense said the UK and its allies will establish a plan of action to support Ukraine into 2023 and for as long as necessary.