Ukraine and the EU have coordinated steps to prepare Ukraine for membership.
Friday, September 30, 2022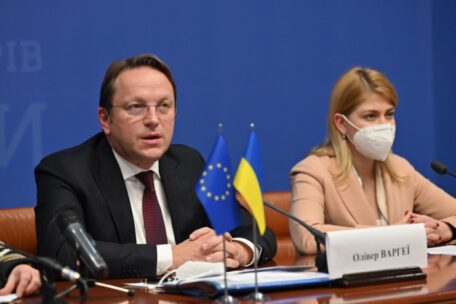 Deputy Prime Minister Olga Stefanishyna met with EU Commissioner Oliver Vargei to discuss Ukraine's implementation of the seven recommendations from the European Commission, which are a prerequisite for dialogue with the EU regarding the opening of enlargement negotiations. Additional focus was also placed on the necessary expert and financial support for implementing reforms and the integral implementation of EU legislation. Stefanishyna emphasized that Ukraine and the EU need a clear and structured plan for the country's accession to the EU. The Ukrainian side has prepared a roadmap for accession to ensure clarity for the process for both parties. In turn, Oliver Vargei noted that since it is now about achieving full compliance with the membership criteria, the assessment of Ukraine's progress by the EU will be deeper and will consider not only the adoption of certain decisions but also their implementation.
Support UBN team