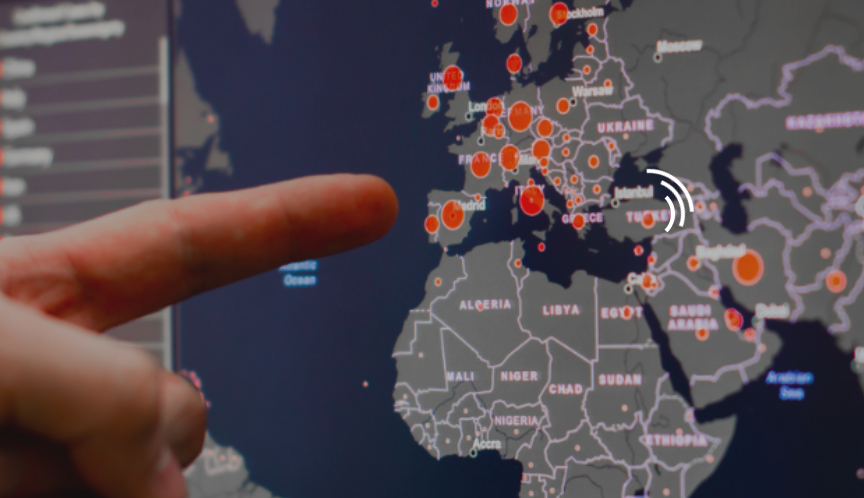 Tuesday, September 29
Ukraine to Foreigners: Come Back...Corona Winners: TV Watching and Teleworking...Corona Losers: Travel Abroad and Book Reading...With Russian Railways out of Slovakia Hub, Chinese Container Trains Roll Across Ukraine to EU...Temerty Makes Biggest Gift in Canadian History
With Ukraine now open to foreign visitors again, arriving foreigners are subject to the same restrictions as Ukrainians who come from abroad. Ukraine's Health Ministry divides the world into 'red' and 'green' countries. As this bilingual list shows, 'red' countries have infection rates higher than Ukraine's current level – 110/100,000 people. Travelers arriving from a 'red' country must have health insurance and must agree to self-isolate for two weeks, pending a positive result from a Covid 19 test.
In the month since the one-month ban on the arrival of most foreigners, Ukraine's infection rate has increased by about 50%, to an average of 3,000 new cases a day. On Saturday morning authorities announced a record 3,833 new cases for Ukraine, including a record 447 new cases for Kyiv, the primary port of entry for foreigners. According to Worldometer's Coronavirus chart, Ukraine ranks average: 25th in the world for the number of known cases – 201,305; and 33rd in the world for the number of deaths – almost 4,000. According to the government, Ukraine's population is 36 million — 39th in the world.
Ukraine's re-opening comes too late to save the Chornobyl tourism season. With the season nearing an end, 24,000 tourists have visited the exclusion zone — 70% below this time last year, Maksym Shevchuk, deputy head of Exclusion Zone Management Agency tells Ukrinform.
While many foreigners could not come to Ukraine this summer, many Ukrainians had a hard time vacationing abroad. The volume of credit card purchases by Ukrainians outside the country plummeted by 63% this summer compared to the summer of 2019, reports the Ukrainian Processing Center. Similarly, the volume of money withdrawn from ATMs outside Ukraine dropped by 47%, reports the Center, a Raiffeisen Bank International unit that processes transactions for 38 banks and 1,700 online stores in 16 countries of Central and Eastern Europe.
Inside Ukraine, transport companies carried 41% fewer passengers through August, compared to the first eight months of 2019, reports the State Statistics Service. The drops were across the board: buses – 41%; metro systems – 46%; rail – 56.5%; and airlines – 66%. Overall, about 1.7 billion trips were made.
If rising corona infections prompt the need for more social distancing this fall, working at home is popular, according to an online survey by Ukraine's OLX Jobs, the personnel site. Of workers who had switched to teleworking, 58% said they wanted to continue. For employers, 53% praised the reduction in office rent costs; 19% cited the benefits of hiring employees from other cities to work remotely; and 17% noted a greater efficiency of work outside the usual format. The survey was conducted last month by OLX, a site that claims 2.4 million users visits every month.
For big industrial companies, the top problem created by the spring lockdown was the lack of transportation to bring employees to work, according to a survey of 82 companies largely in machine building and metallurgy. Faced with the transportation shutdown, 37% of companies cut production and 21% completely shut down, according to the survey by the Center for Resource Efficiency and Cleaner Production.
Faced with economic uncertainty, Ukrainians invested 42% more in repairing major appliances last summer compared to the summer of 2019, reports Kabanchik, an online platform for ordering services. One legacy of the April-May shutdown is Ukrainians increased use of courier services – the average check is up 20%. The use of drug delivery services has doubled, Olga Soroka, Kabanchik's head of marketing, tells Interfax-Ukraine.
TV watching increased by 35% during the coronavirus lockdown, according to a market summary provided recently at Kyiv Media Week. Despite the jump in viewership, ad spending fell and only started to recover in July, reports BroadbandTVNews. About one third of Ukrainians watch paid video on demand services.
Ukraine's book publishing industry, slow to move to online sales, saw the number of published titles fall during the first half of this year by 55%, to 4,608, reports Publishing Perspectives news site in an article titled: "Ukraine Book Business After Lockdowns: An 'Almost Complete Collapse." Alexander Afonin, Ukrainian Publishers and Booksellers Association, says: "The current situation is very difficult, if not disastrous." Olga Pogynaiko, marketing head of Smoloskyp Publishing House, said sales were down by 65%, largely because their bookstore was closed for 2.5 months. In contrast, their internet bookshop saw an increase in sales.
Chinese container trains are to roll across Ukraine weekly in October, carrying cargo from Xian to the Soviet/EU gauge break at Dobrá, on Slovakia's border with Chop, Zakarpattia. In September, two Chinese container trains made the 11-day trip. From Slovakia, containers go by truck or train to Austria, Hungary, Germany or the Czech Republic, reports RailFreight.com. The first train was greeted by China's new ambassador to Slovakia, Sun Lijie, and by officials of METRANS, the Czech rail operator. The trans-Ukraine route became possible after a unit of Russian Railways dropped its 15-year lease on the Dobrá terminal in February. Sometimes called 'the largest land harbor in Central Europe', Dobrá and the adjoining station of Čierna nad Tisou have 916 tracks.
A Czech company, Interport, wants to develop a container terminal on the second stretch of Soviet gauge track that stretches from Ukraine into Slovakia, reports Poland's InterModal News. Measuring 100 km, this electrified track carries iron ore from Uzhgorod to Haniska, home to US Steel Košice. The Interport terminal is served by Soviet and EU gauge tracks and can handle 275 containers a day — the equivalent of six freight trains from China. Chinese container traffic through the Belarus-Poland gauge break has doubled this year, prompting Ukraine and Slovakia to try to win some of the traffic.
Former Finance Minister Oleksandr Danilyuk has been elected chairman of the supervisory board of the National Depository of Ukraine. The State Securities and Stock Market Commission licenses that the Depository to carry out clearing and settlement of securities in Ukraine.
Ukrainian-born Canadian businessman James Temerty and his wife Louise have given Can$250 million to the University of Toronto's Faculty of Medicine, a contribution described by the university the "single largest gift in Canadian history." Temerty, now 78, was born in Novotroitske, currently the site of a checkpoint on the line of control with Russia-controlled Donetsk Oblast. After making his fortune in Canada, first with ComputerLand and later with Northland Power, Temerty started the Temerty Foundation which has funded a series of Ukraine-related education projects, including the Temerty Contemporary Ukraine Program at Harvard University.
From the Editor: Volodomyr Zhmak, the new CEO of Ukrzaliznytsia, shows he knows which way the political winds are blowing when he tells Ekonomichna Pravda that he will ignore the strategic partnership memorandum signed last February with Deutsche Bahn. "Given the expertise that I and my team have, I do not see the need to involve any international consultants," he says of Germany's railroad. "I do not see the possibility and sense of attracting any foreign specialists." Some of UZ's freight customers might argue that the Germans have useful advice on running private freight trains on public tracks, cutting a bloated staff, and reducing rampant theft. Indeed, borrowing from the experiences of others can cut out the process of reinventing the wheel. With best regards, Jim Brooke