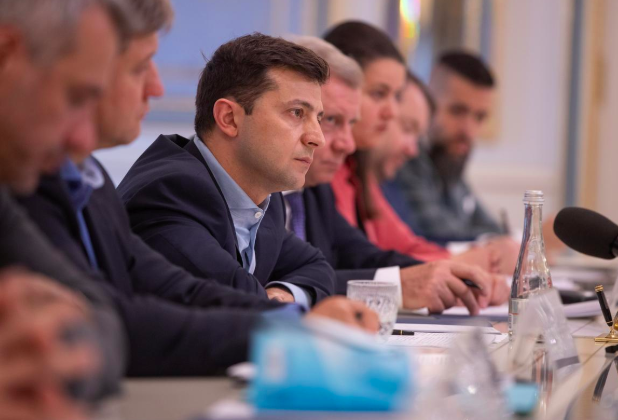 Tuesday, September 17
Rebuilding Donbas: Focus of Oct 29 Conference in Mariupol...To Encourage Foreign Investment, Big Public Investments are Underway for Port, Roads, and Railroad...In Time for Conference: New Airport for Zaporizhia and Highway to Mariupol...New Getaway Flight: Zapo-Sharjah
As part of President Zelenskiy's hearts and minds strategy for the Donbas, the new government will hold an international investment forum on Oct. 29 in Mariupol, the largest seaport and industrial city in the region. Cut off for five years from half of the Donbas industries and mines, Mariupol has languished in every way — but population. Bolstered by Donetsk residents who do not want to live in the Russia-controlled half of the Donetsk, Mariupol's population is believed to be back to its pre-Independence level of half a million.
A series of infrastructure investments are underway to draw private investment to the largest city on the Sea of Azov. "In the 21st century, those who are not afraid to take risks will be successful," Prime Minister Honcharuk told the Yalta European Strategy, an international gathering in Kyiv on Saturday.
Mariupol port is seeing the largest dredging work of Ukraine's top 10 seaports this season. By November, an international fleet of four dredging ships is to remove 2 million cubic meters of sediment from approach channels and the port. "We are doing everything possible to ensure that the ports of Berdyansk and Mariupol remain competitive and can ensure the import and export of goods from the south-east of Ukraine," Raivis Veckagans, head of Ukraine's Sea Ports Authority, said the $14 million project.
One goal of this public spending is to lease parts of Mariupol port next year to private investors, Yuriy Laveniuk, Ukraine's new Deputy Minister of Infrastructure, said last week. In coming days, the Rada is to pass on second reading a concessions bill that would cover port projects.
At the port, a wharf was rebuilt and the Azov's first major grain handling complex was commissioned this summer. The complex has 10 silos and a German-made NEUERO ship-loading machine capable of loading 1,000 tons of grain an hour.  This first phase of the project has an annual throughput of 1.5 million tons of grain.
After taking a hit in 2018 due to Russian harassment of ships, Mariupol's port cargo has stabilized this year – at the new low level. So far this year, the port has handled 4 million tons of cargo – the same amount as this time last year. At this rate, the port will handle 6 million tons this year – far below the 14.6 million tons handled in 2013, the last pre-war year. To motivate producers to use the port, the Cabinet of Ministers ordered the state railroad to offer 20% rate discounts on grain and metals shipped to Mariupol and Berdyansk. Veckagans, of the Sea Ports Authority, said that, in the face of international pressure, Russia has reduced harassment this year of Ukrainian shipping.
On land, the EU committed last summer to help pay for 72 new trolleybuses for Mariupol and €45 million to rebuild Mariupol's sewage and lighting systems. In time for next month's investment conference, the first 15 of 64 MAZ buses from Belarus will ply routes in the city. Adding a modern, colorful touch to a largely drab industrial city, these low-floor, accordion buses are being financed with a low-interest loan from the World Bank's International Finance Corporation.
Under pressure to reduce Mariupol's geographical isolation, Ukrzaliznytsia has turned the 6-month-old Kyiv-Mariupol night train into a daily service. The train connects the capital with the Azov in 15 hours, three hours faster than earlier trains. Last month, for the first time in five years, the railroad restored local service along a 150 km north-south regional line that runs close to the front line: Mariupol-Volnovakha-Yuzhnodonbaska.
Rotating paving crews are using road equipment around the clock to finish rebuilding the 210 km highway between Mariupol and Zaporizhia. Due for completion one week before the investment conference, this road will speed conference attendees by bus from Zaporizhia airport to Mariupol in two hours – half the time before the road work. To complete the work by mid-October, Ukravtodor, the national highway agency, released $36 million in emergency spending last month. "This year it is incredibly important for us to build a road to Mariupol — this is task number one," Oleskiy Honacharuk told reporters Aug. 30, the day after he became prime minister.  "Because it is a Ukrainian city which is now a kind of logistics island. It should not be so."
Although President Zelenskiy and Prime Minister Honcharuk may fly into Mariupol, the city airport is largely restricted to military flights. Located 30 km west of the front line, the airport is considered too close to the war zone for commercial passenger flights. In one sign of an easing, Eleron Airlines is now making test cargo flights to Mariupol, for Nova Poshta, the private delivery service. Flying An-26s, Eleron flies to far-flung cities that are impractical to reach overnight by truck.
Many conference attendees will reach Mariupol by flying from Kyiv to Zaporizhia, an airport that aspires to be the hub for Ukraine's southeast. In time for the conference, the airport plans to complete a $40 million rebuild – a renovated runway and a new steel and glass terminal. Already the busiest airport in the region, Zaporizhia saw its passengers increase by 28% y-o-y through August, to 330,000. UIA and Motor Sich have flights from Kyiv. On Oct. 28, the day before the Mariupol conference, SkyUp starts service from Kyiv Boryspil to Zaporizhia.
With international flights growing the fastest, Zaporizhia now has direct scheduled flights to Barcelona, Minsk, Tel Aviv, Istanbul, Warsaw and charters to the Egyptian and Turkish resorts. On Oct. 27, SkyUp starts two flights a week between Zaporizhia and Sharjah, United Arab Emirates.
Looking ahead to the international conference in Mariupol, Oleksandr Danylyuk Secretary of National Security and Defense Council, told BBC Ukraine recently: "The purpose of the forum is to draw attention to the development of Donbas and attract investors…It is necessary to attract investments into the region, since roads, ports, infrastructure, schools require money."
From the Editor:  Prisoner swaps, peace talks, and development appear to be the sequence for President Zelenskiy's approach to creating a détente for Ukraine's southeast. Fresh asphalt, good jobs, and new airports may well prove irresistible to Donbas residents stuck on the wrong side of the fence. Best regards, Jim Brooke jbrooke@ubn.news.