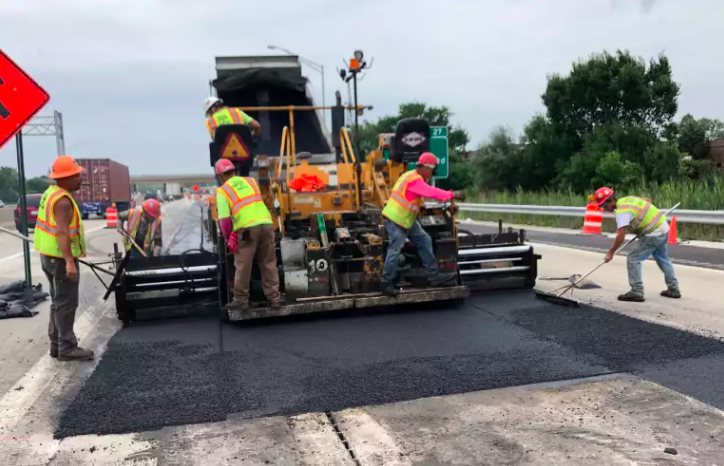 Ukraine plans to spend $5 billion to rebuild and repave roads next year, according to the draft State Budget approved yesterday by the Cabinet of Ministers. Today, the Rada starts to review the budget, which would increase road spending by 16%, or $711 million, over last year's levels. Tormented by deteriorating roads first built in the Soviet era, Ukrainians overwhelming support the roadbuilding program, recent polls indicate.
The draft State Budget calls for spending $100 million to accelerate government digitalization, easing interactions between citizen and the bureaucracy. Using Estonia as a model, Ukraine intends to move more and more processes – such as obtaining a birth certificate – online. Ukraine's new Ministry of Digital Transformation says digitizing the "17 most common services" Ukraine will save $45 million year in corruption costs and wasted time.
Prime Minister Denis Shmygal said  that the draft budget envisages 4.7% GDP growth and a deficit of 6% of GDP.  Ukraine's economy is expected to contract by about 6% this year.
Today, Ukraine's hryvnia currency is pegged at 28 per U.S. dollar by the National Bank of Ukraine. After a devaluation of 1.7% in the last two weeks, the hryniva has returned to a level briefly held last March. The draft 2021 budget is calculated at 29.1 hryvnia to the dollar, Finance Minister Serhiy Marchenko told reporters yesterday.
S&P Global Ratings has predicted that  Ukraine's economy will shrink by 6% this year, then rebound by 4% next year.  In 2021 , inflation will increase to 6% and the hryvnia will be at 30 to the dollar. S&P made these predictions as part of a report that confirmed Ukraine's long-term sovereign ratings in foreign and national currency at B, with a stable outlook.
Despite the recession, the number of limited liability companies – the favorite kind of company in Ukraine – increased by 6% yoy, to 694,271 by Sept. 1, reports the State Statistics Service. Apartment dwellers gradually are taking on responsibility for their buildings as the number of associations of co-owners of apartment buildings was up by 8.5%, to 34,128. The government battle to cut the numbers of state companies made little progress: the number dropped by only 1.5%, to 3,725.
Ukraine's total trade turnover dropped by almost 10% through August, compared to the same period last year, reports the State Customs Service. With imports down by 12%, twice as deep as the export drop of 6%, the overall trade deficit in goods and services, dropped almost in half, to $2.4 billion. Through August, imports and exports added up to $64.3 billion.
China emerged head and shoulders as Ukraine's largest trading partner, with $9.4 billion in two-way trade through August. Two-way trade with Russia was only half that level — $4.7 billion. Ukraine had an $800 million trade surplus with China and a $900 million trade deficit with Russia. During the course of last year, China edged out Russia as Ukraine's largest trading partner.
Poly Changda, a subsidiary of a major Chinese conglomerate, is preparing to bid on a tender to construct part of the Kyiv Bypass Road, Serhiy Kamyshev, Ukraine's Ambassador to China reports after meeting with company officials in Beijing on Thursday. The conglomerate, Beijing-based China Poly Group Corporation Ltd, is a major Chinese builder of highways, bridges and tunnels.
Russia's diminished economic influence in Ukraine is outlined in a new study by the Center for Economic Strategy: "Russian Economic Footprint in Ukraine." Ukraine's imports from Russia fell from 18% of Ukraine's GDP in 2012, to 6% of GDP in 2019. Russia's share of assets in Ukraine fell about 40% over the last decade, the study says. The number of Russian banks has fallen from 13 in 2009 to five today.
The U.S. International Development Finance Corporation, formerly known as OPIC, will provide $89 million in loans and political risk insurance for two American companies operating in Ukraine, one in gas and the other in hotels. Energy Resources of Ukraine Trading, a private gas trading company known as ERU, will receive $62 million in risk insurance. In 2017, the original Overseas Private Investment Corporation provided $38 million in risk insurance to ERU. Now totaling $100 million, the insurance is for 20 years.
Separately, $27 million will be loaned for the construction and operation of Ukraine's first Sheraton hotel, the Sheraton Kyiv Olimpiyskiy. US-based Marriott Hotels & Resort has a contract with Construction Investment Company TM to manage the hotel when it is completed. Planned a decade ago for Euro-2012 football finals, the 12-story hotel on the grounds of the Olympic Stadium later underwent a re-design, increasing the number of rooms by 6%, to 208. Assuming the coronavirus pandemic comes under control and travel returns to normal, the hotel is expected to open next year.
Wizz Air has cancelled 12 more routes flights from Ukraine until March, reports Lowcost Avia. With the cancellations – from Kyiv Sikorsky, Kharkiv, Lviv, Odesa and Zaporizhia – Wizz Air increases to 20 the number of suspended Ukraine routes.
European Travel Insurance, a Kyiv company, insured 63% fewer tourists last summer compared to the summer of 2019.  Insurance for Ukrainians traveling abroad fell by 64%, to 191,000. Insurance for domestic travel fell by 58% to 35,000. The company said in an end of summer report: "Although the borders opened and air traffic resumed early June, tourists were seriously scared by the sad experience of quarantine, and were not in a hurry to plunge into the world of travel again."
In the first two weeks of September, Kyiv's omnipresent tow trucks towed more than 2,000 cars, earning the city at least $35,000, Mayor Vitaly Klitschko told reporters yesterday. "Drivers must realize that it is better to park at 200-300 meters further away, pay for parking, and relax," the Mayor said. "If you don't want to pay for parking, use public transport." Pedestrians complain that the new tow trucks seem to leave untouched cars parked on sidewalks.
From the Editor: Two years ago, I asked Mayor Klitchko why people park on sidewalks, giving Kyiv the air of a 1990s post-Soviet city. He answered: "People park where they want, because they know they can get away with it." Now, armed with legal authority and a platoon of tow trucks, the Mayor is busy towing. It seems the long arm of the law does not reach sidewalks. So, to block cars, city workers are installing anti-tank pylons big enough to block an SUV. The logical next step will be for drivers to surrender and to start using paid parking garages. With the noose tightening on street parkers, this could finally be the time to invest in parking garages, a big business in other world capitals. With best regards, Jim Brooke