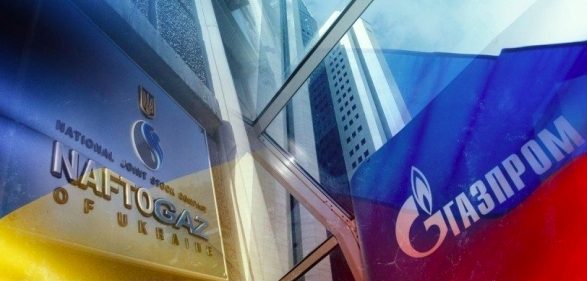 Gas experts of Russia, Ukraine, and the EU will meet Sept. 19 in Brussels to negotiate to renew Gazprom's 10-year, trans-Ukraine transit contract, which expires on Jan. 1, tweets Maroš Šefčovič, the European Commission's vice president for Energy. "I am convinced that progress would send a strong positive signal to the market as well as consumers ahead of the winter season," Šefčovič, a Slovak politician, said, echoing EU concern about the reliability of gas supplies from Russia.
With Gazprom's Russia-Germany Nord Stream 2 pipeline running behind schedule, Russian Energy Minister Alexander Novak offered this summer to renew the expiring contract with Ukraine for one year. In retort, Naftogaz wants a 10-year contract with minimum annual volumes of 60 billion cubic meters. Last year, Russia shipped 87 billion cubic meters through Ukraine, a volume that should be matched this year. On Monday, Šefčovič held discussions in Brussels with Ukraine's new Energy Minister, Oleksiy Orzhel.
Bracing for tough talks, Naftogaz has raised its gas storage stocks to the highest level in seven years – 18.7 billion cubic meters. The goal is 20 billion cubic meters – enough to get through the winter without needing Russian gas. Without buying gas directly from Gazprom, Ukraine in recent years has used some gas pumped by Russia to the EU for its own needs in eastern and central Ukraine. In a swap, it compensates for this with deliveries from gas storage reservoirs in western Ukraine.
Ukraine's revenue from electricity exports hit $240 million through August up 12.4% compared to the first eight months of 2018. The top buyers were: Hungary – $147 million; Poland – $54 million; and Moldova – $30 million.
Russia has denied transit permits to 60% of Kazakh coal that was to have crossed Russia last summer for Ukraine, reports Interfax-Kazakstan, citing Maxim Kononov, an executive of Kazakhstan's Association of Mining and Mining and Metallurgical Enterprises. Instead of 584,000 tons, Ukraine received only 233,500 tons. Similarly, imports of Russian coal dropped in half over the summer. At the same time, Ukraine's seaports almost doubled their coal imports in July.
With the advent of the Zelenskiy Administration, Polish investors should take a second look at Ukraine, Jacek Piechota, president of the Polish-Ukrainian Chamber of Commerce, tells readers of Rzeczpospolita, Poland's national business news site. "This is the first president who talked in such an open, direct and substantive manner with entrepreneurs," Piechota, president of the Chamber for 12 years, said of his recent meeting in Warsaw with the new Ukrainian president. "The president also introduced several young ministers – there was determination and energy to act for rapid change."
"We urge companies operating in the agri-food sector to think about operating on the Ukrainian market," Piechota, a former Economy Minister, said in an interview headlined: "After freeing the land market, it's worth thinking about investments on the Dnipro." Asked about corruption, Piechota responded: "Ukraine is consistently creating anti-corruption structures, deregulating economic turnover, introducing standards known to us from the [European] Union."
The Rada is reviewing draft bills to allow private locomotives and to modernize river traffic, Vladislav Krikliy, the new Infrastructure Minister, writes on Facebook. "The bills introduce a European model for rail and inland waterway markets, lay the foundations for fair competition," the Minister writes. "These transport reforms will have a significant impact on the national economy of Ukraine. An expert estimate on the economic effect is about 3% of GDP growth annually."
South Korea's Posco International will inaugurate on Sept. 24 in Mykolaiv a grain export terminal with a one-time storage capacity of 140,000 tons. Last February, Posco bought 75% of the project from Ukraine's Orexim Group. With the new terminal, Posco plans to triple its grain exports from Ukraine, to 3 million tons a year. Posco also plans to create its own rail hopper wagon fleet.
Ukraine's inflation rate fell in August – the third month in a row. Prices in August were 8.8% higher than in August 2018, reports the State Statistics Service. For visitors with dollars, prices seemed higher because the hryvnia has appreciated against the dollar by 10% this year. The National Bank of Ukraine forecasts that the inflation rate at the end of the year will be 6.3%.
Baker Tilly Ukraine, the local unit of the London accountancy firm, has won the ProZorro tender to audit UkrOboronProm, the defense industry conglomerate. Aivaras Abromavicius, the new general director of UkrOboronProm, says of the $1.2 million contract: "My vision is that auditors should start working in the concern before the end of this year. Now we are creating these conditions for them." UkrOboronProm said in a statement: "This will be the first consolidated audit of the concern in the entire history of its existence."
Ukraine will comply with the US FATCA, or Foreign Account Tax Compliance Act, according to a decision by Cabinet of Ministers. Started in 2014 in a government effort to combat US tax evasion, the onerous paperwork prompted many foreign financial institutions to drop American clients.
In the latest foreign exchange liberalizations, Ukraine's central bank drops – effective today – a monthly €5 million limit on repatriation of funds from the sale of securities, corporate rights, and withdrawal from business companies by foreign investors. The National Bank of Ukraine also liberalized restrictions on non-resident individuals are transferring overseas hryvnia dividends, interest income on securities and other income on property rights objects in Ukraine.
The central bank is switching its electronic payment system, or BOT, to around-the-clock mode. Helping banks and their customers make time-sensitive payments, the bank will move the BOT next spring to working 23 hours a day, seven days a week. Currently, the BOT accepts interbank payments from 8:30 am to 7:00 pm on business days. It does not function on holidays and weekends.
After losing $100 million last year, Ukraine International Airlines, the nation's flag carrier, is replacing its president of 15 years with the deputy director of Boryspil Airport. Yevgeny Dykhne, who has helped to run Boryspil, UIA's main hub, for the last five years, replaces Yuriy Miroshnikov next week. UIA Board Chairman Aaron Mayberg blamed UIA's poor performance on aviation fuel taxes, VAT taxes on domestic flights, and Russia's ban on overflights by Ukrainian airlines. Talking to reporters Monday, he predicted UIA will return to profitability next year.
From the Editor: UBN is looking for long-term sponsors interested in placing their company in front of our growing international investor audience. Our new information package gives statistics about the audience, sponsorship pricing, and details on how your message will reach our subscribers every weekday morning. To learn more, please email Peter Atwood, UBN's Business Development Director, at patwood@ubn.news.