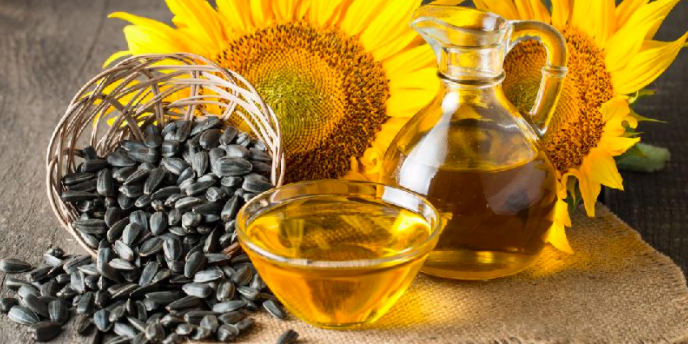 Ukraine's Kernel Holding S.A., the world's largest sunflower oil manufacturer and exporter, plans to start investor calls today to place $300-350 million in Eurobonds for terms or 5 or 7 years, Bloomberg and Interfax-Ukraine report. In parallel, Kernel is buying back up to $350 million of its Eurobonds 2022. J.P. Morgan is the sole global coordinator and joint bookrunner and Crédit Agricole CIB and Natixis are joint bookrunners.
Standard & Poor's Global Ratings yesterday raised the long-term credit rating of Kernel to 'B+' — one notch higher than Ukraine's sovereign rating. The rating upgrade from 'B' came with a stable outlook. In the universe of Ukraine's 25 most traded corporate bonds, no other bond wins a 'B+' rating from S&P. "We positively assess the issuance of new senior unsecured bonds to refinance bonds maturing in January 2022," S&P said, referring to this week's marketing of new Eurobonds for Kernel. "The stable outlook reflects our view that the low risk of disruption to export volumes due to the COVID-19 pandemic and significantly lower capital expenditures in fiscal 2022 should support cash flows."
Some of the new money is to go to retire debt and some to Kernel's ambitious $270 million capital expenditure program for the fiscal year ending next June.  These include bringing on line a new oilseed processing plant in Western Ukraine, completion of several biogas energy plants and increasing the capacity of Kernel's new TransGrainTerminal trans shipment complex in Chornomorsk sea port.
Bolstering investor confidence in Kernel are a series of numbers released yesterday: FY2020 EBITDA was up 28% yoy to $443 million; grain exports were up 30% last year to 7.9 million; and exports are to increase another 20% in the year ending June 31. Although drought is cutting this year's sunflower harvest by 14%, rising prices may compensate. "Competition for raw materials will intensify," Andrey Verevsky, Kernel's chairman, predicts in the new annual report. "The upward trend in global commodity prices will partially offset the downward pressure on profitability of all our segments in the new season."
Interpipe, the steel pipe and railroad wheel company, announced yesterday that it has redeemed at par value with accrued interest $32.4 million of its 2024 Eurobonds. Remaining debt on the bonds is $81.3 million.
Ukreximbank has bought $485 million in hryvnia bonds from Ukravtodor, the state highways agency, reports Interfax-Ukraine. In three placements, the state-owned bank agreed to a 10.5% yield for one year bonds and 9.99% yields for two and three year bonds. Of the $3 billion budgeted for the government's 'Big Construction' roads program this year, 22% is to come from loans with state guarantees, 37% from the Road Fund, and 41% from the Covid-19 Fund.
Intent on purging the entire 6-member central bank Board within 90 days, the National Bank of Ukraine Council yesterday approved reprimands and votes of no confidence in the two last Board members remaining from the 2015 bank cleanup era. The two, Yekaterina Rozhkova, the first deputy governor, and Dmitry Sologub, a first deputy governor, became familiar figures to Western investors and IMF missions over the last five years. Although the Council decisions are non-binding, the central bank's new Governor, Kirill Shevchenko, voted for the motions, reports Interfax-Ukraine. As a result, both veteran central bank officials are expected to resign.
When President Zelenskiy arrives in Brussels today for the annual EU-Ukraine summit, he will be greeted by a letter from Ukraine specialists in the European Parliaments proposing the EU visa privileges be withdrawn from "a few dozen bad apples" in Zelenskiy's Servant of the People party. "We cannot but see that some members of Sluha Narodu [Servant of the People] are spreading Kremlin-backed disinformation while orchestrating well-organized attacks on independent institutions," the EuroParl Members charge. "The same [Rada] members do not shy away from rubbing shoulders with oligarchs and 'untouchables' or publicly advocating for cutting ties with the EU." They add: "All this endangers particularly the €1.2 billion Macro-Financial Assistance, not because we want it so, but because the mutual agreements that you and we concluded foresee it."
Cargo moving through Ukraine's sea ports was up 3.7% yoy through September, compared to first nine months of last year. Easing the corona recession, exports were up 5.6%, to 91 million tons. Other directions were: imports down 3.1%, to 18 million tons; transit down 5.5%, to 7.7 million tons; and cabotage, or shipment between two Ukrainian sea ports, was up 31%, to 1.8 million tons. Container traffic was up 8.3%, to 773,000 boxes.
After six months in western Ukraine, Covid-19 has decisively moved east, making eastern Ukraine the current infection hot spot, Health Minister Maksym Stepanov told reporters yesterday morning. In the 24 hour period ending Monday morning, the top areas for new cases were: Kharkiv oblast – 446;  Kyiv city – 286; Sumy oblast 282; Donetsk oblast – 226; Dnipropetrovsk oblast — 206 ; and Zhytomyr oblast 185. Kyiv and Dnipropetrovsk straddle the Dnipro.
By Friday, Ukraine will be recording 5,000 new infections a day, the Health Minister predicts. The record to date is 4,661 new cases, reported last Saturday. In the latest high profile infection, Ukraine's most successful soccer club, Shakhtar Donetsk, is self-isolating for two weeks after two players tested positive on Sunday. Despite this setback, Kyiv Mayor Vitali Klitschko announced yesterday that city stadiums will reopen this month for spectators to watch international matches. Attendance is capped at 30% of seats.
Ukraine's hotel operators will need two years to recover from the last six months of corona crisis, Natalia Chystiakova, consulting director for Colliers International (Ukraine), predicts in an interview with Interfax Ukraine. Last summer the average occupancy of Kyiv's hotels fell to 20%. Four- and five-star hotels were hard hit because of the loss of conference and difficulty of closing and losing trained staff. If strict quarantine and air travel controls return, she predicts, several hotels could close permanently.
Airline News:
On Sunday, Windrose Airline started flying between Kyiv Boryspil and Zagreb, Croatia. The two-hour flight will be twice a week, on an ATR-72-600 turboprop.
On Sunday, Oct. 25, low-cost Air Arabia resumes flying between its home base in Sharjah, UAE and Kyiv Boryspil. Sharjah's airport is 25 km east of Dubai's far larger airport.
Ukraine's discount carrier SkyUp plans to open Lviv and Odesa's first flights to Amsterdam Airport Schiphol, Europe's busiest airport in terms of aircraft movements. Amsterdam is a major transit hub for flights to London and Paris and to five North American cities – New York, Atlanta, Detroit, Toronto and Minneapolis/St. Paul.
From the Editor: The EuroParl members correctly point out that Ukraine's government is backsliding on corruption. But, if there is a strategic thinking in Bankova these days, the view may be: Biden will the US elections, Democrats will see it as payback time for Putin; and Ukraine's government will be able to weasel through, promising a lot, but delivering little. Maybe a better path would be for Ukraine to pull up its socks and get its act together. In the 1970s, Ukraine was the largest producer of oil and gas in the Soviet Union. Now, the same people living on top of the same geology, are big importers. In the Soviet days, Ukraine was the largest clothing producer in the USSR. Last March, the knee jerk reaction to Covid was to turn to China for airplane loads of masks. In the Soviet days, Ukraine was one of the largest vehicle producing republics. Now, Ukraine gets foreign aid to buy city buses. Need I go on? With best regards, Jim Brooke