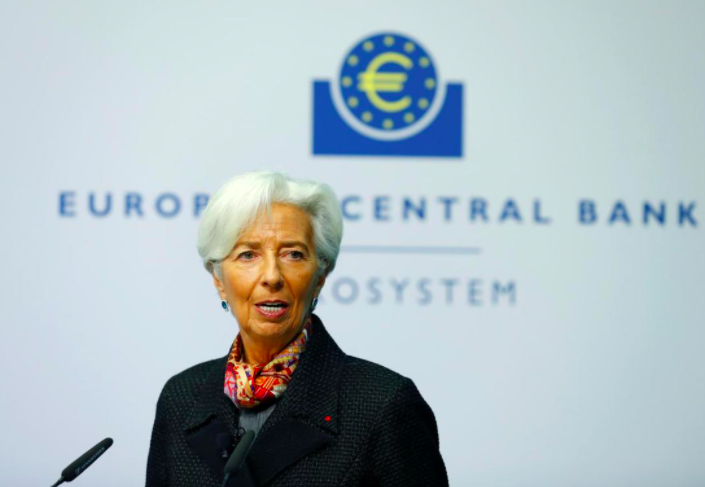 Tuesday, October 20
Ukraine Braces for Return of Corona Controls...Collateral Damage: Weddings...Naftogaz Eurobond Looks Bigger and Better...Donbas is Less Isolated: 2 New Crossings for Luhansk, Cargo Jumps at Donetsk Port...China to Supply Traffic Surveillance Cameras for Kyiv...Ukraine Quietly Sells Air Defense Missiles to Turkey
With fresh coronavirus controls sweeping across the EU this week, Christine Lagarde, president of the European Central Bank warns that last summer's economic recovery "is losing momentum." Instead, the eurozone's recovery now looks "uneven, uncertain and incomplete," she says in an interview published yesterday in Le Monde newspaper. The EU, as a bloc, is Ukraine's largest trading partner.
In Ukraine, players are taking public positions in advance of stricter controls, expected after Sunday's mayoral elections.
 Ukrzaliznytsia calls for keeping the trains rolling. The state railroad, the nation's largest employer, posted a statement on Facebook yesterday saying it "advocates for maximum preservation of the passenger movement in quarantine conditions…Stopping passenger railway combinations will have a highly negative consequences for the national economy, as population mobility will significantly worsen."
Ukraine's Health Ministry urged employers yesterday to expand remote working. "You don't have to gather people unless necessary," Deputy Health Minister Iryna Mykychak, told reporters yesterday in an online briefing. "You don't need to organize offline meetings, gatherings in face-to-face format."
Pacing the EU's second wave, Ukraine's daily new infections tripled since Sept. 1, hitting 6,410 Saturday. As measured by infections per 1 million inhabitants, Ukraine, with its estimated population of 37.3 million, has an infection level of 8,140. In the region, that is half the infection rates of Moldova and the Czech Republic, according to the Worldometer tracking site. Ukraine is also below Romania – 9,524 – and Russia – 9,697. But Ukraine's infection rate is far worse than Poland – 4,843 – and Hungary — 4,949.
The death rate from coronavirus is 2% in Ukraine, Viktor Liashko, the nation's chief sanitary doctor, tells RFE/RL. Worldwide, the death rate has dropped to 3%, from 7%, largely better medical protocols adopted over the last six months.  Over the last seven months, 5,673 people in Ukraine have died of Covid-19. With numbers expected to grow this fall, Yulia Tymoshenko, a Covid survivor, said yesterday she has united all Rada factions behind a bill to create a national task force, headed by President Zelenskiy, to combat the pandemic.
Worsening Ukraine's bleak demographic situation, marriages have dropped by 27% during the pandemic, RFE/RL reports, citing Justice Ministry figures. From March 12 to Oct. 10, marriages dropped by 38,786 yoy. The 2020 figure was 107,069, far below the 145,855 recorded during the same time last year. Separately, during the first half of this year in Ukraine, two people died for each baby born.
Confident in the strength of foreign investor interest in Ukraine's Eurobonds, Naftogaz plans to place a larger Eurobond issue at lower yields than made public last week, reports Interfax-Ukraine. The yield will be 8.95%, lower than the 9-9.25% range revealed earlier. The expected volume will be $500 million, almost 50% larger than the $335 million revealed last week.
With the government in breach of a law passed in July to pay overdue electricity bills to solar and wind producers, the American Chamber of Commerce in Ukraine is urging the Ministries of Finance and Energy to agree with the Rada on the size of a government bond to pay this debt. Despite the government's commitments made last summer, the Guarantee Buyer paid only for only 28% of the electricity it received in September. With DTEK Renewables owed $100 million, the overall unpaid power bill could hit $1 billion at the end of this year.
A second crossing between Ukraine-controlled and Russia-controlled Luhansk will open in two weeks in Shchastia, a city on the north bank of the Severodonetsk River. A city with a pre-war population of 13,000, Shshastia has retained its economic importance as it is home to Luhansk's only power plant. Ukraine's Joint Forces Operation announced yesterday on Facebook that the pedestrian only checkpoint will open Nov. 10. It will have the capacity to handle 10-15,000 people a day.
A third Luhansk control point is to open later in November at Zolote, Oleksiy Reznikov, minister for Reintegration of the Temporarily Occupied Territories, told the Washington-Kyiv program Friday. Due to roads and the military topography, the drive from Stanytsia Luhansk, the only crossing between the two zones of Luhansk region, to Zolote can take three hours. In March 2017, Kyiv banned trade between Russia-controlled portion of the Donbas.
In a healthy sign for Ukraine-controlled Donbas, Mariupol, Donetsk region's only port, reports that cargo is up by 16.5% for the first nine months of this year, compared to the same January-September period last year, Exports – 84% of handled cargo — were up 17.4%, to 4.5 million tons. If trends hold up, the port could handle 7.5 million tons this year. That would still be well below its capacity of 17 million tons.
To ease Kyiv's traffic jams, China's Hikvision will supply the city with 19 cameras for an artificial intelligence-based road traffic management system, reports ITC.ua.  Connected to a program for storing and analyzing traffic information, the system is to optimize traffic flow by controlling traffic lights. Created by a Chinese state company that specializes in surveillance, the system will work 24 hours a day recording and identifying cars by make, model, and color, providing time stamps and addresses. According to tender documents, Kyiv Pastrans Traffic Management Center will pay $280,000 for the system.
Marking Monday's opening of Zaporizhia's new air terminal, SkyUp airlines announced yesterday that it will launch flights next spring between Zaporizhia and Batumi, Larnaca and Prague. Assuming the coronavirus pandemic eases, Wizz Air plans to fly next spring between Zaporizhia and Budapest, Dortmund, Gdańsk, Krakow, Milan-Malpensa, Vienna, Vilnius and Wroclaw. Yesterday, SkyUp started flying between Zaporizhia and Kyiv Boryspil. Today, Motor Sich starts flying between Zaporizhia and Kyiv Sikorsky.
Ukraine has delivered to Turkey a S-125 Pecora land to air missile system, reports Defence Turk news site. The sale, announced with little fanfare by Vadym Nozdry, CEO of Ukrspetsexport, was largely overlooked Friday by the signing of a Ukraine-Turkey military deal and talks about joint production of missiles, drones and transport aircraft. The Pecora missiles were developed by the Soviet Union in the 1960s. They are not compatible with Turkey's US-made MIM-23B HAWK air defense system. Defence Turk Editor-in-Chief Fatih Mehmet Küçük speculates the Pecora are destined for Turkey's military campaigns abroad. Turkey currently arms combatants in Syria, Lybia and Azerbaijan.
Editor's Note: Ah yes, Turkey-Ukraine, the dalliance that dares not speak its name. "Strategic partnership" is the wonky term preferred by thinktankers on both shores of the Black Sea. Let's see: Turkey is training Ukrainian soldiers, extending $29 million in military aid to Ukraine, and creating binational joint ventures for to produce combat drones, missiles, and cargo jets. Then, on Friday, the Presidents of both countries sign a secret military agreement. To Ukrainian satisfaction, President Erdogan flatly declares Turkey will never accept Russia's annexation of Crimea. (Did Turkey ever accept the first one — in 1783?) To get a sense of what the Turkey-Ukraine non-alliance is all about, look up 'Russo-Turkish War' in Wiki. From 1568 to 1878, there were 10 separate wars. Add World War 1 and the Cold War, and you have an even dozen — spanning four centuries. With Best Regards, Jim Brooke