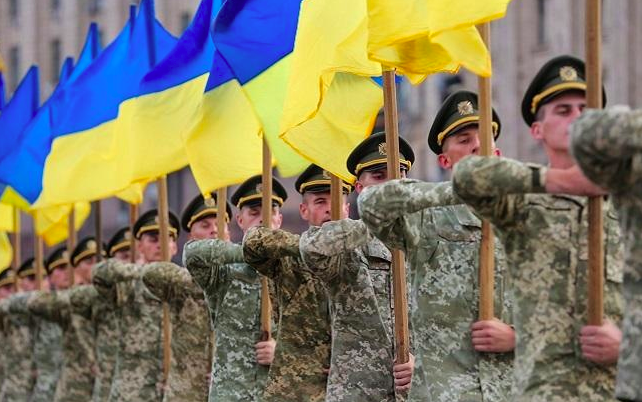 Tuesday, October 15
Day of the Defender…IMF Negotiations Ongoing…No Land for Foreigners Until 2024…Ukrainians Reach for Non-alcoholic Beer …Kernel places $300 Million in Eurobonds…Alfa-Bank Launches Next-Gen Cards…Poultry and Pork Exports Up…Electric Trains for Zaporizhia and Dnipro…New Head of Odesa Region
Ukrainians celebrated Day of the Defender on October 14, a state holiday created in 2014 which honors Ukraine's past and present military heroes in their struggle for freedom. It overlaps with a traditional eastern Orthodox holiday known as the Intercession of the Theotokos feast. The date also marks the founding of the Ukrainian Insurgent Army and Day of Ukrainian Cossacks.
Negotiations with the International Monetary Fund are still ongoing, reports Minister of Economic Development, Trade, and Agriculture Timofei Milovanov. He rejected media speculation that talks ceased after the IMF left in September without announcing a draft memorandum. "The negotiations have not been suspended. This week the finance minister, I and the NBU board chairman will meet with the IMF in Washington," writes Milovanov. Last week, First Deputy Chairman of the National Bank Yekaterina Rozhkova said that chances for a new IMF program for Ukraine are "very high."
Revised bill to ban the selling of agricultural land to companies whose ultimate beneficiaries are foreigners until 2024. Prime Minister Oleksiy Honcharuk writes on Facebook "At the last meeting, the president, along with key agrarian associations and farmers, listened to all the comments and suggestions. A revised model is presented – the parliamentary committee on agrarian policy created an integrated draft law on the basis of the government bill," he said. The ban does not apply to foreigners who have been working in Ukraine for more than three years and pay taxes to the state budget.
Kernel places $300 million worth of 5-year Eurobonds with a coupon rate of 6.5%, Interfax Ukraine reports, citing the company. JP Morgan and ING Bank were the underwriters. In January 2017, Kernel placed Eurobonds worth $500 million. Kernel is the world's largest producer of sunflower oil and its shares are traded on the Warsaw Stock Exchange.
Ukrainians are drinking more and more non-alcoholic beer, reports Novoye Vremya, citing a local consulting firm. In the first eight months of 2019, sales of non-alcoholic beer increased by 11.3% when compared to the same period last year, and amounted to $10 million. "The growth rate of the non-alcoholic beer market is ahead of the alcoholic beer market, which is also growing, but by 2.2%," says AB InBev Efes Ukraine Marketing Director Anna Rudenko. Beer companies including Carlsberg Ukraine and Umanpivo are also introducing new non-alcoholic products that cater to modern tastes. Between 2016 and 2018, the production of non-alcoholic beer grew by 21.5%, according to Ukraine's State Statistics Service.
Grammarly, a tech company started by three Ukrainians in 2009, has received a "unicorn" valuation of over $1 billion. The company has a head office in San Francisco and smaller offices in Kyiv and New York. Grammarly is an artificial intelligence-powered digital writing tool that includes grammar checking, spell checking, and plagiarism detection services.
Alfa-Bank launches numberless credit cards, according to a Facebook post by Advisor Arkadiy Vershebenyuk. Starting from October 15, Alfa-Bank will be the first in Ukraine to start issuing unique payment cards without personal details. The card number, expiration date, and CVV code will be displayed only in the mobile application, which will make the card as safe as possible," he said.
Dnipropetrovsk and Zaporizhia regions to get new electric trains, according to the Deputy Minister of Infrastructure of Ukraine Oleksandr Klitin. The purchases will be made using funds from the European Investment Bank. "A meeting was held with representatives of the European Investment Bank on the implementation of a pilot project for suburban rail transportation in the Dnipropetrovsk and Zaporizhia regions. We plan to purchase new trains and optimize routes," he said.
Poultry exports increased by 24.5% in the first nine months of 2019, while pork exports saw a 6% boost, reports the State Fiscal Service. Revenue from these exports reached $443 million.
Andriy Yarmak appointed as Acting Director of the State Enterprise for Air Traffic Services of Ukraine (UkSATSE), reports the Center for Transportation Strategies. Last week, the Cabinet of Ministers dismissed Alexandr Dotsenko from the post. A state-owned enterprise, UKSATE provides air traffic control, management of airspace, and radio communications. Earlier in August, NABU agents searched UkSATSE over possible corruption after $16 million was sent to the company's account at PJSC Platinum Bank, a bank later declared insolvent.
Businessman Maxim Kutsyi to be the new head of the Odessa Regional State Administration. Kutsyi, 36, is the ultimate beneficiary of several companies in construction and media. "My doors will always be open to everyone: the military, representatives of public organizations, religious denominations, ordinary citizens. Let's make our country better together. Let's work together," Kutsyi said.
This cruise season, the Ust-Dunaysk port in the Odesa region served 5,910 passengers who traveled on river cruise liners, reports the Center for Transportation Strategies, citing Ukraine's seaport authorities. "This year, the number of passengers on river cruise liners that the port of Ust-Dunaysk increased by 10% compared to last year. We just barely missed the milestone of 6,000 passengers, stopping the figure at 5,910 tourists," said Dmytro Kovalzhi, head of the port.