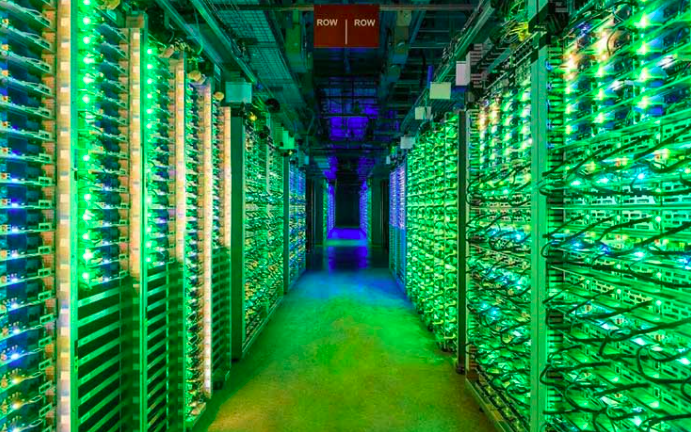 TECHIIA, a Kyiv-based international IT company, wants to build a $1 billion energy intensive data processing center on 90 hectares next to the Kakhovka Hydroelectric Station in Nova Kakhovka, Kherson. Based on cheap electricity, the 500 MW capacity 'Ecotechnopark' would draw power from the power station on the Dnipro, and from Zaporizhia Nuclear Power Station, at Enerhodar, 150 km upriver. Excess heat from the data center would heat greenhouses in Nova Kakhovka to grow fruits and vegetables year around, the company says.
TECHIIA is prepared to invest the first $15 million and is looking for investors for the first $200 million phase. Digital Transformation Minister Mykhailo Fedorov said last week at the project's announcement, with TECHIIA Managing Partner Yura Lazebnikov: "The construction of such a powerful data center will allow Ukraine to provide high-speed data processing services and create new jobs. I am confident that our country is able to become the most powerful IT hub in Central and Eastern Europe."
American Amos Hochstein has quit the Naftogaz supervisory board, the second Westerner to resign from a state company board in two weeks. Hochstein, a former 'energy diplomat' for the State Department, complained of a "negative trend" of politicians seeking to reinstate corrupt practices. "The company has been forced to spend endless amounts of time combating political pressure and efforts by oligarchs to enrich themselves through questionable transactions," he wrote in parting essay posted yesterday on the Kyiv Post. Two weeks ago, Anders Aslund, the Swedish economist, quit the supervisory board of Ukrzaliznytsia, the state railroad, charging: "The President and his loud MPs don't believe in good corporate governance."
In response to Hochstein, Andriy Kobolyev, Naftogaz CEO, thanked him for his help in the successful suit against Gazprom and promised: "[Naftogaz] management will further strive for transparent decision-making and will prevent backsliding towards old corruption schemes." Clare Spottiswoode, the British energy executive who chairs the Naftogas supervisory board, said: "In the current state of corporate governance, Naftogaz Group is resilient to outside influence, and the supervisory board will continue to protect the company from political influence and any attempts to roll back anti-corruption steps in the state-owned energy sector."
Ukrposhta has climbed to the 30th spot in a UN ranking of the world's 170 national postal operators. Ranking for reliability, availability, relevance and resistance to shocks, the Postal Development Index is maintained by the Universal Postal Union to chart progress toward efficiency. Alluding to a new €30 million European Investment Bank loan to build three new postal sorting centers, Ihor Smeliansky, Ukrposhta general director, wrote on Facebook: "I am confident that after the construction of new sorting centers…and adoption of the law on the postal bank, we will take our place among the leaders."
Consumer inflation in September fell to 2.3% yoy, down slightly from 2.5% in August, reports the State Statistics Service. The National Bank of Ukraine predicts that energy prices will rise this fall, pulling up inflation to finish the year within bank's target range of 5%. Last year, Ukraine's annual inflation was 4.1%, the lowest in six years.
Concorde Capital's Evgeniya Akhtyrko writes: "The abundant supply of domestic fruits and vegetables drove the food component of inflation downward in helping to eke out relatively low inflation in September….We expect consumer inflation will accelerate in the last quarter of the year amid renewed inflation for food prices. We expect consumer inflation to land at 4.8% year to date in 2020 vs. 4.1% year to date in 2019."
Today in Odesa, Andrzej Duda, president of Poland, one of Ukraine's top foreign investors and trading partners, opens the Ukrainian-Polish Economic Forum with President Zelenskiy. Meeting Zelenskiy yesterday, Duda noted the 1,200 Polish companies invest in Ukraine and that bilateral trade is about €7.5 billion a year.
Yesterday in Kyiv, PGNiG, Poland's state oil and gas company, signed an investment agreement yesterday with US-based Energy Resources of Ukraine to jointly explore and produce oil and gas from a license area near Poland's border with Lviv region. PGNiG President Jerzy Kwieciński noted the block is an extension of Przemyśl geological field. He said: "Our employees have knowledge and expertise gained over 60 years of exploration and production operations in the Rzeszów region."
Separately, Kwieciński signed a confidentiality agreement with Ukraine's State Property Fund to gain access to data on state energy properties coming up for sale. He said: "We believe that further energy market integration will contribute to strengthening energy security across the region."
Busfor, the online bus ticket service, reports that this summer's most popular international bus route were all to Poland. Alexey CEO of Busfor.ua, said that because of corona restrictions, Bulgaria fell out of summer and the most popular routes were: Kyiv-Warsaw, Kyiv-Wroclaw, Kyiv-Krakow, Poznan-Kyiv and Kyiv-Katowice. Overall, international bus travel was down 70% due to coronavirus controls.
Ukraine will upgrade its consulate in Wroclaw to consulate general, Zelenskiy said yesterday. With an estimated 1 million Ukrainians working in Poland, Ukraine has its largest consular network in the world in Poland – the embassy in Warsaw and consulates in 10 Polish cities: Bydgoszcz, Chelm, Gdansk, Krakow, Lublin, Przemysl, Rzeszow, Szczecin, Wroclaw and Zielona Góra. By contrast, Poland has its embassy in Kyiv consulates in five Ukrainian cities: Kharkov, Lutsk, Lviv, Odessa and Vinnytsia.
Over the last four months, 500,000 Ukrainian tourists vacationed in Antalya, the Turkish Mediterranean often called the Turkish Riviera. Responding to the corona pandemic with the Safe Tourism Certificate program, Turkish officials believe they saved the second half of their peak season. Last year, 1.6 million Ukrainians flew to Antalya, Nadir Alpaslan, Turkey's deputy culture and tourism minister, told a meeting of Turkey-Ukraine Joint Tourism Commission in the Antalya, reports Anadolu Agency.
On the Move:
Borys Danevych, a legal expert in life sciences — pharmaceutical, biotech, and medical – joins as partner the firm CMS Cameron McKenna Nabarro Olswang in Kyiv. Formerly, the owner and head of Danevych.Law, a leading life sciences boutique law firm in Ukraine, Danevych brings with him his legal and administrative team: Anastasiya Filipiuk, senior associate; Artem Grudinin, associate; Anastasiya Maistruk, associate; and Iryna Tvardovska, administrative executive. Graham Conlon, managing partner of CMS Cameron McKenna in Kyiv, comments: "With life sciences increasingly attracting the global spotlight, this important expansion of the team demonstrates our ongoing commitment to delivering best-in-class advice for our clients."
Ilya Timtchenko, former business editor of the Kyiv Post, has been hired to cover Ukraine and the region for REDD, a new, online fixed-income intelligence and analytics platform focused on emerging markets. A graduate of Gordon College in Massachusetts, Timtchenko covered business for five years, from 2014 to 2019. REDD, or Risk Event Driven Distressed Intelligence, is based in New York and has reporters in London, Istanbul, and Cape Town.
Editor's Note: It is hard to imagine that only one year ago the Rada was turbo-charged, preparing to pass revolutionary laws to create a farmland market, to massively privatize, and to create clean courts. Yesterday's news from the President's office: Zelenskiy signed a law exempting refugees from Russian-controlled Donbas and Crimea from paying the tourism tax in hotels. That is a worthy step, and overdue after 6.5 years of war. But, frankly, we all had set our sights on something bigger. With Best Regards, Jim Brooke