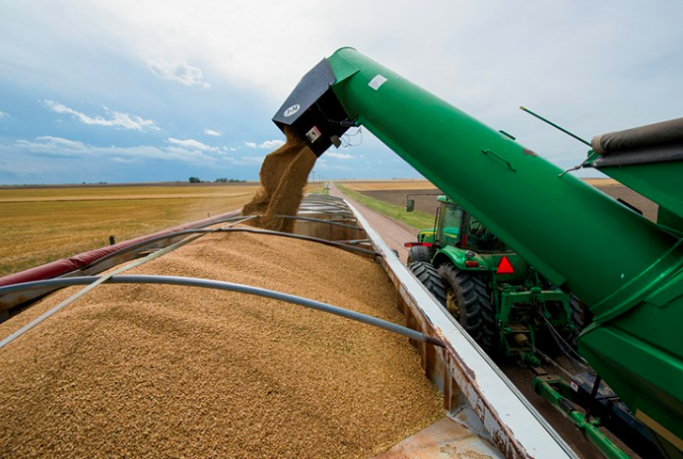 Grain exports through September are up 44% in volume, to 40 million tons, and up 42.5% in revenue, to $6.8 billion, reports the Institute of Agrarian Economy. The top buyer is Egypt, which increased purchases by 75% y-o-y to nearly $1 billion. After Egypt,  buyer of 14% of Ukraine grain exports, the next top buyers are: China — 10%;  Spain — 7.5%; Turkey –7%; the Netherlands — 7%; Indonesia — 5%; Bangladesh – 4%; Israel, Tunisia and Italy — 3% each.
Climate change is changing the map of Ukraine's crops, Tatyana Adamenko, a Ukrhydromettsentra officials, tells UNIAN. "Heat resources now allow you to grow sunflower and get a good harvest throughout the territory, while 30 years ago sunflowers did not ripen in the western and northern regions," said the weather bureau official. Warmer temperatures are improving corn yields in Chernivtsi, Ivano-Frankivsk, and Ternopil. But hotter weather is cutting yields for early spring crops, such as barley and oats.
Ukraine's central bank predicts that the economy will grow by 3.5% this year and next year, and by 4% in 2021. The predictions by the National Bank of Ukraine would put Ukraine in the upper tier of Eastern Europe growth rates. The bank predicts inflation will end this year at 6.3% and would be around 5% next year.
An IMF deal is stalled because Fund staff members are not convinced President Zelenskiy will try to recoup the $15 billion stolen from banks closed during the 2014-2015 financial crisis, according to an article in The Wall Street Journal. Based on interviews in Washington and Kyiv, the Journal writes: "The IMF is holding up the next set of loans until it is convinced Mr. Zelenskiy's government will aggressively try to recoup an estimated $15 billion stolen from more than 100 banks, including PrivatBank, over the past decade." The principal owner of PrivatBank, Ihor Kolomoisky, was the main media backer of Zelenskiy when he was running for president last spring.
Timothy Ash writes after a reporting visit to Ukraine last week: "The technocrats in the government are committed to doing whatever it takes to get the IMF program over the line…Zelenskiy seems to think that banging on about not allowing the bank to go back to former owners is enough – but that falls well short. Key issue is asset recovery for the $5.5bn which disappeared from the bank."
The Rada has approved a law against money laundering, a law protecting corruption whistleblowers, and a law restoring criminal punishment for illicit enrichment. Concorde Capital's Zenon Zawada writes: "The People's Servant parliamentary faction deserves credit for approving these anti-corruption measures (assuming they will be signed by the President). But nice laws on the books will be hollow if judges don't apply the rule of law impartially and prosecutors don't seek to prosecute and convict corrupt officials at all levels."
Ernst & Young Audit Services will audit the National Bank's annual financial statements for the next five years, the central bank's press service reports. The previous auditor was Deloitte & Touche. The bank's governing law limits an auditor to five consecutive years.
5G mobile internet will come to Ukraine by 2022, Alexander Shelest, deputy minister of Digital Transformation, predicts in an interview with LIGA.tech. He says mobile company executives predict a rollout of fifth-generation, or 5G, mobile internet within three years.
Prime Minister Honcharuk advocates selling up to one-third of the state post office to 'strategic investors.' He told the 'Right to Power' news show: "We can prepare to sell 20-30% of Ukrposhta's shares to different shareholders who would come with their money cheaper, provide new resources to this enterprise, bring in the right corporate culture, and accelerate its development."
In response, Ihor Smilianskyi, Ukrposhta director, wrote Monday on Facebook: "He is 100% right. Moreover, I will be proud if we become the first large state-owned company to do this." Last May, while attending an Alibaba logistics conference in Hangzhou, Smilianskyi wrote on Facebook: "I had negotiations with large Chinese companies. I did everything to convince them (and they are still ready) to come in and even participate in the possible privatization of Ukrposhta, using this opportunity to make a transit platform to Europe and Turkey. Alibaba loves working through partners and sharing risks with them."
As the China International Import Expo opens in Shanghai today to an estimated 300,000 visitors, new trade statistics show China is Ukraine's top trading partner. Through August, China was the source of 14.7% of Ukraine's imports, compared to 12.7% from Russia and 10.3% from Germany. On the export side, China took in 7.1% of Ukraine's exports, compared to 6.9% for Poland and 6.6% for Russia. China officials vow to import $30 trillion of goods from around the world in the next 15 years.
After flying Ukrainians home from Beijing on Nov. 16, Ukrainian International Airlines stops Ukraine's only direct air link with China. China Southern Airlines is studying flying the route, a Chinese trade official tells the UBN. With a mixed fleet of Boeings and Airbus, China Southern flies from Beijing to Georgia and Turkey. Unlike UIA, it would not have to make a costly detour around Russian airspace to reach Ukraine.
With more and more international flights, Odesa's age-old cosmopolitan airs are starting to approach modern reality. With the new air links, Odesa is fending off fast-growing Kharkiv and retaining its title as Ukraine's fourth busiest airport – after Kyiv Boryspil, Kyiv Sikorsky and Lviv.
Last weekend, Wizz Air started flying from Odesa. The discount airline now flies twice a week to its home base in Budapest, Berlin Schönefeld, Bratislava, Slovakia and three cities in Poland – Gdansk, Katowice, and Wroclaw.
Getting a jump on Wizz Air, Ryanair started flights last week from Odesa to Berlin Tegel, Budapest and four cities in Poland – Gdansk, Katowice, Poznan, and Wroclaw. Last June, Ryanair tested the waters with a pioneering flight from Odesa, to Krakow.
Italy's Ernest Airlines adds Milan Bergamo on Dec. 18. Last April, it started flying from Odesa to Rome Fiumicino. SkyUp also entered the Odesa market this year, with flights to Barcelona, Kyiv, Kharkiv, Rimini, and Yerevan. 
From the Editor: Is the IMF moving the goalposts? Until last week, they seemed happy with an iron-clad guarantee that PrivatBank would not be returned to its former owners. Now they want $15 billion returned from the friends-and-family banks that crashed in 2014-2015. That would be nice. Maybe the IMF could take the train up to New York for a reality check. Ask anyone on Wall Street: 1) after the 2008 financial crash, how many bankers went to jail? 2) how many victims got their money back? If courts around the world, including Delaware, return some money to Ukraine, great. But let's not put Ukraine's economic development on hold for five years, while we wait for Kyiv to turn into Copenhagen. Best regards Jim Brooke jbrooke@ubn.news