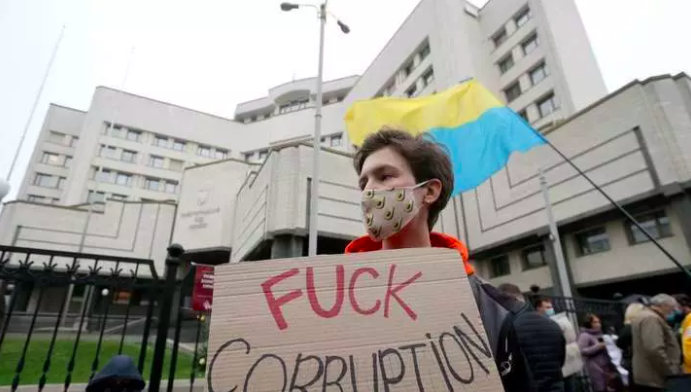 Tuesday, November 3
Constitutional Court Attacks Two Pillars of Western Reforms...Ze Warns of 'Bloody Chaos' if Rada Rejects His Court Purge...Corona Kills Corporate Profits...With 74% of Kyiv's Corona Wards Full, Health Ministry Moves to Set up Field Hospital in Palace of Sports...Ukraine Slashes Visa Fees
Ukraine's Constitutional Court plans to plow ahead with measures seen by President Zelenskiy as economic sabotage: review of a law that allowed the closing of 100 banks during the 2014-2015 banking crisis and review of a law passed last March allowing a limited farmland market. Both constitutional reviews come in response to petitions by a group of 50 parliamentarians seen as pro-Russian.
Ruling that the Deposit Guarantee Fund is unconstitutional would have a cataclysmic impact on Ukraine's financial system, Kyrylo Shevchenko, Governor of National Bank of Ukraine, warned the Constitutional Court Sept. 15. The central bank head said: "I am absolutely sure that the recognition of this law as unconstitutional will destroy the system of guaranteeing individuals' deposits, undermine confidence in the banking system, make the system as vulnerable as possible and harm the interests of millions of depositors."
In face of these threats, President Zelenskiy plans – as early as today — to put to a Rada vote on law to 'reboot' the court by removing all 15 members. Although his Servant of the People party technically has a majority of 240 members, it is unclear if he will be able to muster the needed 226  to pass the bill. One opposition leader, Yulia Tymoshenko calls the bill "a coup d'etat."
To rally his party, Zelenskiy warned yesterday Ukraine could slide into "bloody chaos" if the Rada does not vote to purge the court and restore anti-corruption reforms seen as essential to keep foreign aid flowing. Showing a new hardline, he said: "We will try to reboot the entire system, because the time for talks is over. The time for persuasion and gentle manner is over. It is necessary to make tough decisions on the Constitutional Court. It is obligatory. It is not even a request. There are no any requests when values are destroyed."
"Zelensky faces pivotal moment in confrontation with constitutional court," headlines the Financial Times in a report from Kyiv. Veteran Ukraine reporter Roman Olearchyk writes: "Activists say the ruling is part of a systematic attempt by the court to dismantle anti-corruption institutions driven by pro-Russian politicians and lawmakers allied to powerful oligarchs who want to wreck Kyiv's relations with the IMF and EU."
Concorde Capital's Zenon Zawada predicts: "The president's legislation won't be approved by parliament, with even a sizable portion of the members of The People's Servant faction being opposed. Instead, we expect parliament will eventually hammer out a bill that meets the approval of Western institutions…This solution won't involve dismissing all the court's judges, which could be gradually removed by law enforcement bodies."
Ukraine's corporate profits took a beating during the first half of this year, falling by $3.3 billion on a cumulative basis, reports the State Statistics Service.  After plunging by $4.4 billion during the first quarter, profits rebounded by $1.1 billion in the second quarter. By contrast, during the second half of last year, profits were up by $14.7 billion.
Russian gas transit through Ukraine's pipeline system is down 38.4% this year, to 45 billion cubic meters, Sergiy Makogon, head of Ukraine's Gas Transmission System Operator, wrote yesterday on his Facebook page. At this rate, Ukraine will move 55-56 bcm this year, about 15% below the 65 bcm amount contracted with Gazprom for this year. Under the new, 5-year contract Gazprom promises to pay for shipping the full amount, whether it is shipped or not.
Gazprom booked more capacity on Ukraine's pipelines this fall, Andriy Kobolyev, Naftogaz's chief executive, told Reuters last week in Washington. Kobolyev reads this as Gazprom reacting to US sanctions pressuring the Nord Stream 2 gas pipeline project, the stalled Russia-Germany trans-Baltic direct link.
With 74% of Kyiv's 2,806 Covid hospital beds filled, the Health Ministry is moving to set up a field hospital in the Palace of Sports, Viktor Liashko, deputy health minister and chief sanitary doctor, told Segodnya Monday. On Friday, Health Minister Maksym Stepanov said 1,200 medical specialists will work at this field hospital treating 500 patients. The goal, Liashko said, is to avoid 'sanitary sorting', or triage.
Interview highlights:
Johnson & Johnson, the US pharmaceutical giant, may launch a third clinical phase trial of their vaccine in Ukraine.
Ukraine has joined the WHO's COVAX program which should guarantee affordable vaccines for Ukraine's 20% most vulnerable people. For these 8 million Ukrainians, each vaccination would cost between $1 and $4.
The positive rate on Ukraine's Covid tests averages 18-19%. Ukraine expects to hit 50,000 polymerase chain reaction tests a day this month and 75,000 by the end of December.
A round-the-clock national coronavirus contact center opened Monday. Operators advise callers on Covid questions and treatment. The toll-free number is 0-800-60-20-19.
A massive An-124 Antonov 'Ruslan' cargo jet inaugurated Ukrposhta's improved parcel service to the US, carrying 50 tons of packages from Kyiv to New York on Saturday. Ukrposhta will now send a weekly flight to New York, using various aircraft and carrying 20-50 tons of cargo, says Igor Smelyanskiy, head of Ukrposhta. "Do you know what 125,000 parcels look like?," asks Smelyanskiy in a press release accompanied by a photo of the mammoth plane, its nose cargo door left open to show thousands of packages stuffed inside. So far this year, Ukrposhta has flown 3,000 tons of packages out of Ukraine, supporting "tens of thousands of Ukrainian export-oriented small and medium-sized entrepreneurs," Smelyanskiy said.
October was the warmest in Kyiv since record keeping started in 1881, the Central Geophysical Observatory reports on its Facebook page. With the temperature hitting 22C (72F) on Oct. 4, Kyiv's 'meteorological summer' stretched to Oct. 14, an unprecedented length. In the early morning of Oct. 21, the temperature fell to 2.5C (36.5F) but then it climbed up again for the rest of October.
Ukraine slashed on Sunday the fee for an electronic visa to $20, from $85. In addition, Ukraine now offers double entry e-visas for $30. Valid for 30 days, e-visa are available for citizens of 45 countries. They can be obtained by filling out forms at this site. Starting three months ago, visa-free entry to Ukraine became available for six new countries: Australia, New Zealand, Bahrein, Kuwait, Oman and Saudi Arabia. In addition, Ukraine started an experimental visa-free regime for Chinese citizens, effective through Jan. 31, 2021.
Kyiv pole vaults. In one year, Kyiv jumped 52 places in Resonance Consulting's ranking of the World's Best Cities. Today, Kyiv ranks in 87th place, just below New Orleans and Kuwait City and just above Hannover and Perth. "The city—a 1,500-year-old living encyclopedia of Slavic history—is as colorful and vibrant as its nation's flag, with buildings painted like Ukrainian Easter eggs and the skyline topped with gold domes gleaming up the hills from the Dnipro River," bubbles Resonance, based in Vancouver (34th place). "The city appears in our Top 100 for the first time in 2021, powered by its #28 ranking in our Sights & Landmarks category, led by All. Those. Churches."
Editor's Note: One of the great things about Ukraine today is that every Ukrainian has a real choice. I am not talking about migrating west to the EU to work. I am talking about migrating southeast to Russian-controlled Ukraine — Donbas or Crimea — to taste life under Russian rules. For decades, South Korea, West Germany and Miami benefited from the possibility of choice: moving to North Korea, East Germany or Havana. Utopians, or simply people with Daddy issues, were free – and are free to make the move. With North Korea, it is usually a one-way trip. So, for Ukraine's judges, parliamentarians and media talking heads who tell us how wonderful life would be under Putinism, don't just talk the talk. Walk the walk. Make the move — to Donetsk (city). Send us digital post cards. With Best Regards, Jim Brooke