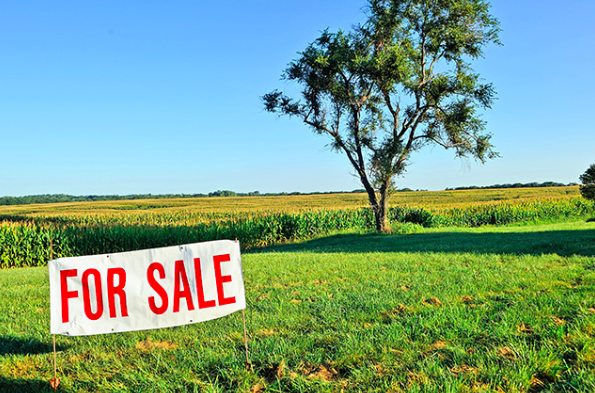 Today, the Rada starts to debate bills to create a farmland market in Ukraine. The government bill calls for launching the market next Oct. 1. Sales to foreigners would be delayed until Jan. 1, 2024. This bill would limit land holdings by one company to 15% of an oblast's farmland and to 0.5% of the nation's total farmland. There are 10 alternative draft laws. The ban on farmland sales has been in place since 2001.
A national referendum should be held to decide whether foreigners or foreign-controlled companies will be allowed to buy Ukrainian farmland, President Zelenskiy said Monday in a four-minute videotape address posted on Facebook. Saying the government has inserted this new step in its draft farmland market bill, he said: "Foreigners and companies in which there are foreigners among the founders will receive the right to buy Ukrainian lands, Ukrainian land plots only if the consent of the people of Ukraine is given in an all-Ukrainian referendum." There about 1,000 foreign-owned farming companies in Ukraine, largely cultivating leased land.
Designed to be implemented gradually, the land market is expected to inject billions of dollars into Ukraine's farming sector, already the main source of exports. The investment could double productivity, doubling grain exports in a decade — from 50 million tons of grain last year to 100 million in 2030. This would propel Ukraine above the US in grain exports.
The largest farming country in Europe, Ukraine has 30.4 million hectares of privately owned farmland, divided into 13.9 million land plots, the State GeoCadaster reported on Nov. 1. In addition, the state owns 10.2 million hectares of farmland. The State GeoCadaster plans to complete an inventory of state-owned land by the end of this year.
Polls show that public support for a land market is weak. In a nationwide Razumkov poll conducted in June, 50% of 2,017 people polled said farm landowners should have the right to sell their land. More recently, a similar size Rating poll conducted in October found that only 31% of respondents favored allowing farmland sales. In the Razumkov poll, support for a land market was greater in Western Ukraine – 62% — and greater among actual landowners – 56%.
Despite the vaunted fertility of Ukraine's black earth, farmland rents generally are lower than in neighboring countries. According to the recent Rating poll, 30% of owners say they earn $40-120 per hectare per year; 23% earn $120-200, and 21% earn more than $200. By contrast, Eurostat reports that the annual farmland rent in Poland is $259 per hectare and $268 in Bulgaria.
Inviting a national debate over the government bill, Zelenskiy noted that farmland markets are not allowed in "North Korea, Tajikistan, Venezuela, Cuba, and Congo." By contrast, he said: "In other countries of the world, in neighboring Poland and Belarus, in Germany, France, Italy, Canada, the USA, Japan, Israel, and China, land markets exist." Zelenskiy charged that for 20 years politicians have manipulated the issue. "Old politicians scared ordinary people, sowed a number of myths in their heads," the 41-year-old president said. "Perhaps they are lobbying for someone's interests, those for whom it is advantageous for Ukrainians not to own the land."
Zelenskiy's personal prestige – and control of the Rada – may carry the day. In a nationwide Razumkov poll completed Thursday, Zelenskiy ranked as the nation's most trusted politician. He enjoyed the trust of 68% of respondents. Dmytro Razumkov, chairman of the Rada, came in second with a 52% rating. [The Razumkov Center is named after Dmytro's father, Oleksandr Razumkov, who died 20 years ago].
On Sunday, demonstrators rallied under the slogan "No To the Sale of Ukraine," blocking the highway in 13 of Ukraine's 24 regions, according to the All-Ukrainian Agrarian Council. Farmers blocked roads with their equipment and with marches in Cherkasy, Chernihiv,  Kirovograd, Khmelnytskyi, Zhytomyr, Lviv, Mykolaiv, Odesa, Poltava, Rivne, Ternopil, Vinnytsia, and Volyn Oblasts.
Ten days earlier, 1,000 small landowners gathered under the slogan "My Property is My Business." They demonstrated in front of the President's office in Kyiv. Low rents and economically unviable small lots were common complaints by protesters, often elderly villagers. Dmitry Livch, chairman of the organizing group, the Association of Free Landowners, told UNIAN.: "A generational change has taken place. Today we have a situation where some people own the land, and others cultivate it. Consequently, landowners are often shackled by low rents."
Aerial photography of all of government-controlled Ukraine is to be completed this spring and all farmland information must be entered into the State Geocadaster by Aug. 1, Prime Minister Honcharuk ordered Monday. "The land cadaster should be 100% completed next year," he said. "There can be no talk of a land market until there is one database." Aerial photography of the first two oblasts, Lviv and Volyn, is to be completed next month.
With the debate starting this week, the World Bank expressed strong support for a farmland market in Ukraine. "The World Bank strongly endorses the plans of the Ukrainian leadership to open the agricultural land market," the Bank's Ukraine office said Saturday. "Land reform is needed for Ukrainian farmers to buy and sell agricultural land, access credit, invest and diversify, as well as landowners to get proper return for their most valuable asset."
"It raises economic growth as well as living standards of all Ukrainian people by unleashing the country's agricultural potential," said the Bank which has worked for two years with Ukrainian officials to draw up a market transition based on successful models elsewhere. "The planned reform also includes measures to limit land concentration, stop raider attacks and provide financial assistance for small farmers. Two decades of a closed market and non-transparency that fosters corruption are enough: the time for land reform is now."
From the private sector, Tomas Fiala, CEO of Dragon Capital, dismissed words of caution voiced Saturday morning at the Kyiv International Economic Forum. "Use this window of opportunity –political opportunity and political will — at an early stage," urged Fiala, a Czech national who founded Dragon in Kyiv in 2000. "Because, over time, this desire may diminish, and advancing such unpopular reforms would be more difficult."
Prime Minister Honcharuk shows no sign of backing down on a core free-market change for the new government. He said: "I am surprised by the rhetoric when someone comes and says, 'You own this apartment, but I do not allow you to sell it, because I care about you'. There is no reason why we should limit Ukrainians from selling their real estate. The same goes for the land market."
From the Editor: Correction: Alfa-Bank Ukraine's forecast for the year-end prime interest rate is a 100 basis points cut on Dec. 12, to 14.5% per annum. Best regards Jim Brooke jbrooke@ubn.news.