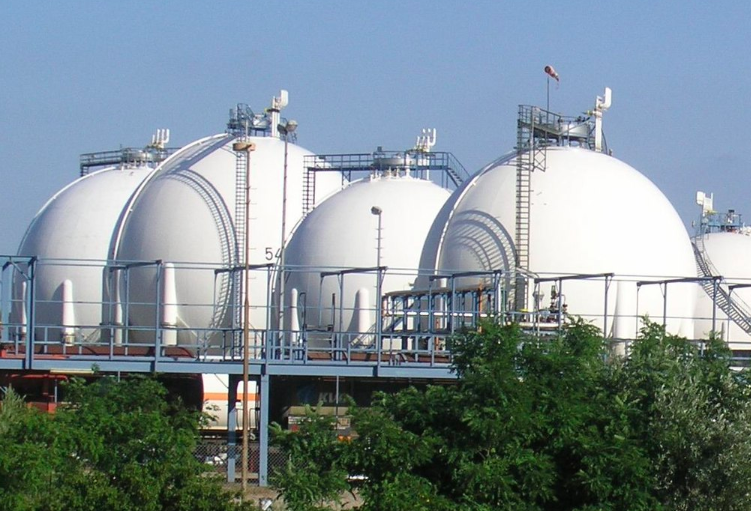 With or without Nord Stream 2, Russia may stop shipping gas through Ukraine in January, top Naftogaz officials warn in interviews. By storing gas in Europe and sending more gas through its northern Yamal-Europe pipeline, Russia's Gazprom may meet its minimal contractual obligations to the EU, Andriy Kobolyev, Naftogaz CEO, tells Voice of America. "I do not think the absence of North Stream [2] will stop the Russian side from completely interrupting the transit of gas through Ukraine," he warns. "There are many signals from Europe and there are many signs on the market that Russians are preparing for such a scenario."
Although the Nord Stream 2 Russia-Germany gas line is half built, Danish approvals for laying pipe on the Baltic seabed and new EU legislation are expected to delay commissioning beyond the December 31 target date. But with access to 13 billion cubic meters of storage in Europe and using gas swaps in different markets, Gazprom could afford turn off the flows to Ukraine next winter. "Gazprom can work without any transit through Ukraine as soon as January 2020 even if the pipeline is delayed," Yuriy Vitrenko, Naftogaz executive director, tells bne IntelliNews.
To cope with a cutoff, Naftofaz is preparing compressor stations to reverse gas flows from west to east, a strategy used during Russia's mid-winter 2009 cutoff. "We modernised some of these compressor stations, but if it happens again it would be a new crisis scenario," says Vitrenko.
In Beijing, President Putin told reporters on April 27: "If there is no transit, then there will be no reverse deliveries." Naftogaz warns that if Russia cuts EU deliveries to a minimum, the EU will not have surplus gas to sell to Ukraine. Later this month, all three sides – EU, Gazprom and Naftogaz – are to meet to try to negotiate a new 10-year gas transit contract. During the first four months of this year, the volume of Russian gas crossing Ukraine to the EU was up by 5.6% y-o-y, to 29 billion bcm.
To prepare for this scenario, Naftogaz has started filling its gas reservoir system, the largest in Eastern Europe. After the April 5 end of Ukraine's heating season, pumping started in earnest and has reached almost 10 billion cubic meters, 18% more than this time last year, according to UkrTransGaz, the Naftogaz pipeline unit. With the reservoirs already one third full, the goal is top off the tanks: to start next with winter with the nation's 12 underground gas storage reservoirs filled with 20 billion cubic meters for Ukraine's use, 18% more than last year.
The U.S. has nearly tripled its natural-gas exports to the European Union since July and has signed new export licenses allowing two US companies to sell a total of 60 billion cubic meters a year to Europe, The Wall Street Journal reports from Brussels. Today, the U.S. is a small player in Europe, the world's largest energy importing region. Last year, U.S. LNG accounted for 2% of all EU imports, compared to the 40% market share enjoyed by Russian pipeline gas.
U.S. sales – about 1 bcm a month – are "the tip of the iceberg," U.S. Energy Secretary Rick Perry told a EU-US business energy forum in Brussels. "The bottom line is the United States has what Europe wants—an incredible abundance of clean and affordable natural gas." To diversify supply sources, the EU has provided €656 million in financing for new LNG links and terminals across the bloc. Some could bring American gas to Ukraine, via Poland.
Zelenskiy advisor Oleksandr Danylyuk met with Perry in Brussels on Thursday, saying later: "The United States' role in diversifying energy supplies is important to Ukraine and Europe in general. This reduces political risks and lowers the cost of energy for consumers."
Ending a nearly two week freeze, 'clean' Russian oil started flowing Monday afternoon from Belarus on the Druzhba pipeline to Ukraine, reports Ukrtransnafta. On April 19, Belneftekhim first detected oil flowing from Russia that was highly contaminated with organo chlorides that could corrode refinery equipment. Ukraine's state pipeline company estimates it lost €1 million in oil transit fees to Slovakia, Hungary and the Czech Republic. The Druzhba pipeline is expected to fully return to normal on May 20.
With Russia limiting exports of oil and oil products to Ukraine starting June 1, Lithuania's ORLEN Lietuva, the only refinery in the Baltics, expects to increase its market share in Ukraine, reports Baltic Course news site. Last year, Ukraine's imports of oil products from Lithuania increased by one third, to $570 million. With this jump, Lithuania came in third last year as oil products supplier to Ukraine, behind Belarus and Russia.
Ukrainian companies again won all auctions for oil and gas blocks conducted under the rules of ProZorro. On Thursday, in the second round of auctions, UkrGazVydobuvannya, the state gas producer, won six of the seven licenses, which are valid for 20 years of exploration and production. A small, private company, Unified Oil and Gas Company, won the seventh license. In March, in the first round of electronic auctions, UGV and two private gas producers, Burisma Group, DTEK Oil & Gas, won three licenses. The third licensing round, for nine blocks, will be June 18, reports WorldOil website.
Richard Deitz's VR Capital Group is expanding its investments in Ukraine, establishing a joint venture with Investment Capital Ukraine and buying a 50% stake in 11 solar plants with a total capacity of 127 MW in Mykolaiv region. This is the third joint venture in renewable energy between Kyiv-based ICU and VR, according to Avellum, which provided legal advice to ICU. An investor in Russia since 1994, Deitz was based in Moscow for many years. According to Barron's, his flagship hedge fund, VR Global Partners, L.P., had assets under management of $4.4 billion at the end of 2017.
Ukrainians driving home en masse Sunday from their 'no visa' May holidays caused lines as long as 500 cars at Polish-Ukraine border crossings, reports Ukraine's Border Service. With automobile crossings on the Polish border increasing by 500,000 a year, Ukraine needs to double its land crossings with the EU from the current number of 18, Petro Tsyhykal, head of the border service, recently told Channel 5. He said that last year 100 million people crossed Ukraine's borders.