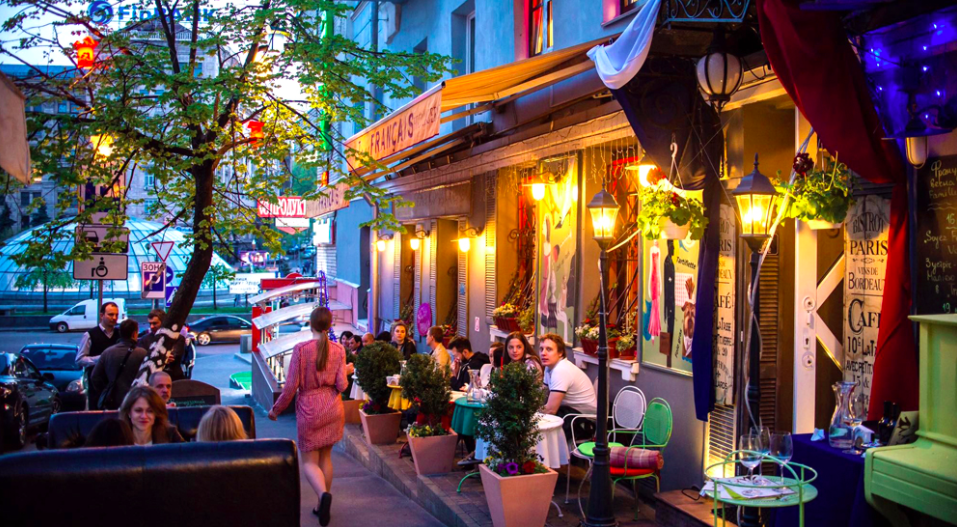 Next Monday, after two months of quarantine, the government will allow the reopening of: parks, museums, libraries, beauty salons, restaurant summer terraces, dentists, law offices, notaries, dry cleaners, and all businesses inside shopping malls, but movie theaters and entertainment centers. Remaining closed will be: most public transportation, intercity and foreign travel by train and air, indoor cafes and restaurants, and schools and universities. Borders remain closed, except for Ukrainians returning to the country.
President Zelenskiy promises to only ease coronavirus curbs gradually. "Yes, there is a negative impact of quarantine on the economy, the losses from it are painful, but the potential losses from high illness and mortality toll are catastrophic. he warned Monday in a nationally televised address to the nation. "If we return to our usual rhythm of life tomorrow, this will be potentially 120,000 more deaths before the end of the year." In the 52 days since the first coronavirus fatality was identified, 303 Ukrainians have died of complications caused by the new virus.
The economic opening comes after growing protests. On Wednesday, small business owners protested in front of the Cabinet of Ministers. On Saturday, about 100 restauranteurs turned the plaza outside the president's office into a summer terrace, complete with dozens of tables and chairs, pizzas and protest signs. Over the weekend, many parks filled with strollers, some wearing masks, some not.
Traditional food markets reopened last weekend. But sanitary inspectors closed 38 – almost 10% of the total – for sanitary violations. Kyiv City Council has voted to food wagons and walk up restaurants to open as early as today. Interior Minister Arsen Avakov says four well known Kyiv restaurants will be fined for quarantine violations: Fabius, Khutir Vynohradny, Mon Cher and Velur.
With the expected return of patrons to restaurants next month, Uber Eats will cease food delivery operations in Ukraine on June 3, Reuters reports. The Ukraine shutdown is part of shutdowns in seven other countries: Czech Republic, Egypt, Honduras, Romania, Saudi Arabia, Uruguay and United Arab Emirates. These countries did not see the growth needed to meet the company's goal of becoming the number one or number two online food delivery operator. Uber Eats operates in Kyiv and five other Ukrainian cities, delivering food from 1,500 restaurants. Uber taxi service is to continue unchanged.
The central bank's business confidence index in April was 42% below the February pre-crisis level. The Business Expectation Expectations Index was 29.9 points, far below the neutral level of 50. In February, this index maintained by the National Bank of Ukraine was at 51.2 points. Construction was one of the most pessimistic sectors, garnering a 24.5 point rating.
Poland has signed a €280 million contract with an Italian company, Saipem Ltd., to complete a 275 km missing link on the Baltic Pipe, bringing gas from the Norwegian Sea to Poland. This summer, work is to start on the Polish and Danish coasts. The full 900 km, €1.5 billion pipeline is to be operational Oct. 1, 2022, coinciding with the end of Poland's gas contract with Russia's Gazprom.
The pipeline is to bring 10 billion cubic meters a year to Poland, more than the country needs. To guarantee supplies to the pipe, Polish state-owned company PGNiG has acquired shares in 25 mining licenses on Norway's continental shelf. Poland aims "to become a "gas hub for this part of Europe," Polish President Andrzej Duda said yesterday in Warsaw. Noting onshore pipeline links with Ukraine, he said: "It is very important that Poland becomes one of the guarantors of Ukraine's energy security, which, as we know, has been under Russia's gas and energy blackmail for many years."
Germany's gas regulator plans to reject Nord Stream 2's application for exemption from a key EU gas directive, reports Handelsblatt newspaper. Such a ruling by the Federal Network Agency could have the effect of limiting the future Russia-German pipeline to half of its annual capacity of 55 billion cubic meters. Under EU law approved one year ago, new pipelines coming from outside the EU must be operated by a company independent of the supplier and must reserve half of its capacity to alternative suppliers. Due to US sanctions imposed in January, the pipeline's completion is delayed, probably to the early 2020s.
Germany's "federal government continues to be positive about the Nord Stream 2 project," according to a note posted Monday on the Bundestag website. "The federal government declares that Nord Stream 2 is primarily an economic project of the companies involved. There were also no considerations to bill the United States for the follow-up costs of the US sanctions against companies involved in the pipeline."
Completion of Nord-Stream 2 would deprive Ukraine of all gas transit by 2025 – about $2.5-3 billion in annual revenue, Sergiy Makogon, CEO of Ukraine's Transmission System Operator, warns on Facebook. While a favorable decision by German's energy regulator could cut Nord Stream 2's capacity in half, "we can't all relax." After January's launch of the first stage of Turkish Stream, Ukraine lost its gas transit to Turkey, Greece and Bulgaria. One year from now, after the launch of the second phase of this gas line, Ukraine will lose up 15 billion cubic meters in Russian gas transit to Hungary and Serbia.
Russia is shipping 28% less gas through Ukraine's pipelines than contracted, but is paying fully for booked capacity, reports Ukraine's pipeline operator. From January to April, Gazprom shipped 15.5 billion cubic meters through Ukraine. Under the five-year contract signed last Dec. 29, Gazprom commits to pay transmission fees for shipping 65 billion cubic meters this year. Starting next year, the contracted volume falls 40 billion cubic meters.
After a 6-week break, Poland's embassy and consulates in Ukraine resumed processing work visas yesterday. For now, only visa applications for farm workers and truck drivers are being processed. Poland also has restarted its e-konsulat online visa application system. Poland has six consulate generals in Ukraine: Kharkiv, Kyiv, Lutsk, Lviv, Odesa and Vinnytsia.
Wizz Air plans to invest $100 million to develop its new base in Lviv, George Michalopoulos, chief commercial officer of the Budapest-based carrier, told Ukrainian journalists Monday. After opening on July 1 with a new Airbus A320 serving seven new routes, the base will add new aircraft in the 2020s. "We understand that the next 2-3 months will be a little fuzzy," he said referring to the evolution of the Covid pandemic. "But our cooperation with Ukraine is not 2-3 months, we are talking about years of cooperation, and we will continue to expand our activities in this market."
Kyiv Sikorsky airport is asking the government for a $1 million a month grant, to pay salaries and to maintain the airport. Kyiv's city airport, also known as Zhuliany, has been closed since mid-March. Last year, 98% of Sikorsky's 2.6 million passengers flew internationally, largely with Wizz Air. Infrastructure Minister Vladyslav Krykliy has said that the first scheduled air flights to resume will be domestic.
Flights in Ukraine in April were 90% below the level of April last year reports UkSATSE, the air traffic control agency. Of 2,372 flights, about half were transit, or flyovers. Of the rest, 559 were domestic, 607 were international. Similarly, Eurocontrol, the Brussels based regional air traffic control coordinator, says European air traffic in April was down 88% y-o-y.
From the Editor: First aid for the economy is a priority as Ukraine starts to emerge from the corona quarantine. Any future public health measures must be designed to have the minimal impact on jobs. Otherwise, the 'solution' is to print lots of money, which means inflation. With Best Regards Jim Brooke jbrooke@ubn.news