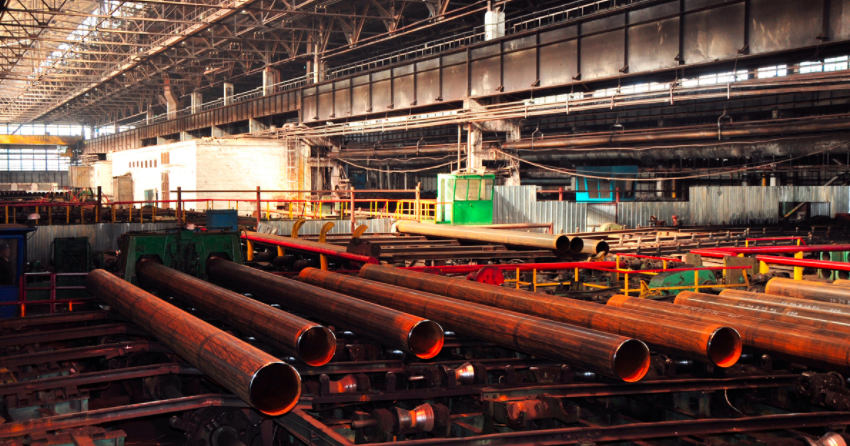 In a rare rebuff to Ukraine's largest trading partner, Ukraine is slapping a 51.52% anti-dumping duty on imports of seamless pipes from China. The move comes in response to complaints by Interpipe, Ukraine's largest pipe and railway wheel producer.
Concorde Capital's Dmytro Khoroshun writes: "Interpipe's gains from this decision will be modest…Nevertheless, we view this victory as a matter of principle for Interpipe and for Ukraine. This is because Interpipe complained in the past that China not only dumped the sales of its pipes in Ukraine, but also de facto closed its domestic market for Ukrainian pipes by implicit government directives within the country's centrally planned system."
Chinese car sales in Ukraine increased by one quarter over the first four months of the year, totaling 945 vehicles, reports Xinhua, citing Ukravtoprom figures. In April, new car sales in Ukraine dropped 46%. However, sales of China's Chery car were down only 18%.
A California investment company with Ukrainian roots is buying Odesa's Chornomorets football stadium.  Allrise Capital, based in Irvine, near Los Angeles has agreed to pay $5 million for the stadium which includes an office center, fitness center, hotel and restaurants. The CEO of Allrise is Ruslan Zinurov and the executive director is Mykhailo Trubchyk. It was the 17th attempt by the State Deposit Guarantee Fund to sell the 10-year-old, 34,000-seat stadium. Put up for auction as part of the liquidation of Imexbank, the stadium first had an asking price of $40 million. The stadium failed to win bidders due to unattractive long term leases and outsider control of the electricity supply. Last September, The Wall Street Journal chronicled the sales efforts by an Oklahoma City firm, First Financial Network.
Swamped by demand, IKEA, the Swedish-Dutch home furnishings retailer, is suspending its Ukraine website – 10 days after launch.  "To meet the demand and continue to meet IKEA's high standards and customer expectations, we decided to process and deliver already registered orders and temporarily limit the ability to process new ones," IKEA tells Interfax-Ukraine. "We are doing everything possible to restore the website as soon as possible."
Worker remittances will drop 17% this year, to $10 billion, calculates the National Bank of Ukraine. Despite the $2 billion drop, labor will remain Ukraine's second largest export, after food. The World Bank estimates that Ukrainian workers sent home $15 billion in 2019 – the equivalent of 10% of the nation's GDP.
During the first quarter, remittances were up 7% y-o-y to almost $3 billion, reports the central bank. In mid-March, the government encouraged Ukrainians working abroad to come home, warning that Ukraine's borders were  closing. Ukrainians send into Ukraine almost 20 times the volume of money they send out — $154 million in Q1, the bank reports on its Facebook page.
Due to the coronavirus scare, at least 12.5% of the estimated 1 million Ukrainians working in Poland came home, Polish experts estimated at a recent Polish-Ukrainian webinar: "Migration and Remittances." As a result, Ukrainian labor migrants may transfer 30% less money from Poland to Ukraine this year, predicted Lukasz Kozlowski, chief economist of the Polish Federation of Entrepreneurs. Poland is the primary destination for Ukrainian workers, with many going for informal jobs that last less than the 90-day visa free limit for Ukrainian tourists.
Polish companies are desperate for Ukrainian workers, Yevhen Kyrychenko, CEO of Gremi Personal, a Gdansk-based employment agency, told Reuters Sunday in a story headlined: "Ukrainian workers start returning to Poland as lockdown eases." On Sunday, Kyrychenko organized a Kyiv Boryspil-Warsaw charter flight. he said: "We currently work with over 120 companies, every day we have several new requests from companies that need workers."
With only half the seasonal farm workers it needs, Germany is stretching the deadline for foreign workers to enter the country, Deutsche Welle's Ukrainian service reports, citing a German Agriculture Ministry statement posted Sunday. With German farms needing another 40,000 workers, Germany is moving the arrival deadline to June 15.
Long term work contracts, health insurance, and employer-paid charter flights should flow from Poland and Germany's new found appreciation for Ukrainian workers, argues the Zelenskiy government. After initially discouraging Ukrainians from  returning to the EU to work, the government now takes a laissez faire approach. "We are absolutely liberal in this regard," Foreign Minister Dmytro Kuleba told RBC-Ukraine last week. Much depends on Ukraine's affluent EU neighbors – Poland, Slovakia and Hungary – opening their airports and land borders to Ukrainians. From Kyiv's side, he said: "No one is going to keep Ukrainians under lock and key. We have no such ideas."
The number of Ukraine's officially unemployed was up 64% last week y-o-y, to 501,000, reports the State Employment Service. In contrast, the number of vacancies was down 55% to 51,000. Since a large portion of Ukrainians work off the books, the numbers are largely useful as trend indicators.
Monday's reopening of the Kyiv Metro was deemed successful with turnout light, riders spaced apart and wearing masks. Monday will see the next step: opening kindergartens, gyms, beaches and cemeteries. Mayor Klitschko says surface mass transit is near normal, including 770 'marshrutkas' circulating with drivers wearing masks. Due to continued traffic jams, large trucks remain banned from entering the city during rush hours: 7-10 am and 5-8 pm.
Kyiv Sikorsky airport revenues are down by 92%, 2,000 employees are on unpaid leave for two months, and the airport managing company, Master-Avia LLC, is mulling bankruptcy, Oleh Levchenko, the company CEO, tells LB.ua. Wizz Air, responsible for about 80% of the flights, had planned to resume flights last weekend. But Infrastructure Minister Vladyslav Krikliy said he will only consider renewing international flights to Ukraine after June 15, stretching the flight suspension into three months. In 2010, to help Ukraine prepare for the Euro 2012 football championship, Master-Avia signed a 49-year management lease for Kyiv's right bank airport. Since then, it invested $78 million to rebuild and expand the single runway airport. Passenger traffic grew: from 29,000 in 2010, to 2.6 million last year.
From the Editor: Now that we are sensitive to public health issues, maybe Ukraine's government could slip in a quick water safety campaign. With the start of the beach season next week, Ukraine's drowning season starts. In the average year, 5,000 Ukrainians drown. That is 13.7 a day. By comparison, 8.5 a day have died from coronavirus since March 13. "This hot summer weekend turned out to be the last one for 42 Ukrainians," started a State Emergency Service press release last June. The antidote is a simple water safety campaign – life guards, life rings, warning signs on beaches and public service announcements on TV. Nothing fancy – like a mass lockdown that bankrupts airports, airlines, small businesses and restaurants. With Best Regards Jim Brooke jbrooke@ubn.news