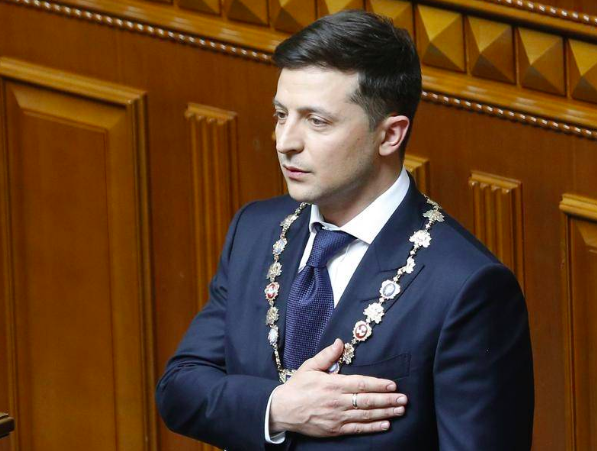 Tuesday, May 21
Zelenskiy Dissolves Rada, Challenges MPs to Adopt Anti-Corruption Bills Before Early Election...PM Groysman To Quit Tomorrow...Poroshenko Signed Green Auction Bill for Solar, Wind Energy...With Emigration Growing, Zelenskiy Appeals: Come Home
In his first minutes as president of Ukraine, Volodymyr Zelenskiy moved aggressively, dismissing parliament in order to hold early elections by the end of the summer. But before MPs disburse, he wants them to pass laws removing parliamentary immunity, allowing for more democratic elections and establishing criminal liability for illegal enrichment. "So, dear deputies!" the president said. "You have appointed the inauguration on Monday, a workday, which has one benefit -— it means you are ready to work." Inside the Rada, deputies looked glum. Outside, crowds cheered.
Referring to his mandate — 73% of voters cast one month ago — Zelenskiy lectured the Rada: "My election proves that our citizens are tired of the experienced, pompous system politicians who over the 28 years, have created a country of opportunities — the opportunities to bribe, steal and pluck the resources."
Dismissive of Ukraine's stifling bureaucratic red tape, the new president quoted Ronald Reagan, saying: "The government does not solve our problems. The government is our problem."
Within minutes of the inauguration, Prime Minister Groysman announced that he will resign on Wednesday. In office for three years, Groysman developed a reputation as a centrist performer. He will run in the upcoming Rada elections. Assuming Zelenskiy's early election order survives legal challenges, other cabinet members may step down to run as opposition candidates.
Hours before the inauguration, then-President Poroshenko signed into law the bill providing for the transition from 'green' tariffs to auctions for renewable energy facilities commissioned next year. The move came after 'green' energy accounted for 2% of energy produced in 2018, but 8% of the nation's electricity bill. In the new law, the solar tariff drops next year by 25%, followed by an annual 2.5% decrease for three years. For wind, the tariff drops by 10%. The auction regime, which is to start July 1, is to work in parallel with the 'green' tariff regime.
The presidency was costly for Petro Poroshenko as his personal fortune shrank by almost 40% during his five-year term, reports Bloomberg. Inaugurated as a billionaire in June 2014, Poroshenko saw his fortune dwindle to $705 million. Today, his most valuable asset is Roshen, the candy company. Most of Ukraine's super rich suffered similar fates, writes Bloomberg. Since 2014, Rinat Akhmetov's fortune was cut in half, falling to $5.5 billion.
The EU wants talks to renew Ukraine's gas transit contract with Russia to start "as soon as possible," Maroš Šefčović, Vice-President of the European Commission for the Energy Union, told reporters in Kyiv on Monday. Šefčović, a Slovak politician, plans to fly to Moscow in early June to jump start the talks, which have not taken place since January. "We need very rapid progress," Šefčović said, referring to the 10-year gas transit contract that expires Jan. 1. "It is not only about finding a solution for the coming winter, but about concluding a new long-term contract for the transit of natural gas."
Russia may duck talks until Demark takes a decision that could effect whether the Nord Stream 2 gas pipeline opens this December or late next year, Yuriy Vitrenko, Naftogaz executive director, writes on Facebook. The new Russia-Germany trans Baltic pipeline is designed to make the pipeline across Ukraine redundant.
Since the end of the heating season on April 4, Ukraine has increased its gas reserves by 20% to 10.5 billion cubic meters, reports Ukrtransgas. With no guantees that Russian gas will be available after Jan. 1, the Naftogas goal is to start the late fall heating season with 20 bcm of gas in reservoirs.
Estimating that one third of the 65 million people born in Ukraine now live outside the country, Zelenskiy appealed in his inaugural address: "We really need you. To all who are ready to build a new, strong and successful Ukraine, I will gladly grant Ukrainian citizenship. You must come to Ukraine not to visit, but to return home. We are waiting for you. There is no need to bring souvenirs from abroad, but please, bring your knowledge, experience and values."
The appeal comes as emigration looms as a problem for the 2020s.
EU competition for Ukrainians workers is expected to increase, according to "Losing Brains and Brawn: Outmigration from Ukraine," a Kennan Institute Focus Ukraine blog by Denys Kiryukhin. After aggressively recruiting ethnic Hungarians from Zakarpattia, he writes: "It's likely that the Hungarian authorities will ease immigration laws for migrants from Ukraine instead of opening borders for Middle Eastern and North African refugees."
"Polish Labor-Shortage Concern Eases as Ukrainians Take Up Slack," headlines a Bloomberg story, hailing the lack of obstacles to Ukrainians working in Poland. Although Poland's unemployment rate is at a record low — 3.8% — the economy is growing by 5% this year. With Ukrainians now working in one out of five Polish companies, wage inflation and acute labor shortages are avoided. The agency Personnel Service suggests that by the end of this year, the number of Ukrainians working in Poland will be up by another 30%.
Germany is expected to compete with Poland for Ukrainian workers in the 2020s. To hire skilled non-EU workers, Germany's Skilled Labor Immigration Act is to start in early 2020, according to Deutschland.de, a government information site. "Currently around 1.2 million [German] job places are unfilled," the site reports."A new law is therefore intended to open access to the German labour market for skilled workers from countries outside the EU. It is an immigration law…skilled workers are welcome to stay."
No longer will the Federal Employment Agency have to check if there are suitable German or EU applicants. Priority will be given to graduates of overseas German language – PASCH – schools. Ukraine has 46 of these German government accredited schools, the fifth largest number in Europe, after Poland, Croatia, Romania and Hungary.
Faced with discount competition on Kyiv-London flights, British Airways plans to end its flights between London Heathrow and Kyiv Boryspil on Oct. 3. Ryanair now flies from Boryspil to London Stansted, and UIA flies to London Gatwick. From Kyiv Sikorsky, Wizz Air flies to London Luton. "Unfortunately, we suspend flights to Kiev," British Airways tells Interfax-Ukraine. "We have a long history of flights to Ukraine, which we are proud of, but this is no longer commercially profitable."
From the Editor: UBN will be the media partner for Ukrainian ID, the international economic and humanitarian forum, known as the "Ukrainian Davos." The conference runs June 7 – 8 in Kaniv, Cherkasy, under the theme: Revolution of Values. Last year 300 experts took part in discussions. This year, organizers plan to gather 500 opinion leaders. For more information, visit: ukr-id.com/en/#about_forum — best regards Jim Brooke – jbrooke@ubn.news.