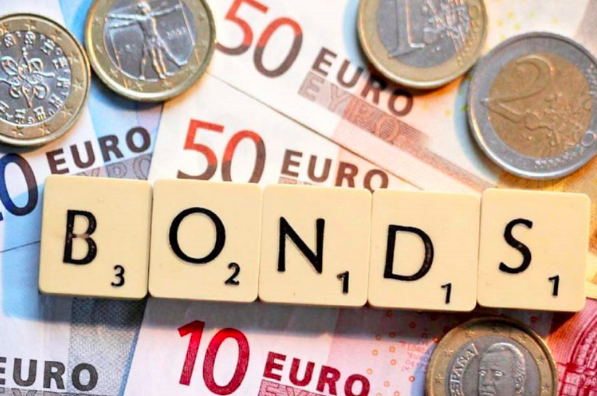 With an IMF deal seeming certain, yields on Ukraine's shortest Eurobonds have returned to normal, falling below yields on longer bonds. "Investors now expect that the next repayment will take place on schedule," Vitaliy Sivach, ICU group trader, tells Interfax-Ukraine. "The curve returned to normal, which indicates the healthy state of the financial sector of the country." Last week, the yield of Eurobonds with repayment in September fell by 4.5 percentage points- to 6.8%.

The Finance Ministry is offering longer hrvynia bonds at the weekly auction today. In addition to last week's 'short' bonds of 3- and 6-month tenures, the Ministry will offer government bonds of 9- and 12-month maturities.
The European Council is expected to approve this week a €1.2 billion loan to Ukraine to address the economic and social consequences of the coronavirus pandemic. As approved Friday by the European Parliament, the loan is part of  €3 billion in macrofinancial aid to EU neighbors. Issued in one year in two tranches, the loan is repayable in 15 years.
Ukraine's GDP fell in the first quarter by 1.5% y-o-y, reports the State Statistics Service. This is slightly worse than the Economy Ministry's forecast last week of a a 1.2% fall. The National Bank of Ukraine says the current quarter will be the worst of the year – a 11.3% drop. The central bank then forecasts: Q3 – 5.3%; Q4 – 2.3%; all of of 2020 – 5%.
With new coronavirus cases falling, Health Minister Maksym Stepanov ordered mass testing of at risk people. The drop to 325 new cases came amid reports of 81 new cases at a Kyiv oprhanage.
Concorde Capital's Zenon Zawada writes: "Today's infection figures indicate the coronavirus situation in Ukraine has been stabilized, with the peak having been reached about two weeks ago…we share the view that a second wave of the coronavirus won't erupt until the late summer, at the earliest. Ukrainian society is now adjusting to the new normal."
Travel News
Upper end business hotels — such as the Hilton, Hyatt, Intercontinental, Radisson and Premier Palace — may only return to 2019 room rates and occupancies in 2023, experts of consulting company Cushman & Wakefield predicted at a webinar on property trends. With a second wave of coronavirus predicted to return in the fall, many hotels may decide to stay closed until the spring of 2021, said Yana Lytvynchuk, head of valuations at Cushman. Room rates could drop to $120 in the first year of recovery, increasing to $164 by 2024. "Hotels operating on recreation and focused on internal tourism will recover much faster," Lytvynchuk said, according to Interfax-Ukraine.
UIA has suspended sales of international tickets until July 1, Yevheniy Dykhne, president of the airline, writes on his Facebook page. Factoring the EU's barriers to travel by non-EU residents with `'the general economic condition of [Ukraine's] population," he concludes: "Our the forecast is deplorable." He predicts that medium haul flights will be the first to return. But, overall, the aviation market will only return to the level of 2019 in 2023.
Ukraine's airlines are losing a total of $25 million a month during the coronavirus lockdown, Infrastructure Minister Vladyslav Krykliy calculates in an interview with the online publication Bukva. Monthly losses include: Lviv airport – $1.5 million; Boryspil Airport – $4 million; and UkSATSE – $8 million. The Ministry is negotiating with Egypt, Georgia and Turkey to restore charter flights from Ukraine, Ministry spokeswoman Oksana Gerasimov tells RBC-Ukraine.
Turkey is negotiating with 70 countries the resumption of international tourism, reports Hürriyet Daily News, the English language Istanbul newspaper. With the company planning to restart the tourism season on May 28, the government is promoting awareness of the Culture and Tourism Ministry's "certificate of healthy tourism."
Although the Ukraine's government has yet to announce when Ukraine's airports will reopen, five airlines have scheduled to restart flights to Ukraine. They are: Lufthansa — June 1; Czech Airlines — June 3; airBaltic — June 10; Swiss — June 21; ; and Wizz Air — July 1.  In the first half of June, Lufthansa Group airlines — Lufthansa, Swiss, Eurowings — plans to resume flights to 106 German and European destinations.
Setting the bar at one coronavirus infection per 4,000 people, Estonia is barring until June 7, flights from Belarus, Russia, the UK, Sweden, Belgium, Denmark and Turkey. Using that measure, Estonia places no restrictions on flights from Germany, Poland, Norway, Austria, Latvia and Lithuania without restrictions. Ukraine's rate is 1 infection/2,000 people. Rates of infection often reflect the amount of testing.
This week, Austria returns domestic intercity schedules and routes to normal. By early June,  Austrian Federal Railways (ÖBB) plans to restore international trains where possible.
This week, Latvia's airBaltic restores flights from Riga to Tallinn, Vilnius and 11 other EU capitals. Last weekend, Latvia restored bus and rail service to its Baltic neighbors.
All dressed up with nowhere to go: After a decade of work and 700,000 tons of concrete, Odesa airport's 2,800 meter, extra thick runway is ready to welcome long haul jets. Concrete was laid by an American Gomaco GP4 paver, using the same technology as at Chicago's O'Hare and at New York's John F. Kennedy Airport. Odesa is preparing for the Black Sea summer season, but it is not known when Odesa airport will reopen.
About 40 embassies and consulates have renewed operations in Kyiv, reports Ukraine's Foreign Ministry. Many, including the British, German, Israeli, Latvian, and Netherlands embassies, require electronic registration for appointments.
From the Editor: Sunday night, my MacBook froze. The dreaded rainbow wheel went around and around. Monday morning, my Apple Hub  technician — who had worked on the same computer twice before — found no trace of James Brooke as user, no trace of several thousand word docs and photos, and no browsing history. And yet, he said the drive was 90% full. To both of us, it is a mystery as to what happened. It is also a painful reminder to back up regularly and to delete emails with mystery attachments, or even emails with mystery files embedded in the text. With Best Regards Jim Brooke jbrooke@ubn.news