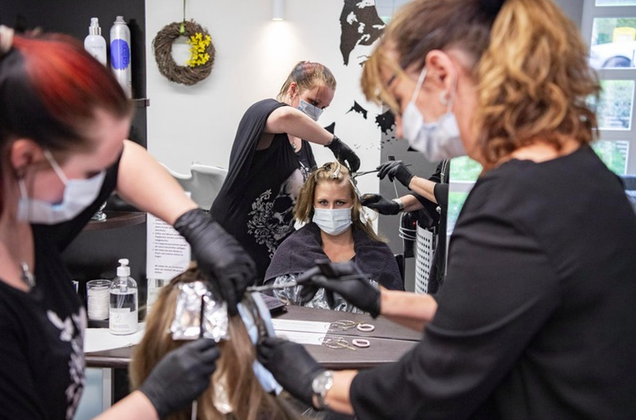 Today, Ukraine's private sector takes its first tentative steps out of the two-month quarantine. Sidewalk restaurants and beauty salons are opening. Here are some clues to what Ukraine' post-lockdown economy will look like.
Low inflation — initially. Due to 'demand destruction' and low energy prices, April inflation was only 2.1% y-o-y, reports the State Statistics Service. In April, Ukraine imported gas at $122 per 1,000 cubic meters – 20% below the March average, reports the Economy Ministry. With economists predicting a slow recovery, there will not be a V-shaped return of consumer demand. To stimulate the economy and lessen the pain, the government is doubling the budget deficit. The central bank already warns against printing money to cover the hole. If printing presses speed up in the second half of the year, the hryvnia will lose value and prices will go up.
Many restaurants may never reopen. By the end of April, almost 2/3 of Ukraine's restaurants were closed. The other one third were making 50% of previous earnings through takeout, according to  Poster, the restaurant automation company.  About 40% of Ukraine's 30,000 pre-lockdown restaurants will never reopen, Mykyta Poturayev, deputy chair of the Rada's humanitarian and information policy committee, predicted two weeks ago in an interview with Interfax-Ukraine.
With demand high for cooked meals, Glovo opened last month in Kyiv its first 'cloud kitchen' in Ukraine. Under one roof, seven restaurants prepare dishes — Kitaika, 3B Cafe, Torisho, Menya Musashi, Berliner Döner and Foodz Ukraine. The kitchen is closed to walkins, and the cooked food is delivered by Glovo couriers. Since 2018, Glovo has opened 'cloud kitchens' in Madrid, Buenos Aires, Lima, Milan and Santiago de Chile.
Prime office rents will decline, CBRE Ukraine predicts. As of the end of March, 44% of companies planned to negotiate rental discounts with their landlords. Only 12.5% planned to continue under the conditions of their current leases.
Remote working will expand. Half of companies surveyed by CBRE Ukraine may expand work from home after the quarantine fully ends. Legal, financial, analytical, marketing, and HR are the departments are more inclined to expand remote working. "There will be an increase in the trend for hot desking," reports CBRE. Of the companies polled, 35% want to reduce office space by 15-20% and 6% want to cut it by more than 50%.
The lockdown introduced millions of Ukrainians to e-commerce.
Silpo, the supermarket chain, is expanding home delivery service this month from Ukraine's big five cities – Kyiv, Kharkiv, Dnipro, Lviv and Odesa – to 11 new regional capitals: Chernihiv, Chernivtsi, Cherkasy, Ivano-Frankivsk, Kherson, Mykolaiv, Poltava, Sumy, Vinnitsa, Zaporizhia, and Zhytomyr.
Vodaphone Retail, the IT equipment store, reports that sales volumes in Kyiv changed little during the quarantine. But in Kharkiv, Dnipro and Lviv, sales are up 30-40% over pre-quarantine levels. The company reports: "At the same time, in Ternopil, Mykolaiv and Chernivtsi, there is a triple increase in the number of orders via the Internet."
Nova Poshta Global says its international orders from Zhytomyr Region doubled during the quarantine. Nationwide, the delivery service's April orders from China's AliExpress were up 28% y-o-y.
Watsons, Ukraine's largest chain of beauty and health stores, is launching 'click & collect' service at 36 stores, about 10% of its total. Designed to be expanded across the nation, this service offers on line ordering and free delivery.
Allo, the mobile phone store, shifting the bulk of its sales online. This month, the company starts courier delivery in Ukraine's big five cities. The store network will shrink to a few 'flagship' stores where customers can test models and get smartphones repaired, Dmitry Derevitsky, head of Allo's board of directors, tells the European Business Association.
Glovo's first time users doubled during the quarantine. Orders from supermarkets increased by 40%, from pharmacies by 35%. Cashless payments increased to 55%.
Paying online is going mainstream. The share online payments for heat and hot water in Kyiv jumped from 50% in early March to 65% at the end of April, reports utility company Kyivteploenergo.
OLX, the online classified advertising and shopping site, records a big jump in new users during quarantine, reports AIN.ua. In March, the number of new ads posted daily tripled, to 1,150. During the virus -related lockdown, sales of household cleaning products tripled, health and beauty products tripled, and board games increased 79%. With mass transit shut down, bicycle sales increased 70%. Rozetka.ua, Ukraine's largest online store, reports similar jumps in sales.
Viber, one of Ukraine's most popular digital communication platforms, reports users are more comfortable with the platform, using new features. Video messages have tripled during the quarantine. Audio messaging is up 46% and photo messaging up 39%. With more time on their hands, users are talking 35% more than before.
The global lockdown is introducing millions of people around the world to online learning, benefiting Kyiv start up Preply, reports AFP, in an article: "For One Ukrainian Startup, Coronavirus Means Business Is Booming." Dmytro Voloshyn co-founded the language learning platform which pairs tutors and students. Helped by anti-virus measures, Preply now has a network of 10,000 tutors in 190 countries and "tens of thousands of students," Voloshyn says.
For now, Covid-19 is contained at a low level in Ukraine. Another 17 people died in the daily reporting period ending yesterday morning. This brings the two-month total to 408. Although testing recently doubled, the new cases announced yesterday totaled 416, down from last week's daily average of 474. Reflecting a wide spectrum of cases, only 40% of the 66 new positives in Kyiv City require hospitalization, reports Mayor Klitschko. Nationwide, only 10% of the 29,000 reserved hospital beds and 2% of the 2,500 reserved ventilators are being used, chief sanitary officer Viktor Liashko said Friday night on Savik Shuster's 'Freedom of Speech' show.
Reflecting Ukraine's schlerotic bureaucracy, one month after the government allocated funds to triple the March pay of doctors and nurses working with Covid-19 patients, the payments have been made in only one oblast – Poltava – out of the 24, Health Minister Maksym Stepanov said Monday in online briefing. Last Wednesday, President Zelenskiy threatened to fire regional administrators who do not implement his order for the payments. Frustrated by the delay, medical workers increasingly protest. On Monday, an AP story from a hospital  in Ukraine's hardest hit region, Chernivtsi, was picked up by dozens of US news sites, including The Washington Post.
From the Editor: Every crisis is transformative. In this one, clicks are beating bricks. By necessity, millions of Ukrainians have been pushed to use e-commerce and home delivery systems. This will only weaken bricks and mortar shopping centers, whenever they reopen. It is no accident that IKEA's Ukraine debut this summer will be online, without even a furniture show room. Remote work already is softening the office real estate market. Employers save on rents. Many employees now see that two hours spent commuting every day are two hours wasted. With Best Regards Jim Brooke jbrooke@ubn.news