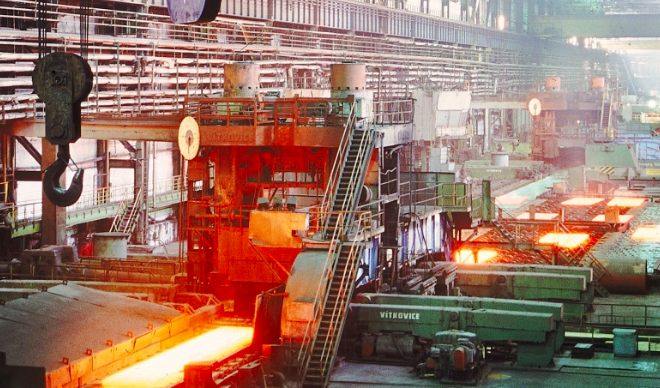 Billed as "the largest industrial construction project in the history of independent Ukraine," a new $150 million steel casting plant in Mariupol is to pump out $1 billion worth of new steel slab exports a year. Metinvest says the new plant will increase Mariupol's Iron & Steel Works steel smelting capacity by almost 40%. It will allow the plant to replace exports of low-value pig iron with higher value steel slab. Inaugurated Friday after 2.5 years of construction, the new plant has created 347 new jobs.
Capable of casting 2.5 million tons of steel slab a year, the plant largely uses Austrian equipment from Primetals Technologies. Raiffeisen Bank International provided a €43 million loan, covered by Austria's export credit bank, Oesterreichische Kontrollbank AG. Gas cleaning and dust removal equipment comply with EU environmental requirements. Yuriy Ryzhenkov, Metinvest CEO, said: "This large-scale project will ensure a clean production and new jobs, additional foreign currency revenues amounting to approximately $1 billion for the country, and guaranteed prospects to the industry, the region, and the city."
Nibulon has launched its 10th and final tug boat from its Mykolaiv shipyard. Completing a five-year construction project, the tug fleet is to haul grain barges down the Dnipro to Nibulon's Black Sea terminals in Kherson and Mykolaiv. The latest tug uses key imported foreign components: Mitsubishi — main engines; Volvo-Penta — diesel generators; Rolls-Royce — screw-steering columns; and Viessmann — hot-water boiler.
With an early end to the ice season and completion of repairs on two locks — Kakhovsky and Zaporizhia – commercial shipping on the Dnipro is to resume next week. Last year, 10 million tons of cargo was moved on the Dnipro, up 22% from 2017.
Using the Dnipro River to move construction materials, Kyiv's river port plans to build a 10,000 square meter, multi-modal logistics center, capable of handling containers for trucks or trucks, reports the Center for Transportation Technologies. Sand, gravel, metal, and cement are target cargos. Over the last five years, the Kyivport company has invested $1.5 million in building warehouses and a customs complex and buying an icebreaking tugboat and a floating crane. Two barges and a hydraulic lift were bought from Belarus. The port aims to attract cargo from Belarus, 1-2 days upriver from Kyiv.
The government will appeal a court decision on Monday that invalidated a Cabinet of Ministers' decree to raise internal gas prices to the prices for imported gas. Vasyl Ryabchuk, the spokesman for Prime Minister Groysman, wrote on Facebook that the government will appeal Monday's ruling by the District Administrative Court of Kiev a 2016 government decree on gas prices.
The World Bank and G7 Ambassadors condemned as a 'serious setback' a second court ruling, this one invalidating the nation's law on illegal enrichment. The condemnation came Monday after President Poroshenko promised to submit a new replacement law.
Timothy Ash writes: "Bad week for Ukraine: First with the constitutional court ruling on asset declarations; Second, now with the court ruling against cabinet over gas price hikes… Hard to see further IMF/IFI disbursements now until these issues are resolved."
With Volodymyr Zelenskiy leading in opinion polls for the March 31 presidential vote, Oleksandr Danylyuk, the former finance minister, is working with Aivaras Abramovicius, the former economy minister, to set up meetings between Zelenskiy and key western players. Diane Francis interviewed Danyluk for the Kyiv Post. Danylyuk says: "My impression is the following: He clearly doesn't have enough knowledge in the important spheres because you only get that by working in government. The lack of experience should be addressed. And the only way to address this is by having a strong team with experience… On economics, he listens. He's not fully there yet, but more and more professional people have more interest in talking with him and explaining issues."
Separately, Timothy Ash writes: "The engagement of reformers with the Zelenskiy team is helping to erode Poroshenko's message that the economy is only safe in his hands. Indeed, it is possible now to imagine a President Zelenskiy formally engaging reformers such as Danylyuk and Abramovicius, and working with the IMF and other IFIs to maintain the reform agenda…we need to get used to the prospect of a Zelensky presidency, as I think some of the reformers are."
Wizz Air is basing a fourth Airbus A320 jet at Kyiv Sikorsky this month, responding to the near doubling of its Ukraine passenger traffic. In January-February, the airline carried 300,000 passengers on its 44 Ukraine routes, up 94% from the same period last year. Last weekend, the discount airline opened four new Ukraine routes: from Lviv to Copenhagen, and from Kyiv Sikorsky to Riga, Bremen, and Billund, Denmark. The company now employs 140 people in Ukraine and says its investments here total $400 million.
While touring the nation's 24 regional capitals in his reelection bid this month, President Poroshenko writes on Facebook: "The development of regional airports is our priority!"
Here are some concrete results:
Uzhgorod airport reopens next week with flights on Motor Sich to Lviv and Kyiv. The new weekly flight ends a three-year break in commercial flights.
Mykolaiv airport aims to 200,000 passengers a year in the early 2020s, surpassing a level not seen 1990. Closed for a decade, the airport reopened 10 weeks ago with SkyUp flights to Sharm el Sheikh, Egypt. On May 1, SkyUp starts flying to Antalya, Turkey. On a visit to the airport Monday, President Poroshenko was told flights are planned to Kyiv and to Istanbul.
Cherkasy airport, closed since 2002, is negotiating with SkyUp Airlines to host international charter flights later this year. Odesa's Rostdorstroy is under contract to complete repaving the airport's 2.5 km landing strip by the end of this year.
President Poroshenko ordered officials on Friday to reopen Mariupol's airport. Located eight kilometers west of the city, the airport served as a Ukrainian Army command center during the separatists' May-June 2014 occupation of the city. In 2016, the military returned the airport to civilian authorities who promised to make it the main airport for Donetsk region, replacing Donetsk's destroyed airport. But with the frontline 35 km to the east, security concerns dictated the airport only be used by low flying helicopters approaching from the west. In a visit to the city, Poroshenko ordered defense officials and Infrastructure Minister Volodymyr Omelyan to reopen the airport for civilian flights. Without commercial flights for a decade, Mariupol airport, with its 2,550-meter strip near the Azov, handled 25,000 summer vacationers passengers a month during its Soviet heyday.