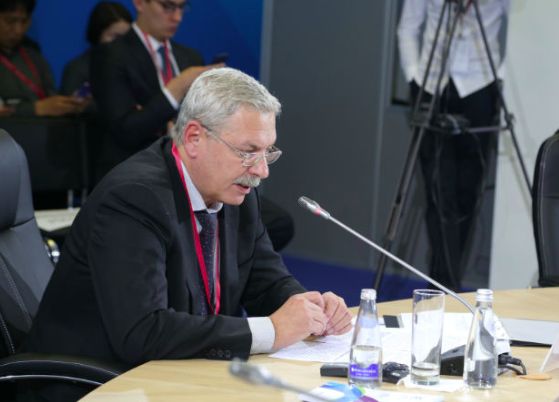 Russia's Energy Ministry predicts a gas transit contract will be reached this year with Ukraine. "We expect that, to some extent, we will be able to reach an agreement with Ukraine on the transit of gas after 2019. If this does not happen in May, it will probably happen in October," Deputy Energy Minister Anatoly Yanovsky told TASS in Kemerovo, a Siberian coal mining town. Fearing a deal will not be reached, Hungary and Ukraine plan to stockpile gas for next winter.
Hungary can store all the gas it needs for next winter at five Ukrtransgaz reservoirs located within 150 km of the Hungarian border, says Ukraine's gas transmission system operator. Last fall, Ukraine used 55% of its storage capacity to prepare for the winter heating season. This year, the remaining 14 billion cubic meters of storage space will be up for rent, the state company says in a press release. Hungary consumes 10 bcm a year and can store only 6 bcm. Ukrtransgaz says it can pump 68 million cubic meters a day to Hungary, four times the daily volume that can pass through Austria's Baumgarten hub to Hungary.
American, Belgian, French, Irish, Lithuanian and Ukrainian companies are building a total of seven solar plants in different districts of Zhytomyr region, reports Ihor Hundych, regional administration head.
Canadian companies plan to break ground this spring on a major solar plant in government-controlled Luhansk. PV Solar news site has described the project as a 150 MW, US$180 million solar farm in Rubizhne, 50 km north of the front line. After meeting with Desmond Burke, director of Lugansk Solar (Canada) Inc., and David Angus, the senior partner of the Capital Hill Group, Yuriy Klymenko, deputy head of regional administration, said: "The project, which will be implemented in Luhansk region with the support of Canadian companies, has strategic importance for our region." Last month, Rada Member Hanna Hopko said the plant will be built by a Canadian consortium: Capital Hill Group, DAI, and GoldLeaf EGF.
New York's VR Capital Group and ICU, the Kyiv investment house, plan to put online this year 225 MW of solar power stations, costing $180 million, Richard Deitz, VR's founding president, tells Interfax-Ukraine. Already completed are a 64 MW plant in Kamianets-Podilskyi and a 35 MW plant in Kherson. By the end of this summer, a third project, for 127 MW, is to be ready in Mykolaiv.
By holding online auctions for land leases, the government will force large agro businesses to pay "five times" more in rent, President Poroshenko promised Monday. Appealing to rural voters prior to Sunday's election, Poroshenko said state land leased through electronic auctions now fetches double the rents paid for adjoining privately owned land. He also called for fixing Soviet-era irrigation systems, which now only delivery water to one-third of the 2 million hectares covered.
Polish and Ukrainian officials discuss in Warsaw today the restoration of a 90-km rail route between Khyriv, Lviv and Zagórz, Poland. A train connection between the two Carpathian foothill towns would reflect steadily growing east-west trade, tourism and labor ties between Ukraine and Poland. Zagórz is the most southeasternmost railroad hub of Polish State Railways. Noting that a new border checkpoint is to open at Nyzhankovychi, Lviv and Malhovice, Poland, Alexander Ganushin, chairman of the Lviv regional council, writes in LB.ua: "Together with our Polish colleagues, we have to look for options on how to increase the possibility of points that will unite us."
About 1.2 million Ukrainians now work in Poland, according to Polish Central Bank figures cited in an Associated Press feature on Ukraine's labor migration. Monthly "average wages are about three times higher than in Ukraine, around $1,050," according to the report from Teresin, 55 km west of Warsaw. The story features Andriy Lytvynenko, a Ukrainian war veteran who works in a supermarket warehouse where 43% of the 600 workers are Ukrainians. Lesya Benko, 25, a headset sales manager in Warsaw, tells the AP she runs into so many Ukrainians — in stores, coffee shops and offices — that sometimes "you can't tell if you are in Ukraine or Poland."
Wizz Air wants to fly from EU cities to Chernivtsi, President Poroshenko said last weekend on a visit to the city, a growing tourist destination. Last year, passenger service to Chernivtsi increased by 51% to 73,075, almost entirely on the UIA flight from Kyiv Boryspil. On May 2, SkyUp starts flying from Chernivtsi to Antalya, Turkey. Poroshenko also said that Vulkan Air, a Kyiv-based cargo airline, is studying service from Chernivtsi. On Saturday, Bukovina started a weekly flight from Rivne to Sharm-el-Sheikh, Egypt. A weekly flight to Antalya starts in May.
To restore air service to Donetsk region after a five-year gap, Infrastructure Minister Volodymyr Omelyan toured Kramatorsk airport Saturday. With a 2.5 km landing strip, the airport currently works as a military airfield for the region's provisional capital. "Following the President's order, I inspected Kramatorsk airport – we must renovate it and resume regular operations. Like in Mariupol," Omelyan wrote on Facebook. State aviation safety are cautious about allowing civilian flights to Mariupol, only 30 km west of the front line. For the Azov, one alternative is the airport in Berdyansk, Zaporizhia, 100 km west of the front line. Kramatorsk is 100 km north of the front line.
To promote cargo traffic through Ukraine's Sea of Azov ports, Ukrzaliznytsia will offer a 20% discount on goods shipped by rail to Berdyansk and Mariupol. Due to Russian harassment of ships going to the Ukrainian, shipping volumes dropped last year. The state railroad agreed to the discount at a meeting at the Infrastructure Ministry, Alexander Barchan, director of Berdyansk seaport, tells the Center for Transporation Technologies.
Rail cargo rates go up 14% on April 1, Ukrzaliznytsia CEO Yevhen Kravtsov writes on Facebook. The State Regulatory Service did not approve subsequent automatic hikes of 2.5%. Concorde Capital's Alexander Paraschiy writes: "This approval is definitely positive for Ukrainian Railway, which generates all its operating profit from its cargo segment. With such rate adjustments, the company's plan to increase profitability becomes realistic, which eases attracting new debt for the company."
In face of UNESCO opposition, work is suspended on a 210 meter long pedestrian-bicycle bridge joining Kyiv's Volodymyrska Hill and Friendship of Peoples arch, reports Liga.net. Designed to be completed for the summer tourist season, the bridge now depends on talks in April between the city and a visiting UNESCO representative. One decade ago, Ukraine applied to extend World Heritage status to St. Andrew's Church. In a February letter to the city, UNESCO reportedly asserted that it must be consulted on alterations to territories adjacent to World Heritage candidate sites. It is not known why it takes two months for a UNESCO representative to travel from Paris to Kyiv.