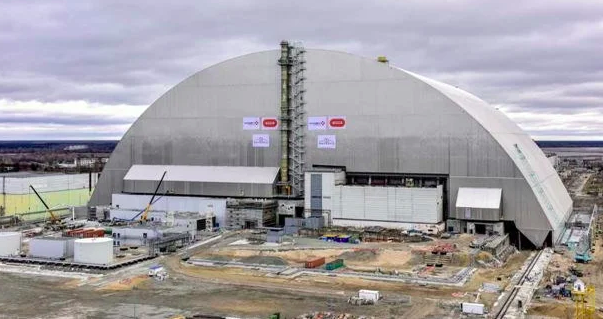 Tuesday, March 19
Tender to Dismantle Chernobyl Sarcophagus…Ukraine's Saigon Port: Hub for Asian Trade?... Jabil to Double Payroll to 5,000 in Uzhgorod…ArcelorMittal Raises Steelworker Salaries Again… To End 'the Batman Cut', EU May Triple Duty-Free Imports of Chicken Breasts…Dnipro Fights for its Airport
A nearly $100 million international tender has been announced for dismantling the cement sarcophagus built in 1986 around the still smoldering remains of the damaged reactor at Chernobyl. In Nov. 2016, a new, $1.7 billion containment structure was rolled over the 30-year-old sarcophagus. The tender for removing and safely disposing of the old containment structure was announced Monday by the State Specialized Enterprise Chernobyl Nuclear Power Plant, a unit of the Ministry of Ecology and Natural Resources. The deadline for bids is April 15. ProZorro will hold the auction May 21.
Smart Energy has hit daily gas production of 1 million cubic meters a day, the privately held British-Ukrainian group reports. If production maintains this level, it would mean a 22.5% increase over last year's level. In 2018, production rose to 296 million cubic meters, a 31% increase over 2017. Composed of Regal Petroleum and Ukrgazvydobutok, the group produces in eastern Ukraine, in Poltava and Kharkiv.
Ukraine's part ownership of a container port on the Saigon River, a legacy of the Soviet era, could become a logistics hub for Ukraine's exports to Asia, Viktor Dovhan, deputy infrastructure minister, tells the Center for Transportation Technologies. Last week, Dovhan toured the port, which is on the southern edge of Ho Chi Minh City, 43 nautical miles from the confluence of the Saigon River and the South China Sea. In 1991, Black Sea Shipping Co. – now Blasco-ChMP – bought 38% of the port of Lotos. With a 100,000 square meter patio for containers, Lotos "opens up convenient routes of communication with the global Eastern business activity centers – Singapore and Hong Kong," Dovhan said.
Smartphone payments with MasterCards could increase 90-fold in Ukraine in 2019-2020, Yuriy Bakhtin, Mastercard Ukraine business development director, predicted Monday at a Kyiv round table. In 2018 alone these payments increased 90-fold, he said according to Interfax-Ukraine. He said that last year Ukraine was among the world's top five countries for digital payments with smartphones, digital watches, and bracelets.
Judging by income tax returns, Ukrainian declared incomes grew 7% last year, in post-inflation terms. According to the State Fiscal Service, Ukrainians paid the hryvnia $3.6 billion in income tax, 17% more than in 2017. Inflation in 2018 was 10%.
US-based Jabil has doubled its Uzhgorod manufacturing space and plans to nearly double its payroll, to 5,000, the company reports. In a $16 million investment, Jabil, traded on the New York Stock Exchange at 'JBL', will increase production of mobile phones, media players and goods for cars and for the smart home market. Coupled with a new logistics center in Tiszaújváros, Hungary, two hours by truck from Uzhgorod, "Jabil significantly increases its capacity to deliver for our customers, whilst sustaining growth in Eastern Europe," Alessandro Parimbelli, Jabil executive vice president, said Friday at an inauguration ceremony attended by President Poroshenko.
Competing for workers with Eastern Europe, ArcelorMittal Kryvyi Rih, Ukraine's largest integrated steel company, plans to increase employee salaries by 15-20% on May 1, according to Vmesh-Profinfo, the trade union news site. This increase follows a 44% increase last year, to an average monthly wage of $600. Personnel director Julia Chermazovich told trade union leaders last week that $11 million in '13th salaries' would be paid by Friday. The increases come despite a 22% drop last year in the company's steel production.
"Chicken Kiev baron on course for big EU trade win," Politico headlines from Brussels. Under a plan emerging from the EU headquarters, Ukraine's quota of chicken breasts would more than triple, increasing to 70,000 tons, from 20,000 today. The goal is to eliminate the 'Batman cut' loophole. Under this ruse, Yuriy Kosyuk's MHP exports to the EU chicken breasts with bones still inside. EU meatpackers slice out the bones and sell the breasts tariff-free. The final deal needs the approval of EU member governments.
Arguing that reform can be more difficult than revolution, Alexader Motyl, the Rutgers political scientist, takes a bleak view of Volodymyr Zelenskiy's chances of becoming a successful reformer. "Reformers need to have something like a blueprint detailing how they expect to get from point A to point B and from point B to point C," Motyl writes for the Atlantic Council. "He obviously has no intimate knowledge of Ukraine's existing system of institutions. Nor does he understand how government institutions work," he writes of the leading presidential candidate in opinion polls leading to the March 31 election. "Zelenskiy's chances of being any kind of reformer are nil."
Timothy Ash, another seasoned Ukraine observer, writes from London: "The key for Zelenskiy is whether reformers such as Danylyuk and Abromavicius join his ticket." Referring to the former ministers of Finance and Economic Development who are briefing Zelenskiy, Ash writes: "That would take his campaign to another level, and make people feel much more comfortable with his economic/reform agenda."
Dnipro officials are fighting to protect their city airport, arguing that rebuilding their airport would take two years and cost €215 million, while the Infrastructure Ministry's proposal to build a regional airport 40 km south of town would take five years and cost €400 million. These numbers were presented at a city hall press conference Friday by Airport Consulting Vienna GmbH, a company that has done studies for Kyiv Boryspil and Kharkiv airports.
The airport terminals of Dnipro and Ivano Frankivsk are owned by Igor Kholomoisky, the Dnipro oligarch in self-exile in Israel. Last year, of Ukraine's top 10 airports, Dnipro and Ivano Frankivsk were the only airports that did not see double-digit passenger growth. Dnipro grew by 8% and Ivano by 2.4% Consulting Vienna said Dnipro airport should be built to handle 4 million passengers a year, four times the city's current population and 13 times last year's passenger flow — 300,000 people.
By legalizing dual citizenship, Ukraine would keep its growing diaspora involved in business, culture and government service here, Foreign Minister Pavlo Klimkin tells Radio Kultura. "I stand for dual citizenship for such Ukrainians and consistently speak out in favor of it." Despite such open attitudes, foreigners frequently complain that in practice work visas and residence permits are hard to get, often blocked on technicalities by low level 'public servants.'