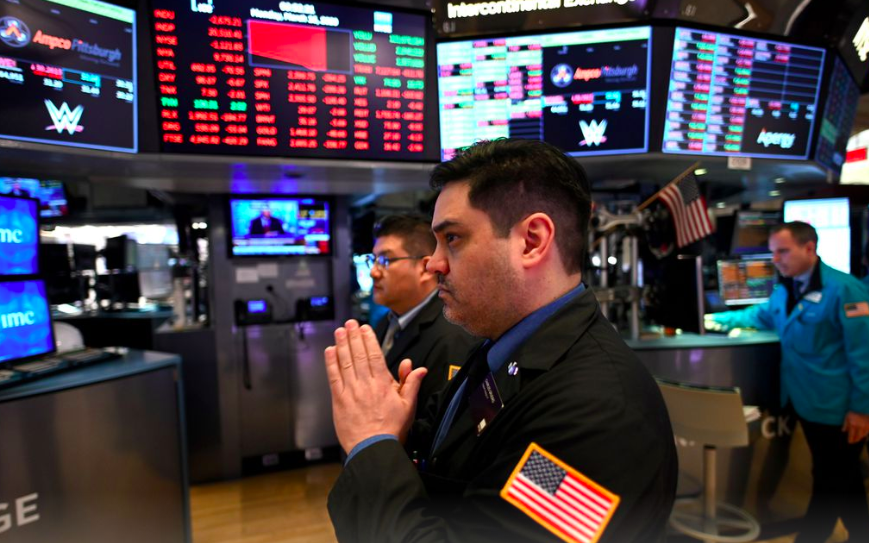 Given global economic trends, Ukraine seems destined to fall into a recession this year, along with much of the rest of the world. Stocks on the New York's S&P dropped 12% Monday, the worst fall since Oct. 1987. The index is down 30% since Feb. 19, the severity of the coronavirus epidemic started to become clear. Goldman Sachs predicted Monday that the US., the world's largest economy, will register zero growth this quarter and will shrink by 5% in Q2.
 In China, the world's second largest economy, industrial activity in the first two months of this year fell by 13.5% compared to January-February last year – the biggest drop in 30 years. Investment fell by 25%, according to numbers released Monday. Last year, China became Ukraine's biggest trading partner.
In one short term good sign for Ukraine, a net oil importer, global oil prices dropped below $30 a barrel Monday. In coming weeks, analysts predict that oil prices could drop below $20 a barrel, a level that would pull Russia, Ukraine's second largest trading partner, into recession. Bloomberg predicts: "World oil demand in 2020 may show the largest drop in history."
Most airlines in the world will be bankrupt within 10 weeks without government support, predicts CAPA Centre for Aviation, a consultancy. "Cash reserves are running down quickly as fleets are grounded, and what flights there are operate much less than half full," it warns in a new report. Ryanair, Europe's biggest low cost carrier and a major provider of air service to Ukraine, announced Monday that it will ground most of its fleet over the next 10 days. Ukraine International Airlines estimates that flight interruptions due to coronavirus will cut its revenues by one third during the first quarter.
After selling almost $1 billion last week to defend the hryvnia, Ukraine's central bank sold $130.5 million at auction Monday to further defend the currency. ICU writes: "There was a panic in the hryvnia market last week. UAH lost 3.7%, and weakened to UAH25.8/US$ due to the pressure from locals, with some added by foreigners' withdrawal of funds from local-currency bills. This week, the FX market could look the same, with the hryvnia weakening to around UAH27/US$."
Ukraine has a comfortable reserve cushion of $26 billion. But coronavirus-era restrictions on travel could shave as much as $1 billion off remittances from the foreign workers this year, estimates Dmitry Sologub, deputy governor of the National Bank of Ukraine. This will be easily offset by a $1.5 billion drop in Ukrainian tourism spending overseas, he says.
With the first two coronavirus cases confirmed in Kyiv, President Zelenskiy proposes shutting down the city metro system as of noon tomorrow. In a video address Monday evening, he said the government will meet "to prohibit rail, air and bus intercity and interregional passenger transport, to prohibit the operation of subways. Urban transport can be carried out in the mode: up to 10 people in fixed-route taxis and taxis. And up to 20 people in trolleybuses, buses, trams." In normal times, the Kyiv metro carries 1.3 million riders every weekday.
"China's experience shows that unpopular and harsh measures overcome the virus and save lives," Zelensky said. "The experience of other countries shows that spinelessness and liberalism are allies of the coronavirus, so we will act harshly, urgently, perhaps unpopular, but for the sake of one thing, the life and health of Ukrainians." Church services are to be suspended. The Rada is to meet in emergency session to debate imposing criminal penalties on violators of coronavirus quarantine rules.
Today, Kyiv joins Lviv, Odesa and Ivano-Frankivsk in shutting all cafes, bars, gyms, beauty salons and shopping malls. Schools closed last week. Banks, gas stations, grocery stores, pharmacies, and post offices will remain open. "We understand that this is an inconvenience for the city residents and a loss for the business," Kyiv Mayor Vitali Klitschko said. "But they are forced and temporary. Profit and money are important. But the health and life of people are paramount!"
Ukraine now has seven confirmed cases. One new case is a Ukrainian who returned recently from France, a new hotbed for the virus.
Ukrzaliznytsia, a logistics linchpin for much of Ukraine's exports, reported Monday that "international and domestic freight transportations are carried out according to the schedule." On the passenger side, 303,000 people have returned their train tickets since Wednesday, receiving $3 million in refunds. Last night, Ukrzaliznytsia suspended train service between Boryspil Airport and Kyiv's Central Passenger Rail Station.
Although Ukraine has closed almost half of its 230 international crossings, "in terms of movement of goods, exports, imports, the situation is completely under control," Maxim Nefyodov, head of the State Customs Service, tells Ukrinform. "We do not expect any significant problems." To inform shippers, Customs has made public an interactive map of closed and open crossing points.
Through September, Ukraine's IT industry will be combatting a slowdown due to the coronavirus epidemic, Konstantun Vasyuk, executive director of IT Ukraine Association, predicts to UNIAN. He said: "We will have to work in conditions of budget optimization and, possibly, changing business models – we see mass events being canceled, companies are switching to a remote mode of operation and revising contracts." In a survey of 24 IT companies late last week:  92% of companies canceled business trips abroad; 88% canceled large meetings; and 71% — switched to online, video conferencing for meetings.
President Zelenskiy ordered his rookie Finance Minister, Ihor Umansky, to "hold talks with the IMF and other international partners on the provision of financial support to overcome the consequences of the coronavirus." Two weeks ago, Zelenskiy unexpectedly fired Finance Minister Oksana Markarova. During her five years at the Ministry, she had dozens of face to face meetings with representatives of the IMF, World Bank, IFC, and EBRD.
With an eye to potential shortages and inflation, President Zelenskiy asked the Cabinet of Ministers of Ukraine to limit the export of certain food products. Ukraine is Europe's largest food exporter and food accounts for about 43% of exports. In a video address Monday, Zelenskiy asked the government to draw up the list of items to restrict.
Ihor Petrashko, 44, deputy head of UkrLandFarming, is the lead candidate to become Ukraine's economy minister, the Kyiv Post reports, citing two ruling party members who attended a meeting Monday where his candidacy was announced. For the last seven years, he has worked at UkrLandFarming, which controls about half a million hectares. Oleh Bakhmatiuk, the owner, is wanted in Ukraine on suspicion of bank fraud. Until the cabinet purge of March 4, the economy minister post was held by Timofiy Mylovanov, who had been President of the Kyiv School of Economics.
The Supervisory Board of Naftogaz has voted to extend for four years the contract of CEO Andriy
Kobolyev. Now, it is up to the Cabinet of Ministers to approve – or deny – extending the contract, which expires Sunday.
From the Editor: Last restaurant lunch and last haircut today. First corona cases in Kyiv. Let's see what coming days bring. With Best Regards, Jim Brooke jbrooke@ubn.news