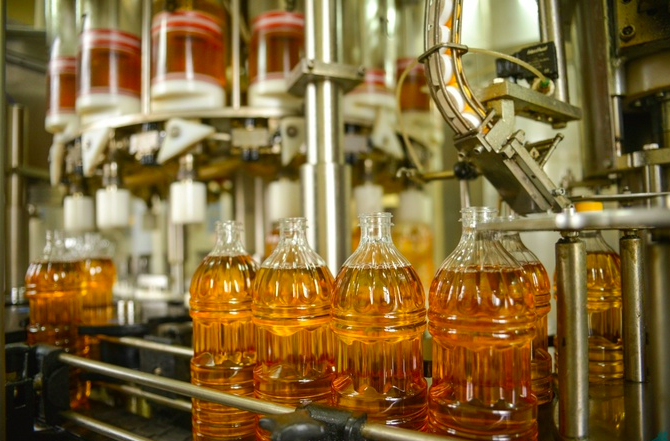 Refined sunflower oil production is up 23% through May, compared to the first five months of last year, reports Ukroliyaprom, the vegetable oil industry group, citing the State Statistical Service. During the same time, the share of oils and fats in Ukraine's overall food exports rose to 34%. Through May, Ukraine exported $2.7 billion of oils and fats, largely to Asia and the EU.
Sunoil prices remained firm through the coronavirus crisis, hitting $775/ton last week. Ukraine is the world's largest sunflower oil exporter. With Asian demand strong, Ukraine next year may produce 3% more sunoil yoy, for a total of 6.9 million tons, forecasts APK-Inform agriculture consultancy.  The sunflower seed harvest starts in two weeks.
Australia is expected to grab wheat market share from Ukraine in Southeast Asia this year, reports S&P Global Platts. After three years of drought, Australia expects to see its wheat harvest jump 79% to 26.7 million tons, just below Ukraine's forecast crop of 26.9 million tons. Indonesia, the world's second-largest wheat importer, is Australia's northern neighbor.
Breaking Ukraine's 3-month pause in business conferences, Grain Ukraine, will be held next week in Odesa. Trimmed to a one-day, invitation only, partly outdoor event at the Buddha Beach Resort Club, the July 10 conference will feature panels on the new land market law, the prospects for export quotas, trends in oil processing and new investments. "We decided to make the conference happen this year," says Andriy Stavnitser, founder of Grain Ukraine and co-owner of TIS port. "The market, especially in times of crisis, needs to stay connected."
The World Bank is loaning $200 million to Ukraine to facilitate a private farm land market by: creating a universally accessible state Agrarian Register, conducting an inventory of state lands, creating an automatic notification system for changes in the state land cadaster, and conducting satellite mapping of Ukraine. The loan is to fund the 'Accelerating Private Investment in Agriculture' program.
Ukrainian fruit and vegetable producers have almost completely re-oriented their exports away from Russia, reports EastFruit, a news site focusing on the trade of fruit and vegetables  'east of the European Union.' In 2013, 29% of Ukraine's exports went to Russia. Now, EastFruit, reports: "According to traders, the real share of the Russian market in the supply of vegetables and fruits from Ukraine is from 3 to 5% in value terms." Instead, destinations are: EU – 67%; Middle East – 14%; and Belarus – 7%.
Ukraine is now the world's largest supplier of frozen blueberries to China, reports Produce Report. By increasing sales 5-fold this spring to $6 million, Ukraine edged out surpassing Canada, Sweden, Latvia, Belarus, Russia and Poland. By 2025, China is expected to surpass the US as the world's largest producer and consumer of blueberries.
To attract foreign pig farmers, Ukraine's Meat Industry Association has declared an ambitious goal of more than tripling the nation's pig population to 20 million by 2025. Mykola Babenko, executive director of the Association, notes that that pork prices rose by 48% last year in the EU, while "hundreds" of pig farms in the Netherlands are receiving state aid to shut down due to concerns about air and water pollution. In the six years since African swine fever appeared in Ukraine, more than 2,000 small pig farms have closed. Only major investors can afford the sanitary measures needed to protect herds from the virus.
"Our goal is to help solve the problem of global pork shortage and make Ukraine one of the leading competitors in the meat market. Ukrainian chicken has already achieved global success, now it's pork's time," Babenko writes in an essay picked by the Britain's influential Pig Site.  He promises: "Ukrainian and foreign farmers who have interest in pig farming projects [will see] return on investment rate of about 100% per year. We guarantee sustainable profits, sales, legal protection and comprehensive investment support."
Ukraine's livestock populations dwindle as households give up family cows and dairies do not pick up the slack, according to new animal census numbers from the State Statistical Service. On June 1, the yoy drops were: cows – down 6.6%, to 3.47 million; pigs – down 5.9%, to 6 million; sheep and goats – down 6.3%, to 1.5 million; and chickens down 1.5%, to 231 million.
With the drop in livestock, milk production was down 3.65% through May, to 3.6 million tons. Meat production was up 1%, to 1.4 million tons. And wool production was down by 10%, to 506 tons.
To start winterizing apartment buildings in the summer, the IFC has signed a deal with KredoBank and the Energy Efficiency Fund to provide loans to homeowners associations while their grant applications are being processed. Last October, the $235 million Energy Fund was set up with EU and IFC aid to modernize Soviet-era apartment building to cut heat losses. Lviv-based KredoBank, a unit of PKO Bank Polski Group, will provide bridge loans to jump start the work.
Since the corona crackdown eased in mid-May, corona hospitalizations have tripled, pneumonia cases have tripled and the daily death toll has doubled, to about 18, Health Minister Maksym Stepanov told reporters Saturday. With new positive cases running at about 1,000 a day – three times the rate of one month ago, the World Health Organization has put Ukraine in the list of countries with a high rate of Covid spread.
After a corona outbreak infectd five people at Kyiv's Troieschyna market on Friday, Mayor Klitschko hinted he might shut down the metro again. "If the number of patients increases and the number of free beds in basic hospitals decreases significantly in the coming days, we will be forced to return to severe restrictions, including in the work of public transport," Klitschko said. "And, I emphasize, we are getting closer to such a decision."
About 20% of Ukrainians infected with coronavirus need hospitalization, Oksana Koshalko, a Health Ministry said Friday on the TV program Freedom Live. And 5% of total cases end up in intensive care, she said. Since March 13, 1,147 Ukrainians are known to have died of the virus.
President Zelenskiy at an inter-ministerial meeting last weekend: "In Odesa, clubs are already working, showbiz stars are doing gigs, beaches have opened to public. Rumors are being spun that no one get sick outdoors. However, this isn't true. In this regard, the situation has deteriorated. Odesa used to have one of the lowest figures for the corona spread, but today the number of new daily cases is much higher."
From the Editor: Yesterday, I moved offices, from Leonardo Business Center to the new AV Hub overlooking the Kyiv Cycle Track (Velotrek). During the quarantine, I repeatedly offered Leonardo's Platforma a deal: a one-year lease in return for one third off my $1,500 a month rent. Platforma emptied out during the quarantine. Last week, one month after the 'end' of quarantine, only two of the 10 offices on my corridor had people in them.  Long story short: 500 meters down Bohdana Khmelnytskoho Street, I found a larger, quieter office, with my very own private WC. The price: $450 a month. Commercial real estate landlords who cling to 'B.C' (Before Coronavirus) rents, are sleepwalking off a cliff. With Best Regards Jim Brooke jbrooke@ubn.news