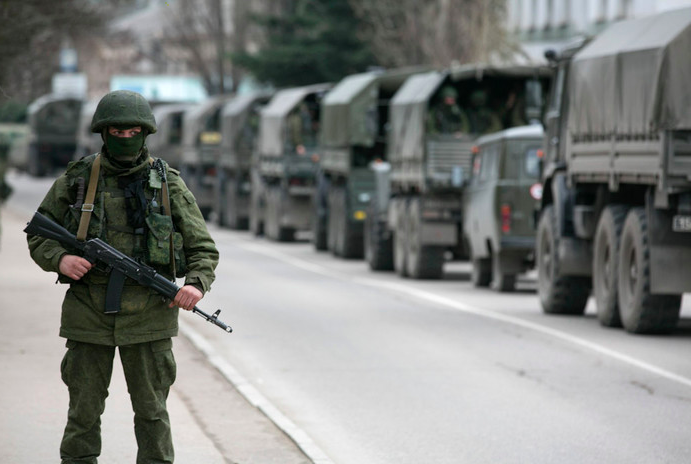 Russia has beefed up its military units on Ukraine's eastern and southern borders, Ukrinform, Ukraine's state-owned news agency details in a 1,500-word report circulating widely this week in Kyiv. "Three joint task forces have already been created in the vicinity of the Ukrainian state border, which are capable of carrying out sudden offensive operations on the territory of Ukraine," Vasyl Korotkyi writes from Vienna, citing a briefing last Wednesday by Ukrainian Armed Forces Lt. Gen. Leonid Holopatiuk a meeting of the OSCE Forum for Security Cooperation.

With Washington distracted by the lead up to Nov. 3 vote and President Putin bolstered by his referendum 'victory' last week, analysts fear that Putin will follow the Caucasus 2020 exercises in September with serious military attacks on Ukraine. The weeklong exercises will be in Crimea and in Kapustin Yar, Astrakhan oblast, a 10-hour drive from Donetsk. In 2008, Russian forces attacked Georgia on Aug. 7, five days after the conclusion of Caucasus 2008 exercises.
The Kremlin's military goals would be three-fold. One Russian armed unit would drive north out Armyansk, Crimea, 80 km north to Nova Khakova, on the Dnipro River. The goal would be to restore water flows to the Soviet-era North Crimean Canal. A second unit would drive north to occupy Zaporizhia  to control the oblast that supplies one quarter of Ukraine's electricity – nuclear, coal, wind and solar.
A third, cross border movement could move out of Russian bases in Kursk and Smolensk to take Sumy. This move would split Ukrainian defenses, would threaten Kyiv, a 5-hour drive to the west, and would send a warning to Belarus in the event of turmoil after the Aug. 9 presidential vote.
Ukrinform lists Russian military strength on Ukraine's eastern border: 87,000 troops, 1,100 tanks and 2,600 armored personnel carriers. In Russia-controlled Crimea and Donbas, there another 70,000 Russian soldiers, 500 tanks, and 1,100 armored personnel carriers.
Concern over Russia's growing military menace is reflected recent public statements.
Soviet republics left the USSR in 1991 with "a huge amount of traditional historically Russian land," President Putin warned in a TV interview aired the week before the referendum that gave him President-for-Life powers. "Given the irredentist nature of the arguments used to justify Russian aggression against Ukraine, it is no surprise that these latest comments sent a chill rippling across the former Soviet empire," Nataliia Popovych and Danylo Lubkivsky write in an Atlantic Council Ukraine blog posted yesterday: "Czar Putin wants a new age of empires."
Similarly, Ukrainian Navy Rear Admiral Alexei Neizhpapa, warns in a lengthy interview posted Saturday on Radio Free Europe: "The Kremlin does not diminish its imperial ambitions, they resort to intimidation, political and economic pressure, and demonstratively brandish weapons near the borders."
Former President Poroshenko tells the BBC: "The fifth column of the Russian federation are now playing a very important role in Ukraine." Asked by correspondent Jonah Fisher about his campaign posters last year that a vote for Zelenskiy was effectively a vote for Putin, Poroshenko responds Sunday : "Unfortunately this is true."
The IMF is postponing their July 14 'inspection' visit to Ukraine, presumably waiting to see who President Zelenskiy will nominate as Governor for the National Bank of Ukraine. With parliament taking its summer break on July 17, it seems unlikely the Rada will approve in time three measures wanted by the IMF: a new, credible Governor for the central bank, a renewable energy tariff law, and judicial reform.
In the latest move against reformers at the central bank, the National Bank of Ukraine Council decided not to renew the contract of Deputy Governor Oleh Churiy. The announcement was made by Council Chair Bohdan Danylyshyn, who seeks to be nominated Governor.
Going out with a bang, National Bank Governor Yakiv Smoliy warned the full Rada Friday, minutes before parliamentarians voted to accept his resignation: "During the last year, there have been paid rallies at the central bank's office involving lawmakers that are sitting in this hall. My house and the houses of my deputies have been blocked by protesters for a month. It was a full year of systematic pressure…In the last year, there were meetings that included government officials and the president where we were urged to flood the economy with money, cancel the basic principles of the banking system, and set a hryvnia exchange rate that would be favorable for exporters…This is a protest, a signal, a warning, a red line. By my resignation, I seek to prevent further attempts to undermine the institutional basis of the central bank."
Ukraine's economy fell 10% yoy in the second quarter, according to the consensus forecast of Reuter's monthly poll of analysts. This would be the biggest drop since the 14.5% drop recorded in the second quarter of 205, the economic aftermath of Russia's annexation of Crimea and the outbreak of war in the industrial east. For this year, the economists forecast gdp will shrink 5.5% yoy in the third quarter and 3% in the fourth quarter.
Nova Posta's parcel deliveries increased by one third yoy during the first half of this year. During the period, which included the quarantine, deliveries grew by 32%, to hit 128 million parcels. International deliveries  — largely from China – doubled, to 2.4 million. The company said much of the growth came from customers making cheaper purchases more often.
China's second dedicated container train for Ukraine pulled into Kyiv Liski station yesterday. The train of 43-containers made the 9,500 km trip from Wuhan to Kyiv in 20 days. "We plan that trains from China will run weekly." Ivan Yuryk, board chair of Ukrzaliznytsia, said at the arrival ceremony. "We are considering a number of new container train routes."
Container traffic by rail almost doubled in the first five months of this year, hitting 109,440 containers. There are now 36 container trains running in Ukraine on a regular basis.
Cargo moving on the Dnipro river dropped in the first half of this year by 20% yoy, to 3.5 million tons. By contrast, last year Dnipro river traffic was up 19%, hitting 11.8 million for the shipping season.
Ryanair re-launched its flights between Ukraine and Italy yesterday. Ryanair is now flying between Milan Bergamo and Kharkiv, Kyiv Boryspil, Lviv and Odesa. It will also from Ukrainian airports to Bologna, Catania, and Rome.
Flydubai resumes flights tomorrow between Kyiv Boryspil and Dubai. The flights will be three times a week
Ukrainian flights returned to Montenegro Saturday. With charters expected to arrive almost daily this summer, Ukrainian tourists are to arrive with certificates of negative results from coronavirus tests taken 72 hours before flying.
Airplanes in Ukrainian air space were up 42%in June over May, but still down 87% from June of last year. Domestic flights in June were down 54% yoy, international flights were down 89.5%, and transit flights were down 91%, reports UkrSATSE, the government air traffic control agency.
The annual Yalta European Strategy conference will be postponed for one year due to the Covid-19 pandemic. Founded in 2004 by business man Viktor Pinchuk, the YES evolved into the premier conference for showcasing Ukraine to international elites. In 2014, after Russia occupied Crimea, the mid-September conference moved from Yalta to Kyiv. Conference organizers announced Friday: "YES and the Viktor Pinchuk Foundation remain committed to the mission: to integrate Ukraine into the world and ensure its proper role on the international agenda."
From the Editor: Twelve years ago, on Aug. 7, 2008, I had the luck/bad luck of being in Tbilisi the night the Georgia-Russia war started. Five years later, in December, 2013, I warned in my Russia Watch column for Voice of America that Yanukovych should watch out for Kremlin designs on Crimea. (That elicited hate emails from Ukrainians indignant that such a thing could be possible.) Now the stars seem aligned for another Russian August — not August 1914, more likely August 2008. The US President is AWOL. The Russian president got his mojo back with his election 'victory' last week. The Ukrainian president does not inspire confidence. With luck, we will get to the other side of the US election without a major military attack. But I am not betting on it. With Best Regards Jim Brooke jbrooke@ubn.news