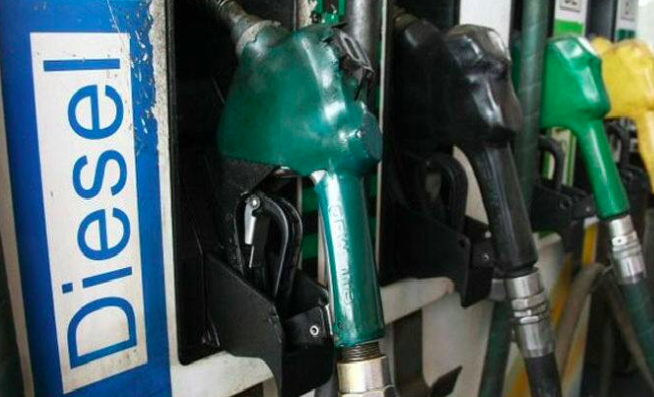 Russia has slashed monthly diesel exports to Ukraine to 25% of normal levels and liquefied petroleum gas exports to 40% of normal levels, reports Sergey Kuyun, director of Ukraine's A-95 energy consulting group. To maximize market tension, Russia's Economic Development Ministry will set levels of permitted exports each month.
In the face of Russia's cuts, Ukraine's diesel prices could go up another 5% this summer, to 31 UAH the liter, Kuyun writes on Facebook. With most consumer goods moving around the country by a truck this could imperil Ukraine's goal to end this year with inflation at 6.3%. After the Kremlin announced the restrictions on April 18, diesel prices rose by 4%. With the June 1 export restrictions, Ukraine loses 25% of its diesel and 15% of its LPG. "Is it a lot or a little?" asks Kuyun. "For diesel fuel – a lot. For gas – less, but also not easy."
Easing economic pressure on Ukraine, European oil prices have receded to February lows. August futures for Brent on the London Stock Exchange ICE Futures traded Monday evening at $61.62 per barrel.
Pumping gas into storage at record rates, Ukrtransgaz has filled Ukraine's 12 storage reservoirs to 37% of their 31 billion cubic meter capacity. After the national heating season ended April 5, the state pipeline company started filling the reservoirs, preparing for a possible end of Russian gas transit across Ukraine on Jan. 1. Separately, from January to April, natural gas production in Ukraine grew by 3.6% y-o-y to 7 billion cubic meters, the Energy and Coal Industry Ministry tells Interfax-Ukraine.
DTEK Group cut its coal imports by 24% during the first quarter, compared to the same period last year. The 225,000 ton drop in imports was partly covered by switching to gas and partly by expanding DTEK's coal production by 1.35%, to 6.5 million tons.
Last year's record 70 million-ton harvest may be the new normal for Ukraine's top export – grain. With spring sowing completed, farmers seeded 14.8 million hectares, the same amount as last year, reports the Agrarian Policy and Food Ministry. Noting that favorable weather allowed farmers to start planting one month earlier than last year, Deputy Minister Volodymyr Topchiy says: "The period of hibernation was favorable, and the spring weather conditions were better than in 2018…one can expect that the harvest of early grains in 2019 will not be lower than last year's."
The ministry predicts this year grain harvest will hit 70.8 million tons. The USDA predicts 72.1 million tons.
While this year's grain harvest may match last year's in size, the crop mix will shuffle  as farmers look for highest prices. King corn will shrink by 7%, to 33.1 million tons, predicts APK-Inform consultancy. Wheat will increase to 26.2 million tons and barley will increase to 7.9 million tons. Sunflower seed harvest will stay virtually the same, at 14.9 million tons. As a result, sunflower oil exports will be unchanged – 5.9 million tons. Soybean production is to drop by 20%, to 3.7 million tons. In compensation, canola production is to go up by 29%, to 3.6 million tons.
Ukraine could export a record 50 million tons of grain in the 2018/2019 marketing year that ends this month, predicts Dragon Capital. With 46.1 million tons of grain exported as of June 1, Dragon sees: "exports for the full marketing year to 49-50 Mt, up 23-25% y‑o-y and a new record high."
Grain exports through Ukraine's ports have grown by 45% since 2012, Andrew Shklyar, head of CTS-Consulting said last week at the Ukrainian Ports Forum. "Over the past five years, grain is the only type of cargo that has been growing annually," he said in Odesa. "The volume of grain shipments since 2012 has increased from 27.5 million tons to 40 million tons in 2018. Grains make up almost a third turnover of Ukrainian ports."
To catch up, companies are investing to move the grain to ports and to export the grain to the world.
 Examples:
Risoil SA increased grain exports from its terminals by 150% to 1 million tons during the first five months of this year, compared to the same period last year.
South Korea's Posco International plans to inaugurate next month in Mykolaiv a grain handling terminal with 140,000-ton storage capacity.
Posco, France's Soufflet Group and Ukraine's Astarta are in various stages of creating their own fleets of grain hopper wagons for rail transport.
Holland's Louis Dreyfus Company expects to win from the EBRD a $35 million loan to buy 1,000 rail grain wagons for use in Ukraine. Louis Dreyfus has warehouses in Vinnytsia, Cherkasy and Zaporizhia and a port complex in Odesa with a storage capacity of 240,000 tons.
Ukrzaliznytsia held two ProZorro auctions in March, auctioning 24 grain routes, with a total 1,296 cars. Although the new electronic system bids up shipping costs, it gives shippers peace of mind, knowing that freight trains are to arrive on time, in working order.
UZ says its working fleet of grain cars has expanded to 13,180 grain wagons, enough to handle 40 million tons of grain a year.
The Turkey-Ukraine free trade pact is '99%' negotiated, Vasiliy Bonday, deputy foreign minister tell Ukrainian Radio. Sticking points are several agricultural products and some services, he said. Last fall, Turkish President Recep Tayyip Erdogan said talks should be completed by the end of 2018.
Air Serbia flew from Belgrade to Kyiv Monday, renewing a route dropped three years ago. The return of flights to the largest city in the Balkans is part of a mini-boom in flights to the long-overlooked region. This summer, Windrose has flights from Kyiv to Pula, Croatia and to Tivat, Montenegro. SkyUp has seasonal charters to Tivat; Tirana, Albania; and, starting Thursday, to Split, Croatia. This spring Ryanair and Wizz Air launched flights from Kyiv to Athens, competing with UIA. Ten days ago, Wizz Air launched flights from Kyiv Sikorsky to Thessaloniki, northern Greece.
From the Editor: Ukraine Business News is now fully searchable. Go to www.ubn.news, type in a search term by the magnifying glass, and search through our fact-rich archive of 250,000 words. For comments or story tips, email me at jbrooke@ubn.news