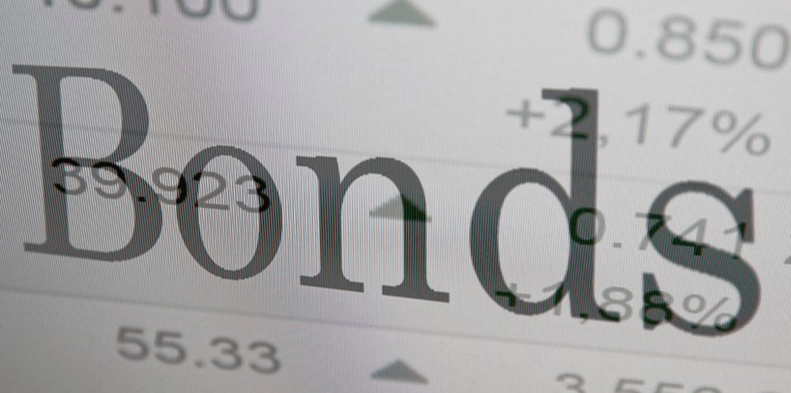 Reflecting confidence in Ukraine's new president Zelenskiy, Finance Ministry officials are on a European roadshow this week, seeking to place at least €500 million in 7-year Eurobonds. Investor meetings are taking place in London, Milan, Frankfurt, and Munich. BNP Paribas and Goldman Sachs are the joint lead managers and bookrunners. A global investor call will take place at 14:15 Ukraine time today.
Last October, Ukraine placed $750 million in 5-year Eurobonds with a yield of 9%, and $1.25 billion in 10-year Eurobonds with a yield of 9.75%. Ukraine is rated B- by S&P and by Fitch. The roadshow takes place as the benchmark 10-year US Treasury note trades around 2.1%.
Concorde Captal's Alexander Paraschiy writes: "The timing of the new Eurobond placement looks good for Ukraine, given that its seven-year, USD-denominated Eurobond is priced today at its 12-month high (yielding slightly below 8%)…there is a solid chance for Ukraine to place the new issue at about 7% or below."
Timothy Ash writes from London: "Ukrainian Eurobonds have been on a roll over the past month as investors get increasingly comfortable with a Zelenskiy presidency – rallying around 100 bps."
Depending on the success of the Finance Ministry this week in the Eurobond market, Andriy Kobolyev, CEO of Naftogaz, has said that he would be next to enter the foreign borrowing market, most likely after the July 21 Rada elections.
Central bank reserves were down 5.5% m-o-m in May to $19.4 billion, enough to cover 3.2 months of imports. The drop, not a surprise, was largely caused by a planned redemption of a $1 billion 2014 Eurobond. Year to date, reserves are down 6.8%, or $1.4 billion, largely due to debt repayments.
Since the start of the year, the hryvnia has gained 3%. Dragon Capital attributes this to: the $1.3 billion growth in foreign investor holdings of hryvnia bonds, strong farm export prices, and favorably commodities – namely high iron ore and low gas prices.
Saying "Ukraine needs radical changes," the new program of President Zelenskiy's party proposes to take police powers away from the State Fiscal Service and to pull the National Police and State Security Service (SBU) away from 'business infringement.' Unveiled Sunday, the Servant of the People platform calls for ending immunity of Rada members from criminal prosecution, for mandatory confiscation of property from corrupt officials, and for transferring the maximum amount of state services online. It holds out the possibility of a one-time tax and amnesty on unexplained wealth.
 The platform calls for breaking up energy monopolies and for allowing private passenger and freight trains. A legal framework would be created for blockchain currencies. Foreign investors of Ukrainian origin would receive favored treatment. Illegal logging would be a criminal offense.
The program calls for "the harshest punishment for corruption and theft in the Armed Forces and Defense Ministry, decentralizing and de-monopolizing defense procurements, and spending on defense no less than 5% of GDP." In a key step to opening the black box of defense spending, Aivaras Abromavičius, a reformist who was Economy Minister from 2014-2016, is expected to be named director general of UkrOboronProm, the state-controlled defense industry conglomerate.
In the latest opinion poll prior to the July 21 elections, 48.5% of decided voters favor Zelenskiy's Servant of the People party.  The Russia-friendly Opposition Platform comes in second with 12% of vote preferences in the poll released Monday by the Kyiv International Institute of Sociology. Former president Petro Poroshenko's European Solidarity ties with former Prime Minister Yulia Tymoshenko Batkivshchyna party, winning 8%. Rock star Svyatoslav Vakarchuk comes in fifth, with 6%. Last week, 48.2% of respondents to a poll by the Rating Sociological Group supported Zelenskiy's party.
Concorde Capital's Zenon Zawada writes: "Zelensky has made all the right moves so far as president, which is evident by not only his popularity but that of his party. It's entirely realistic that Zelensky and his party will form the parliamentary majority."
President Vladimir Zelensky introduced Monday urgent draft laws to postpone for one year – to July 2020 – the launch of an electricity market and to retain the 'green tariff' for household solar plants. The draft laws were announced by Andriy Gerus, the president's representative to the Cabinet of Minister. The former head of an NGO, the Association of Energy Consumers and Utilities, Gerus criticized the planned July 1 market liberalization as poorly thought out and supportive of DTEK, the energy monopolist. On Friday, the National Electricity and Utility Regulatory Commission estimated that 'inefficiencies' in the new market would cost companies and consumers an extra $1.4 billion a year.
Alexander Paraschiy wrote before the government moved to postpone the market launch: "DTEK's key fear is that if the market launch is postponed, the risk emerges that it won't happen at all….[But] seeing such postponement as neutral for DTEK Energy, we continue to treat its Eurobonds as among most attractive in Ukrainian fixed income universe."
Ukraine can now export to Qatar chicken, eggs, beef, milk, fish and other food products, according to Ukraine's state service for food safety and consumer protection. While Qatar has only 2.6 million residents, it has virtually no agriculture and its $184 billion GDP is one third larger than Ukraine's.
The EBRD is arranging a €116 million syndicated loan to Kronospan's Ukraine unit to build an oriented strand board plant and 45 MW biomass boiler energy plant in Novovolynsk, near the Polish border. Based in Austria, Kronospan is the world's largest producer of wooden building boards. Austrian banks Raiffeisen Bank International AG and Raiffeisenlandesbank Oberösterreich will loan €50 million of the total.
Kyiv has the fifth most congested streets in Europe, ranking close behind Moscow, Istanbul, Bucharest and Saint Petersburg. According to the TomTom Traffic Index, Kyiv drivers spend an extra 46% time stuck in traffic. By comparison, the figure in Moscow is 56% and in St. Petersburg it is 47%. While traffic congestion reflects economic growth, it also reflects the inability of city officials to take steps to speed traffic, to reduce bottlenecks and to promote mass transit.
Note from the Editor: You may notice that UBN has a slightly different look this week. We have upgraded our email server. Going forward, the morning email will be sent more reliably and efficiently. If you notice problems — or if someone you know is not receiving the emails since the change — please email me —  Best Regards, Jim Brooke – jbrooke@ubn.news.