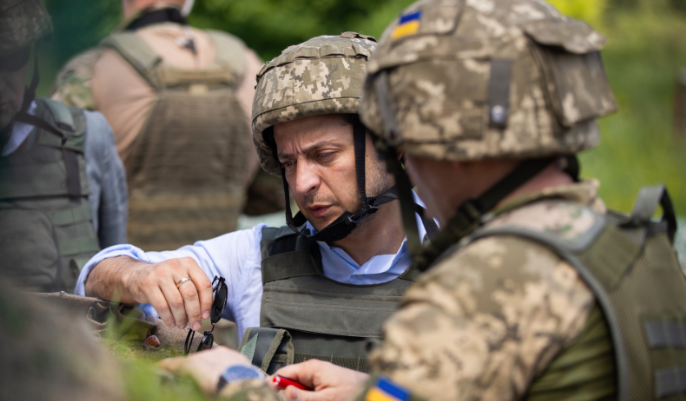 Dovetailing with President Zelenskiy's plan to rebuild the government-controlled half of the Donbas, the EU provided €119 million in new aid to Ukraine on Monday. It is largely focused on the nation's war-affected southeast and Azov seaports. Much of the concrete assistance will be funneled through the European Investment Bank or EIB:
€5 million for demining
€11 million to promote small and medium enterprises
€20 million to rebuild trolley services in Mariupol, Melitopol, and Berdyansk
€27.7 million for humanitarian and educational aid
€45 million to rebuild Mariupol's sewage and lighting systems
To reduce the geographical isolation of the Sea of Azov, the EU is funding feasibility studies that could unlock €470 million in loans from the EIB and other sources to upgrade the railroad line between Zaporizhia and Mariupol and to upgrade the 420 km east-west road between Mariupol and Kherson. Johannes Hahn, the EU's Commissioner for eastern Neighborhood Policy, said: "The additional support to the Sea of Azov region is a strong sign of EU solidarity aimed at both alleviating the humanitarian situation and promoting economic opportunities for the people living in the region."
In a farewell visit to Ukraine, outgoing European Council President Donald Tusk accompanied Zelenskiy Sunday on a trip to Stanytsiya Luhansk, a town where crossing the line of control is blocked by a blown bridge over the Severski Donetsk river. "We want to rebuild this bridge," Zelenskiy said. "We will find the money and promptly build it.
Separately, the US government is reviewing engineering bids to build piers, dry docks and warehouses at the two main Azov ports – Berdyansk and Mariupol. Last week, the Azimut company started dredging Mariupol port's approach channel and berth area. In the first dredging in a decade, 2 million cubic meters of silt are to be removed by the end of this year.
From Reni on the Danube to Mariupol on the Azov, Ukraine's Sea Ports Authority is preparing to lease to private businesses 180 real estate properties in 12 ports. Aiming for transparent procedures through ProZorro, the Authority is dividing the properties into two groups: berths, warehouses and loading complexes used to operate the ports; and ancillary properties – empty buildings or vacant lots – that can be put to productive use. Details will be on the Ports Authority website.
The EU also reaffirmed on Monday its willingness to disburse the second tranche of €500 million in macro-financial aid – pending Ukraine meeting a checklist of reforms. Last April, Finance Minister Oksana Markarova said that half of the reforms have been accomplished. This summer, three more are underway: a competitive electricity market, an independent, modernized customs service, and a High Anti-Corruption Court.
Ukraine's new High Anti-Corruption Court starts work Sept. 5, President Zelenskiy told visiting EU leaders Monday. "The court will begin considering cases of top corruption, in a building, by the way, on Peremoha Avenue," he referring to Kyiv's 'Victory Avenue.' "That is very symbolic because we are not just interested in fighting against corruption, but in the victory over it." On May 7, the judges elected Olena Tanasevych as head of the Court.
Naftogaz starts meeting today with investors in London and Frankfurt, preparing to place 5-year euro-denominated Eurobonds, reports Interfax-Ukraine. Bookrunners are Citibank and Deutsche Bank. "Naftogaz of Ukraine expects early cabinet resolution to enter the Eurobond market," Interfax, referring to Cabinet of Minister's authorization needed to place the bonds.
Aggressively pumping natural gas into Ukraine's underground storage facilities, Naftogaz reached the 45% mark on Saturday, with 14 billion cubic meters in storage. Naftogaz CEO Andriy Kobolyev says the company needs to borrow money to top off the tanks — 20 bcm total. At that level, Ukraine will have enough gas for next winter and will approach the September gas transit talks with Gazprom from a stronger bargaining hand. Last year, Ukraine consumed 32.3 bcm of gas, of which 10.6 bcm was imported.
With demand hot for government hryvnia bonds, ICU has opened its first personal service office in Kyiv – dedicated to helping walk-in customers buy hyrvnia treasuries. Located on the ground floor of Leonardo Business Center, the office will make minimum sales of UAH 100,000 (currently $3,906) and will charge a service fee of $25, ICU managing partner Konstantin Stetsenko tells Interfax-Ukraine. According to Stetsenko, the tax-free bonds pay annual interest rates of 17–18% in hryvnia and 5–7% in dollars. Comparable bank deposit interest rates are 15% and 2-3%. Bank deposit interest earnings are taxed.
To catch the eyes of foreign investors, the Finance Ministry plans to increase 3-5 fold its issuance of 5.5-year domestic bonds, to the equivalent of $1-1.5 billion, reports Interfax-Ukraine. At this volume, the bonds would be indexed and more readily traded on the secondary market. Tatyana Popovich, Alfa's director of capital markets, says inclusion on an index draws more foreign investors.
Britain's IWG plc, formerly Regus, will open next month the first phase of a nine-floor, 600-workplace, 6,100-square meter office center in Maidan Plaza, the landmark central Kyiv building originally known as the Trade Unions Building. Operating under IWG's Spaces Brand, the center will offer networking events, courses and business lectures. "Spaces is a place that is designed to unite entrepreneurs and provide ideal conditions for creating new ideas, launching startups and developing a successful business," says Yulia Litvinenko, Spaces Ukraine director. Operating as Regus in Kyiv since 1998, IWG has eight business centers – seven on the right bank, and one, Silver Breeze, on the left bank.
With the average vacancy rate in Lviv's shopping centers at 2.9%, four new shopping centers are to open over the next 18 months, Oksana Gavrilevich, the analyst for UTG commercial real estate brokers, tells Interfax-Ukraine.  The new centers will add 34,600 square meters of gross leasable space, expanding the city's total retail area by 9%. The two biggest centers are Arsen, at 60 Chervona Ave., with a leasable area of 24,800 square meters; and Kinescope, on UPA Heroes Street, with a leasable area of 8,600 square meters.
Sviatoslav Vakarchuk, the Ukrainian musician whose group may place third in the July 21 Rada election, shares with President Zelenskiy a desire "to stick to an aid-for-reforms program with the International Monetary Fund," Reuters reports. "For me, the IMF is like antibiotics. You don't like it, and you want to stop using as soon as possible, but if you have a real bacterial infection you take it because otherwise, you'll get worse," said Vakarchuk, who is widely seen as a parliamentary coalition ally of Zelenskiy.
Medical tourism to Ukraine is increasing, with 120 clinics receiving foreign patients and the average bill hitting $2,500, Violetta Yanyshevska, head of the Ukrainian Association of Medical Tourism, told an industry round table last week, reports Interfax-Ukraine. Top areas are reproductive treatments, plastic surgery, dentistry, sanatorium treatments, physical rehabilitation, treatment of eye diseases, heart surgery and cell therapy.
Editor's Note: Ukrainian Catholic University will have its mid-summer benefit cruise on the Dnipro River liner Rosa Victoria, Saturday afternoon July 13. Acting US Ambassador William Taylor will speak, there will be a kids program and music by Taras Topolya, lead singer of the band Antytila and by Yo-gurt band. It looks like a lot of fun! More information:  https://supporting.ucu.edu.ua/ best Jim Brooke jbrooke@ubn.news