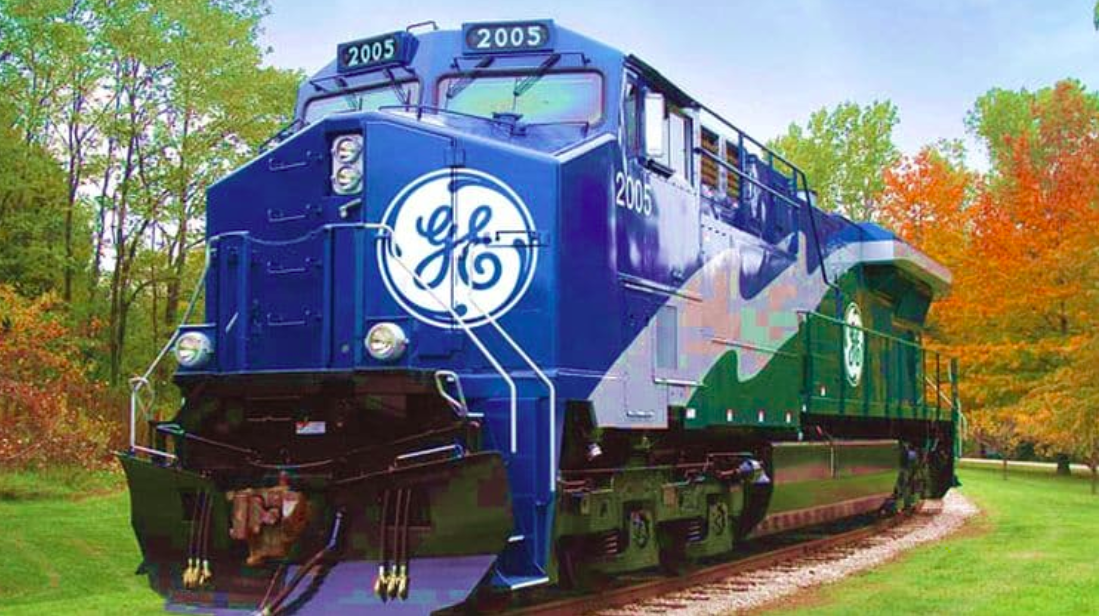 Tuesday, July 28
Toot! Toot! 40 GE Locomotives on Track for Ukraine...Freight Dip Mirrors Recession...Pivdenniy Port Grows to Handle 40% of Ukraine's Sea Trade...Asia Buys Half of Ukraine's Expanding Grain Exports...Ukraine Can Feed China, Starting with Blueberries...While UIA Shrinks, SkyUp Adds Two More Boeings...
Ukrzaliznytsia is negotiating with GE Transportation a potentially $200 million deal to supply up to 40 diesel locomotives, Ivan Yuryk, acting CEO of the state railroad, tells NV Business. Last year, the US company completed the supply of 30 locomotives, made with 10% local content. Under a 2018 contract, the second batch of locomotive was to have 50% local content. Separately, UZ is holding an international tender for the supply of 200 electric locomotives through the 2020s.
Iron ore for China, grain, and gravel for road building got Ukrzaliznytsia through the April-May downturn, Yuryk tells NV Business in a separate story. "Export of iron ore to China is the only thing that we held on to during the crisis," he said, referring to ore shipped to the Black Sea ports. At the bottom, in May, cargo was down 20% yoy. It is now down 5%. The railroad may record $500 million in losses this year.
UZ has restructured $200 million in debt that due to be paid on Friday to Sberbank (Ukraine). In addition to stretching repayment of this debt over three years, "the company plans to further refinance the debt in the international capital markets or with one of the domestic Ukrainian banks," the railroad reported Monday.
During the first half of this year, freight carriage was down 16% over the same January-June period of last year, reports the State Statistics Service. The fall to 275 million tons breaks down as follows:
Trains down 10%
Trucks down 24%
River down 12%
Air down 6%
Pipeline down 22%
At the seaports, port operators increased tonnage by 10%, to 79 million tons. Exports were up 9%, import were up 13%, and transit was up 13%.
Of the ports, Odesa Region's Pivdenniy increased its lead as the nation's busiest sea port, handling almost 40% of Ukraine's seaborne trade during the first half of this year. Pivdenniy's increased its cargo handing by one third yoy, to 31 million tons. Number two Mykolaiv fell 6% to 14.4 million tons. Falling slightly were Odesa – 12 million tons – and Chornomorsk – 11.9 million tons. The two Azov ports saw healthy growth. Mariupol was up 27%, to 3.2 million tons. Berdyansk was up 64%, to almost 1 million tons.
Ukraine's exports of grains, legumes and flour increased by 13.5% in the recently completed marketing year, compared to the same July-June period last year. The exports of 57.2 million tons are a record, says the Institute of Agrarian Economics. The big three crops were: corn — 30.3 million tons; wheat — 20.5 million tons; and barley — 5.1 million tons.
During the first half of this year, Asian countries increased their purchases of food from Ukraine by 14.5%, to almost $5 billion. This is almost half of Ukraine's food exports, calculates the Institute of Agrarian Economics. In the first half of 2020, the top three buyers were: China — $ 1.4 billion; Egypt — $789 million; and India — $743 million.
Ukraine can help feed China, Olha Stefanishyna, deputy Prime Minister for European and Euro-Atlantic Integration, told China's new Ambassador Fax Xianrong in Kyiv on Friday. She said: "We are ready to meet China's growing demand for high-quality food and Ukrainian agricultural products, including flour, apples, sweet cherries, chicken meat, fish, and legumes."
China has opened its market to Ukrainian blueberries, fresh and frozen, reports Ukraine's  Service for Food Safety and Consumer Protection. Ten Ukrainian berry producers have already registered for exporting to China. Separately, Singapore has opened its market for Ukrainian processed pork and chicken meat, reports the Food Safety Service.
A new China-Kyiv container train – passing through Mongolia and Russia – will become weekly, reports Gudok 1520, a Moscow-based railroad news site.  Alexander Polishchuk, director of Kyiv's left bank freight depot in Liski is quoted saying: "In the future, it may be two trains a week or even more, up to four." Ivan Yuryk, the Ukrzaliznytsia head, is quoted saying: "We will negotiate with businesses regarding the possibility of exporting to China. We would like to show that this is a faster and more economically profitable route than the sea route."
An emergency session of the Rada will be needed in August to overturn one deputy's move last week to block the 'green tariff' bill. With bill now in limbo, acting Energy Minister Olha Buslavets told reporters yesterday: "I hope that the people's deputies will promptly resolve the issue of the decision to cancel voting for the law and unblock its signing."
As Ukrenergo's Guaranteed Buyer, or GarPok, heads toward bankruptcy, the agency owes $628 million to solar and wind energy producers. With some debts dating back to February, the power purchasing agency has paid 27% of its bills to private solar and wind companies and 58% of its bills to the state nuclear and hydro power producers
Betting on the return of air travel, Ukraine's SkyUp Airlines plans to receive two Boeing 737s by the end of this year, Dmitry Seroukhov, acting CEO, tells the Center for Transportation Strategies. By the end of this year, Ukraine's low cost carrier will have 13 aircraft – 11 Boeing 737 NG and 2 Boeing 737-900 ER.
UIA currently uses eight of the 29 aircraft it has based at Boryspil, Sergei Fomenko, the airline's vice president for commercial activities, tells the Center for Transportation Strategies. Depending on the evolution of health restrictions, UIA hopes to use 26 aircraft this fall. The airline has six Boeings stored outside of Ukraine.
Three districts of Kyiv lost power yesterday evening for several hours due to a fire at the Kyiv's Combined Heat and Power Plant №5. Traffic lights went out, trolleybuses stopped working, two Metro stations operated in the dark, and the Ocean Plaza Mall was evacuated.
From the Editor: They say Argentina survives because the crops grow at night — when the politicians are asleep, or otherwise distracted. Hopefully, Ukraine is not fated to become Eastern Europe's Argentina. But, you can mull that thought while listening to old recordings of Ukrainian tangos from interwar Lviv — Bondi Vesolovsky and Yabtso Jazz: swinging Lviv in the 1920s-30s. Thanks to my friend Bohdan Nahajlo for resurrecting the audio from radio archives! With Best Regards Jim Brooke