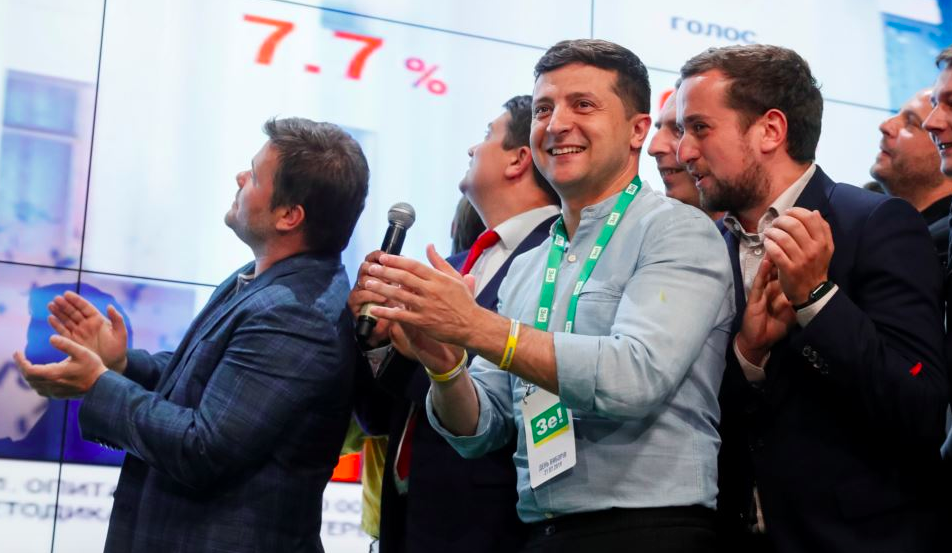 President Zelenskiy appears to have won 60% of the seats in the Rada, making him Ukraine's first-post independence leader to enjoy an outright parliamentary majority. After his Servant of the People party won 43% of Sunday's vote, candidates affiliated with the party did surprisingly well in the 199 single-seat districts.
This should give the new President unprecedented power to pursue his free-market, modernizing agenda – creating an independent court system, cutting regulations, automating processes to cut corruption and auctioning off many of Ukraine's 3,000 state companies. Beyond his immediate party supporters, his pro-Western outlook is shared two-thirds of the voters: Servant of the People  — 43%; Poroshenko's European Solidarity –- 8%; Tymoshenko's Fatherland – 8%; and Vaharchuk's Voice – 6%. Among the five parties that will enter parliament, the lone pro-Russian party, Opposition Platform won 12% of votes.
Starting Friday and continuing on Monday, markets welcomed the prospect of Zelenskiy winning control of parliament. Ukraine's 2015 foreign debt warrants rallied 2.5 points reaching an all-time high, near 78. Eurobonds have remained strong. Timothy Ash writes from London: "Zelenskiy and Servant of the People represent liberal, market, democratic ideals.
To combat corporate 'raiding', Zelenskiy signed a decree Monday to protect property rights by ordering upgrades in software used by notaries. This would involve setting up a trigger system for operations with high risks of fraud, the capture of photo and video images of people using notaries and improved password protection. "The question of raiding has become one of the most painful for business," says Oleksiy Goncharuk, deputy head of presidential administration. "According to various estimates, over the past six years, more than 3,000 [company thefts] have taken place."
Sunday's electoral earthquake overturned two long-serving businessmen-politicians
Kostyantyn Zhevago, CEO and majority owner of Ukraine's largest iron ore pellet exporter Ferrexpo (FXPO LN), lost to Oleksiy Movchan, a political neophyte and member The People's Servant party. Concorde Capital's Dmytro Khoroshun dismisses the financial impact of the loss of Zhevago, an MP since 1998, writing: "Ferrexpo's fundamentals remain strong. We expect Ferrexpo's 1H19 EBITDA, which will be reported on Aug. 2, to have reached $350-375 million, or a 50-60% yoy jump."
Separately, China's plans to buy Motor Sich aircraft engine factory may have been dashed by the election defeat of Vyacheslav Boguslayev, the long-serving CEO.  Boguslayev attempted last year to sell much of the Zaporizhia-based company to Skyrizon, also known as Beijing Tianjiao Aviation Industry Investment Company. However, Ukraine's SBU security service stepped in an stopped the sale. Last week, Beijing's Global Times reports Ukraine's Antimonopoly Committee was to rule on the sale on Monday. After Zaporizhia turned against Boguslayev, Rada member since 2006, the Committee may decide that local opinion is against the sale.
Appealing to foreign investors, Zelenskiy says in a promotional video: "My vision is to have Ukraine as one of the fastest-growing emerging economies in Europe." Speaking mildly accented English, the actor-turned-president says his team "wants to inject economic growth into the country's DNA. We need to change a lot here, fire nonprofessionals and hire professional ones, deregulate industries, simplify rules, improve the infrastructure."
Officials at ArcelorMittal Kryvyi Rih, Ukraine's largest steelmaker, say that at the end of a 17-hour search on Sunday, state security officers confiscated machine parts, paralyzing a $150 million investment in a continuous casting machine. Anna Gatilova, Arcelor press secretary, wrote Monday: "ArcelorMittal Kryvyi Rih considers the recent events…a serious signal to the business community about the real situation with the protection of business in Ukraine…The company's management personally appeals to the President of Ukraine and the international community to intervene and stop unprecedented pressure on a foreign investor."
Ivan Bakanov, acting head of the state security agency, told reporters Monday: "It was not pressured for sure." The raids started after Zelenskiy visited his home town of Kryvyi Rih two weeks ago and complained that the steel mill was polluting the air.
Cargo and port revenue to Ukraine's Azov ports have been cut in half since the war with Russia started five years ago, reports Raivis Veckagans, head of the Sea Ports Authority. The two ports, Berdyansk and Mariupol have lost $230 million in revenue, he said. Veckagans did not estimate losses by shippers and exporters due to delay. Veckagans said that in the face of international pressure, Russia has reduced harassment this year of Ukrainian shipping.
To make the Azov ports more attractive to shippers, Veckagans says his agency is investing $40 million over three years to dredge the two ports, to re-build a berth in Mariupol and to build a new grain terminal in Mariupol. Mariupol port authorities say that Russia's new bridge across the Kerch Strait is so low that it blocks one-third of the ships that historically docked at the port, Ukraine's largest on the Azov.
Kherson port, the closest Black Sea alternative to the Azov, handled 31% more cargo during the first half of this year compared to the same period last year.  Grain was up 32%, to 461,920 tons. Ferrous metals were up 21%, to 225,390 tons.
South Korea's Posco International inaugurated in Mykolaiv port last week a terminal capable of storing 140,000 tons of grain at one time.  Working with Ukraine's Orexim Group, Posco executives discussed with port administration officials the possibility of investing in three other berths. Posco officials say the port investments in Ukraine contribute to South Korea's food security.
With average crop yields jumping by 11% y-o-y, Ukraine's crop farming output grew 19% y-o-y in the first half of this year, compared to the first half of 2018, reports the State Statistics Service. The surge in yields are attributed to good weather and to an injection of capital into the countryside to due last year's record 70 million ton grain crop. As of Monday, 23.5 million tons of early grains have been harvested.
Ukraine's food exports to the EU were up 50% in May, compared to May 2018, reports the European Commission. Exporting €6.5 billion worth of food to the EU during the 12 months ending in May, Ukraine is enjoying far faster growth rate than the three other major suppliers, the United States, Brazil, and China.
Editor's Note: Were you forwarded this email? Sign up for your own daily delivery at www.ubn.news/subscribe. Ukraine Business News is sent as an email every weekday morning before 6:00 a.m. Kyiv time. Tell your friends! Best regards Jim Brooke – jbrooke@ubn.news