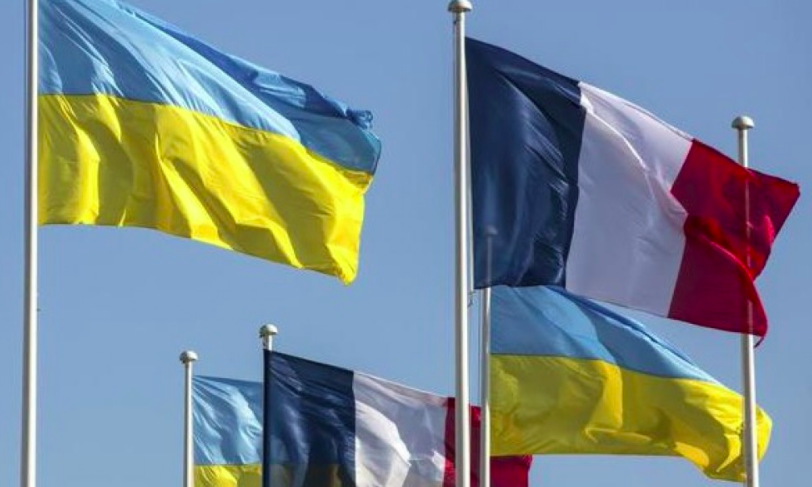 France is implementing projects in Ukraine that total €1.5 billion, French Ambassador Etienne de Poncins told reporters yesterday in a tradition press conference in advance of July 14, the French National Day.  Most projects come with supplier credits and other kinds of 'soft' loans prepared by France's Finance Ministry.
Highlights:
The signing next week of an agreement to supply 20 patrol boats to Ukraine. Five boats are to be built in Ukraine.
The ongoing project to supply 55 Airbus helicopters to Ukraine's Internal Affairs ministry, notably the National Police, National Guard, Border Guard, and Emergency Service.
€64 million loan to Mariupol to upgrade drinking water
€24 million for a planned project with the Health Ministry for early breast cancer detection.
Negotiations with the Infrastructure Ministry to provide railway and rail signaling equipment for Luhansk and eastern Ukraine
Alstom S.A.'s planned participation in a Ukrzaliznytsia tender to supply electric locomotives through the 2020s.
 Heard on the street: Erik Prince, the American defense industry entrepreneur, was close to signing last month on a partial buyout of Motor Sich, the jet engine maker coveted by China. With storm clouds gathering over Ukraine's political direction, he decided to 'wait until November,' a business acquaintance says. Local elections are to be Sunday Oct. 25. If the ruling Servant of the People party fractures this Friday, the start of the Rada's 6-week recess, President Zelenskiy could add parliamentary elections to the October local election.
The Rada is scheduled to vote the Green Energy bill this week on the second reading. Failure could carry a high price tag, one North American investor warns the UBN. If the government fails to pay $625 million owed for energy from solar and wind producers, 70% of foreign projects in renewables face default this fall, and the government will face a mountain of offshore arbitration claims. With the Erdogan family investing $90 million in solar power plants in southern Ukraine, forget out the Turkey-Ukraine free trade pact. With $65 million invested by a Canadian company in Ukrainian solar plants, forget about visa-free entry to Canada. Foreign investors represent most OECD countries. If they feel burned, they will be 'super spreaders' of negative views on Ukraine's investment climate.
The current central bank team will resist President Zelenskiy's demand to print more money to create an artificial economic boomlet, Kateryna Rozhkova, acting governor of the National Bank of Ukraine, tells Interfax-Ukraine in a 5,000-word interview.  She says: "For the NBU team, the launch of the 'printing press' is one of the 'red lines' we will never be ready to cross. It contradicts everything we have done for six years: not to expose [the people] to the inflation tax." Noting that Ukraine is enjoying "record low interest rates," she adds: "It is impossible to have high inflation and low rates. This will never happen." Zelenskiy has yet to nominate a successor to Yakiv Smoliy who resigned as central bank governor on July 1. He complained of persistent political pressure.
Home mortgages at 10% a year is the goal of a new "mass mortgage lending program" to be launched this fall by the National Bank of Ukraine, acting central bank head Roshkova tells Interfax-Ukraine. "In the fourth quarter, it will be possible to launch a mass mortgage lending program," she said, stressing that "high quality borrowers" would get this low rate for economic reasons, not for fiat.
Edward Cowan, former Washington economics editor for The New York Times, writes the UBN of Zelenskiy's call for an 11% devaluation of the hryvnia and the Liga.net interview with IMF representative Goesta Ljungman:  "This is classic inflationism – depreciate your way to faster growth. Another label is Beggar My Neighbor. The Swede speaks truth, as you note — textbook, mainstream economics. Here is the eventual problem: inflation ineluctably leads to higher interest rates, because lenders are no dumber than borrowers. High interest rates inhibit economic activity. If the central bank gets its act together, it reverts to monetary restraint. There is no good substitute for moderate monetary policy and moderate, sustainable growth."
A law capping government salaries at $1,750 a month will continue through the summer. Adopted three months ago, in solidarity with the corona lockdown, the cap increasingly was seen as an invitation to corruption. However, on Monday, the government withdrew a bill to abolish the cap. Last week, in his interview with Liga.net, IMF representative Ljungman said: "Limiting the size of the maximum salary can lead to the loss of the greatest talents and the necessary experience. This would not be in the interests of Ukraine."
Zelenskiy's effort last week to talk down the hryvnia has had little short term impact. Currently, the exchange rate is 27.10 hryvnia to the dollar, down 12 kopecks from 26.98, the rate last Wednesday when Zelenskiy called for a rate of 30 to the dollar.  Last week, the National Bank of Ukraine purchased $92 million on the interbank foreign exchange market.
Monster trucks figure on Metinvest's $30 million shopping list for new equipment this year at its Central Iron Ore Enrichment Works in Kryvyi Rih. The showpieces are BelAZ-75131 dump trucks. Considered the world's largest, highest payload capacity haul trucks, these trucks can each carry 450 tons of ore bearing rock. With the driver perched in an air-conditioned cab eight meters above the ground, each truck has a five-camera video surveillance system to avoid driving over small objects, like cars.
On Oct. 1, Wizz Air plans to resume direct flights between Ukraine and the United Arab Emirates, an air link it suspended several years ago. The low-cost carrier will fly twice a week between Odesa and Abu Dhabi. Two weeks ago, the Budapest-based carrier opened a base at Lviv airport.
Starting tomorrow, Hungary bars entry from Ukraine and Romania, two neighbors classified as 'red zone's for coronavirus infections. Two weeks ago, Hungary and Ukraine opened four land border crossings. However, the corona infection rate has remained stubbornly high in western Ukraine. On Friday, Croatia decided to demand negative corona test results from Ukrainian tourists. Tests have to be performed 48 hours before arrival.
Laboratories are to open at the airports of Kyiv and Lviv to test arriving passengers. Results are to be linked to the Diy Vdoma app, allowing visitors to cut short the 2-week self-isolation period.
Message du Redacteur: En ce jour du 14 juillet 2020, fête nationale française, je suis heureux d'annoncer que l'Ukraine Business News sera en français, grâce au travail sympathique de Louis Chambaudie, restaurateur de Kyiv et lecteur dévoué d'UBN.  À partir de cette semaine, vous trouverez le français et le drapeau tricolore dans la zone déroulante des langues sur la page d'accueil =https://ubn.news/.  Grace à cela, le français rejoint l'anglais, l'allemand, le russe et l'ukrainien comme langue du site UBN.  Profitez en et partagez avec vos amis francophones! Meilleurs voeux Jim Brooke
From the Editor: In honor of today, Bastille Day, the French National Day, I am happy to announce the Ukraine Business News will also be in French, thanks to the hard work of Louis Chambaudie, Kyiv restaurateur and dedicated reader of the UBN. Starting this week, you will find French and the tricolore in the drop down language box on the home page — https://ubn.news/. With this, French joins English, German, Russian and Ukrainian as the languages of the UBN website. Enjoy — and share with your francophone friends! With best regards, Jim Brooke