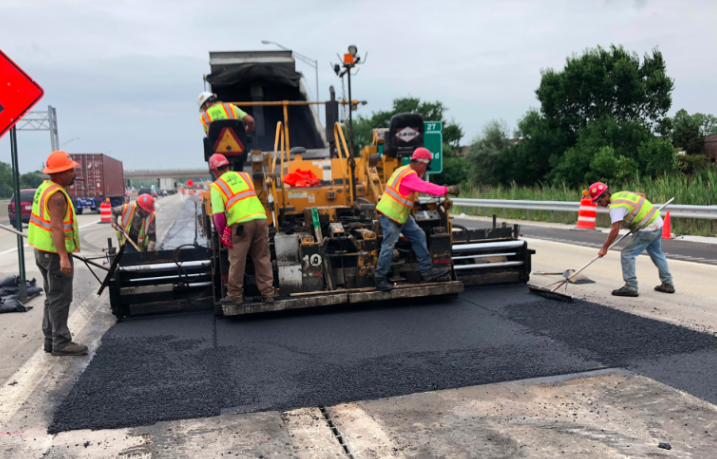 Tuesday, January 28
Pave, Baby, Pave! Ukraine's Gears Up for Its Biggest Road Building Year in History... Bridges, Ring Roads, and Foreign Construction Companies Mark the Road Campaign... Ukravtodor, Vodaphone May Launch Eurobonds...Big Interest Rate Cut Expected Thursday
The biggest road building program in Ukraine's history starts March 1. Officials have five weeks to complete tenders and plans, Prime Minister Honcharuk warned Monday at the state highway agency's Ukravtodor UA Roads 2020 forum. The plan is to spend $2.7 billion to repair and rebuild 4,000 km of roads. "We have a stated task – large-scale construction should start March 1," the Prime Minister said. "As fast as the weather will allow, we have to go out and build."
Good roads are economic force multipliers in a country where Ukravtodor says 90% are in poor shape. "The faster we build good roads, the faster our economy grows, the faster we can afford to raise social standards," Honcharuk told the meeting in Kyiv of highway professionals. "Roads are also jobs, taxes."
To finance rebuilding of an additional 1,000 km of roads, Ukravtodor is talking with the Finance Ministry about placing a Eurobond next summer, Alexander Kubrakov, the new head of the agency, tells the Center for Transportation Strategies. This new funding would allow Ukravtodor to pave twice as much road length as last year's 2,350 km. Kubrakov, a veteran of the EU-funded Better Regulation Delivery Office, says he is cutting corruption by replacing 70% of the heads of regional highway agencies and embracing electronic tenders and foreign oversight.
Ukravtodor plans to start construction this spring on river bridges in Kremenchuk, Mykolaiv and Zaporizhia.  Japan International Cooperation Agency, or JICA, has prepared a draft loan agreement to finance most of the Mykolaiv bridge.
The highway agency plans to build nine ring roads, allowing trucks and through traffic to bypass city centers. Bypasses will be built around the cities of: Beregove, Chernivtsi, Dnipro, Khmelnitsky, Lviv, Poltava, Rivne, Zhytomyr, and Ternopil. "Ukrainian cities should be freed from transit traffic, because it reduces the number of jams and improves the transit potential of the road network," Kubrakov said. "It will positively influence traffic safety, air quality, the life of the road surface and reduce the number of accidents."
As Austria's Strabag prepares to bid on road tenders, Turkey's Onur has won a tender to rebuild 40 km of the Kyiv-Odesa M-05 highway, from Bila Tserkva south to the Odessa Region border. Deemed part of the Pan-European Corridor, the highway is receiving EBRD and European Investment Bank  funding.
Poor roads contribute to the more than 400 road accidents that take place in Ukraine every day, Honcharuk said. He promised: "In the next 5 years, roads will become a symbol of growth and development of Ukraine." To improve safety, Infrastructure Minister Vladislav Krikliy says 250 speed cameras and weight in motion devices will be installed across Ukraine.
Coal ash and slag are to become key components of highway paving, Kubrakov says.  As demonstrated in the US and EU, use of these industrial wastes can cut highway construction costs by 30%. Ukraine generates 7.5 million tons of ash and slag waste every year. Use is to be concentrated in four southeast regions with large concentrations of thermal power plants: Donetsk, Dnipropetrovsk, Kirovohrad, and Zaporizhia. "In all these regions we definitely want to use ash and slag," says the head of the highway agency.
About 10% of allocated Road Fund money – or $57 million – were never spent by regions last year. The worst performing areas were: Chernivtsi – 39%; Kirovograd – 34%; Zhytomyr – 24%; Donetsk -22%; Kherson – 20%.
On Thursday, the central bank is expected to cut the prime rate by 200-250 basis points, predicts Raiffeisen Bank Aval. At 13.5%, Ukraine's interest rate is 3.3 times the 4.1% inflation rate. Last year, the National Bank of Ukraine cuts of the key interest rate for times. Most recently, the cut last month was for 200 basis points.
On Saturday, a government-funded program starts to extend low interest loans to as many as 50,000 small businesses, Prime Minister Honcharuk reports after winning Cabinet approval on Monday.  Offering rates as low as 5%, participants will be able to borrow up to $61,652.
Today, Vodaphone Ukraine starts a roadshow to debut 5-year, dollar-denominated Eurobonds, reports Interfax Ukraine. Purchased last month by Bakcell, an Azeri mobile phone company, Vodaphone is Ukraine's second largest mobile phone operator, after Kyiv Star. Last April, Vodaphone Ukraine, under different ownership, placed issued €90 million worth of Eurobonds with a yield of 9.2% per annum. This week, the roadshow organizers are: J.P. Morgan, Raiffeisen Bank International, Dragon Capital, and ICBC Standard Bank.
Ukraine's Eurobond priced better last week than comparable bonds from countries from higher ratings, ICU reports. On Wednesday, Ukraine placed €1.25 billion worth of 10-year Eurobonds at 4.375%. Fitch gives Ukraine a 'B' rating. That day the 10-year Eurobonds of Egypt and Cote d'Ivoire, two countries with 'B+' ratings were trading at 4.8% and 4.6%, respectively.
Purchasers spanned the globe – from New York to London to Bahrein to Singapore to Hong Kong, reports Finance Minister Oksana Markarova. "200 investment funds from 31 countries have purchased Ukrainian 10-year Eurobonds," she writes on Facebook. Buyers were: asset management funds – 85%; hedge funds – 7%; pension and insurance funds – 6%; banks – 2%. Top countries were: UK – 42%; US – 34%; and EU – 19%. ICU predicts Ukraine will place another Eurobond issue in March.
With the coronavirus spreading in China, SkyUp airlines will fly its last passengers out of Hainan Island, China tomorrow and on Saturday. Then, it will suspend charter flights between Ukraine and China for two months. Last Saturday, Borsypil airport started to give temperature body checks to all passengers are arriving on direct flights from China. Last month, for cost reasons, UIA stopped its flight to Beijing. Ukrposhta reports there is no threat of virus transmission through packages received from China.
SkyUp has become one of Europe's 10 fastest growing airlines, according to the Anker Report. As Europe's seventh fastest growing airline in Europe, SkyUp added 93 new routes to its schedule last yaer. Ukraine is served by other fast growing airlines –Ryanair, AirFrance, Wizz Air, Turkish, Alitalia and Lauda.
Over the past five years, the passenger flow at Ukrainian airports has doubled, rising from 10.7 million in 2015 to 24.3 million in 2019, reports the State Aviation Administration.
From the Editor: Judge a government by its roads. Ancient Rome had the discipline, the bureaucracy and the know how to build roads that are visible today — 2,000 years later. Enough said. Best Regards, Jim Brooke jbrooke@ubn.news