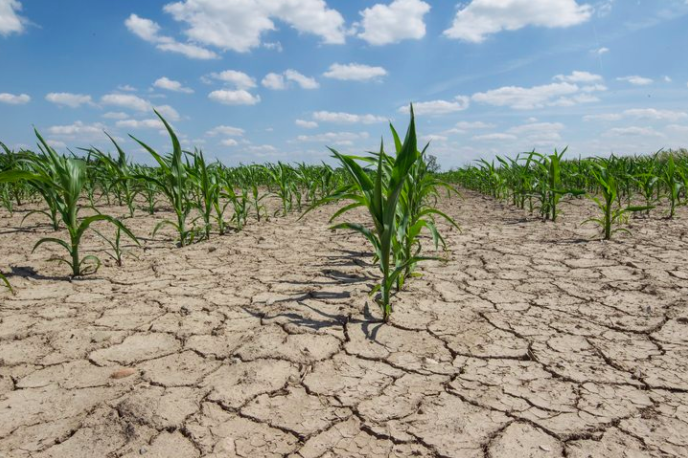 Drought, frosts and poorly timed rains caused Ukraine to suffer the biggest drop in farm production in a quarter century – 11.5% yoy, reports the State Statistics Service. Crop farming was down 13.9%. The grain harvest is expected to be down 10%, to 64 million tons.
Dragon Capital writes: "The drop in agricultural production in 2020, which became the sharpest since 1994, was mainly caused by a lower harvest, as late-crop yields were hit by poor precipitation."
The USDA forecasts that Ukraine's grain harvest will be down 8% this year, to 64.2 million tons. This will lead to an 8.5% yoy drop in total grain exports to 45.8 million tons, predicts the U.S. Department of Agriculture.
According to the State Statistics Service, animal farming fell by only 2.6%. Chicken were down 9.3%. Cows were down 6.2%. While pigs were up 2%, largely on the strength of investments in industrial piggeries.
With the declines in animals and birds, egg production was down 2.9% and milk production fell by 4.2%. Beef production was down by 17% and poultry was up 4%.
With the corn harvest down 15% yoy and prices at seven-year highs, Ukraine's government  decides this week on a request by pig and poultry producers to limit corn exports to 22 million tons – three times domestic needs. Traders fear this will create more turbulence in the Black Sea market. Russia, fearing unrest over rising food prices, plans to impose a higher export tax on wheat and corn in March.
China nearly tripled its purchases of Ukrainian corn last fall, to 3.6 million tons, according to APK-Inform. Compared to the same October-December period, the EU cuts its purchases by 39%, to 2.7 million. Egypt was the third largest importer of Ukrainian corn, 900,000 tons, down 19% yoy. Overall, China bought 40% of Ukraine's corn shipments last fall.
Bangladesh will step up wheat purchases from Ukraine on the news that Russia imposing an export tax on wheat, Mosammat Nazmanara Khanum, the top civil servant at Bangladesh's food ministry, tells Reuters in Dhaka. Russia has only supplied half of the 400,000 tons of wheat it had promised Bangladesh this year
Vietnam nearly doubled its imports of grain from Ukraine last year, Taras Kachka, Ukraine's deputy minister of Economic Development, Trade and Agriculture, writes on Facebook. With two-way trade expected to hit $1 billion this year, Kachka writes: "We have agreed to resume work on the FTA agreement with Vietnam." Kachka and Vietnam's Ambassador to Ukraine also agreed to establish Vietnam House in Kyiv and a Ukraine House in Hanoi.
With Russia and Argentina imposing export restrictions on wheat, the export price of Ukrainian wheat has hit a six year high, reports APK-Inform. Deputy Economy Minister  Kachka writes on Facebook: "Already, the number of requests for cooperation on food security from foreign partners has increased significantly."
Fueling purchases of Ukrainian food, weather irregularities and Covid-19 supply chain disruptions pushed world food prices in December to the highest level in six years, according to the FAO Food Price Index. "Food around the world was 7.5% pricier than the 2014-2016 average," reports the UN's Food and Agriculture Organization.
Ukraine's Kernel, the world's largest producer and exporter of sunflower oil, crushed a record 1 million tons of oil seeds Oct-Dec, boosting oil sales by 23% yoy, to 425,340 tons. During the second half of last year, Kernel increased oilseed processing by 5%, to 1.7 million tons, and oil exports by 11%, to 721,580 tons. India and China are the two largest importers.
The EBRD is considering approving next month an $80 million loan to Kernel for the purchase, storage, processing, transportation and export of agricultural goods. As of last June, Kernel's net debt was $980 million.
Ukraine's overall exports of vegetables oils were up 5% to a record 6.6 million tons in the marketing year that ended last August. Vegetable oils accounted for 5% of Ukraine's sea-borne exports, according to Stark Shipping's Annual Report on the Export of Ukrainian Vegetable Oils.
Climate change poses an increasing challenge to Ukraine's ambitions to become an agricultural superpower, Anna Ackerman writes in an Atlantic Council Ukraine Blog. "The single most striking and alarming factor about the changing weather conditions in Ukraine during 2020 was the scarcity of rain," writes Ackerman, a board member at the Kyiv-based Ecoaction Centre for Environmental Initiatives The Ukrainian agricultural industry relies heavily on rainfall, but rain was irregular throughout the past year and fell 8% below annual norms."
Due droughts and "unusually intense spring frosts," Ukraine lost almost 800,000 hectares of crops this year, Ackerman writes. She warns: "While southern regions of the country slowly adapt to the lack of rainfall and develop sophisticated irrigation systems, droughts are now becoming an increasingly commonplace feature in the agricultural regions of northern and northeastern Ukraine, where such conditions were not previously an issue."
Oleh Bakhmatyuk, owner of Ukrlandfarming, reported last week that he has shut down 37 companies and let go 13,000 employees. He blamed "unprecedented legal pressure" from Artem Sytnyk, director of the National Anti-Corruption Bureau. Three years ago, he blamed his problems at Ukrlandfarming and Avangardco on then-governor of central bank Valeria Gontareva. It is unclear how real are the troubles of the group, Ukraine's largest egg producer. However, ptichki.net website reports that wholesale prices of eggs have jumped 73% over the last two months.
Concorde Capital writes: Bakhmatyuk's "scapegoating approach can only partially explain all the business troubles that Ukrlandfarming and its related Avangardco (AVINPU, AVGR LI) have had since late 2016…Conducting a clean business would help in that cause, as we don't see Sytnyk's campaign as being baseless."
Ukrainian dairy producers charge that imported milk, butter and cheese are driving them out of business. Facing competition, largely from the EU, only 160 dairy producers survive – about one quarter the number of a decade ago, Vadym Chaharovsky, head of the Union of Dairy Enterprises, tells Interfax-Ukraine. According to the State Customs Service, cheese imports almost doubled last year in dollar terms to $210 million, butter imports increased 2.5 times to $41 million, and milk and cream imports more than tripled, to $12 million.
Editor's Note: It is a mystery to me why Ukraine cannot sustain thriving beef cattle and dairy cattle industries. MHP long ago learned how to turn Ukraine's grain into chicken filets. Other countries can do it. Think of the rivers of grain, the tanker trucks of milk and the refrigerated trainloads of beef that roll off Argentina's pampas and America's prairies. Maybe it has something to do with farm land markets, property rights and investment capital. With Best Regards, Jim Brooke