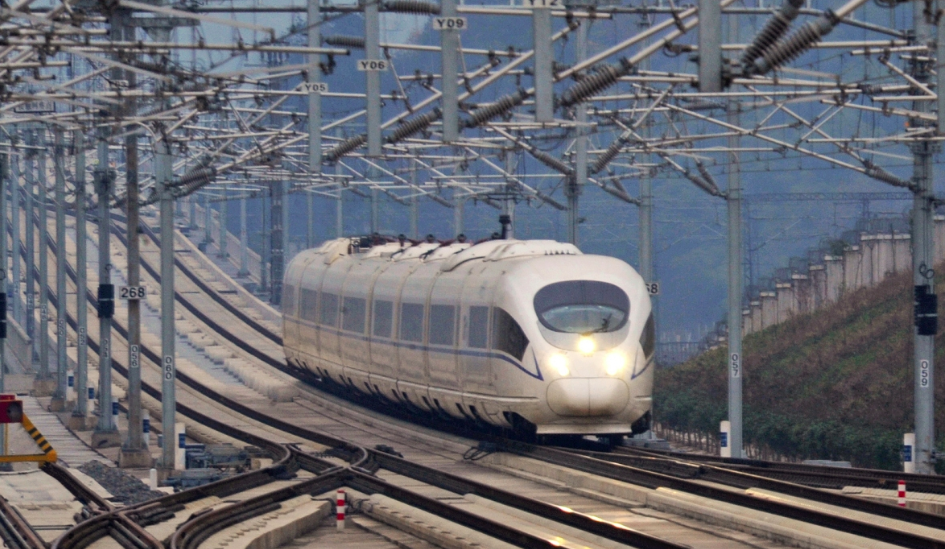 China's CRCC, the railroad construction giant, and Ukrzaliznytsia signed a memorandum of cooperation on Monday. Goals are to modernize Ukraine's rail system and to promote Ukraine as a rail transit country for China's trade with the EU. Ukrzaliznytsia is currently evaluating Chinese electric locomotives for what could be a $1 billion deal. At the signing ceremony, Wang Hongwei, deputy general director of CRCC, said his company will open an office in Kyiv this year.
Ukrzaliznytsia wants to work with CRCC to increase the transit of Chinese container trains to the EU. Last year, Belarusian Railways handled 338,500 containers on trains traveling between China and the EU, about double the 2018 volume. CRCC is a major player in Beijing's Belt and Road Initiative which seeks to diverse trade routes between China and its trading partners.
"We expect that the cooperation between Ukrzaliznytsia and CRCC will significantly improve the state of transport infrastructure," Infrastructure Minister Vladyslav Krikliy, said at the ceremony. "We aim to attract direct structural investments in the creation of a high-speed rail network, not only between 'millionaire' cities in Ukraine but also…bring Ukraine to Europe…It will be possible to go to Warsaw, Budapest, and Bucharest in no more than three hours, and from Kyiv to Odessa, the train will take 1.5 hours instead of the current 7-8."
Two private Czech region railway companies plan to launch trains between Prague and Lviv Region within the next six months. Initially, the trains would go to Mostyska 2, a Ukrainian border station with a European gauge track. If Ukrzaliznytsia fulfills plans to build 70 km of European gauge track to Lviv, the trains would run Prague-Lviv.
In mid-March, Leo Express plans to start trains between Prague and Mostyska 2. On June 14, Regio Jet, the largest Czech private railway operator, wants to start night trains from Prague to Mostyska 2, reports Rynek Kolejowy, the Polish rail news site.
A Swiss-Georgian consortium, Risoil-Kherson, has won the Infrastructure Ministry's tender for a 30-year concession to run Kherson seaport, according to press reports. Considered a small port, Kherson handles a mix of Dnipro River and Black Sea cargo.
Starting with 87 state properties this month, the State Property Fund is to privatize more than 300 state properties this year, almost one a day. Prime Minister Honcharuk writes on Telegram that he has instructed Dmitry Sennichenko, head of the State Property Fund, "to carry out transparent privatization of over 300 objects planned for this year."
The government is transferring 35 plants of Ukrspirt to the State Property Fund for privatization, reports the Ministry of Economic Development, Trade, and Agriculture. Of the 35 plants, eight are producing, seven can restart production within a month, 16 require significant modernization, and four need to be closed.
Ukrposhta, the state postal company, switched to $25 million profit last year, from $30 million loss in 2018, the company reports. Employing 76,000 people, Ukrposhta increased its net income by 21%, to $342 million. Competing for head to head with Nova Poshta, the private delivery service, Ukrposhta acquire 547 new cars, 8,300 new computers and 5,000 point of sale terminals for contactless transactions.
Ukraine has the world's second cheapest internet, according to Worldwide Price Comparison, a study by the British company BDRC Continental and provider Cable.co.uk. The average cost of connecting in Ukraine is $ 6.64 per month, only four cents more than in Syria. Ukraine is part of Eastern Europe's cheap internet pool of countries. After Ukraine, the ranking is: Russia – $7.35 per month; Romania – $8.15 per month; and Belarus – $9.87 per month.
Russia proposed wheat export curbs could help Ukraine, reports Reuters. Last week, Russia, the world's largest wheat exporter, said it was considering to set a non-tariff quota for grain exports of 20 million tons for the first half of 2020. "This kind of restriction is unfortunate," Bangladesh's agriculture minister Abdur Razzak told Reuters in Dhaka. "We are not going to lodge an official complaint, rather we'll shift to Ukraine to meet our demand."
Ukraine's egg production increased by 3.4% y-o-y to 16.7 billion eggs, reports the State Statistics Service of Ukraine. This follows a 4.1% rise in 2018.
Ukraine's milk production decreased by 3.7% y-o-y, to 9.7 million tons, reports the Statistics Service. Dairies were down 1.4%. Households were down 4.6%. This follows a 2.1% fall in 2018.
The numbers of most farm animals decreased by 4.7-5.7% last year, reports the Statistics Service. Cows were down 5.7%, to 3.1 million. Pigs were down, 4.9%, to 5.7 million. Sheep and goats were down 4.7%, to 1.2 million.
By contrast, poultry was up by 3.6%, to 219.4 million on Jan. 1. In 2018, poultry was also up, by 3.3%
Due to Ukraine's ban on overflights of Iraq and Iran, SkyUp Airlines will suspend on Feb. 1. Its flights to Sharjah (UAE) from Zaporizhia, Lviv, and Kharkiv. After the shootdown of the UIA plane in Iran, SkyUp was forced to route planes over Egypt and refuel in Turkey, a change that added three hours to Sharjah-Ukraine flights.
Ukraine is urging Iran to return the black boxes from the UIA passenger jet shot down on Jan. 8 over Tehran with the loss of all 176 people on board. The bodies of the 11 Ukrainians on the plane arrived Sunday in Boryspil. Iran has promised to return to Ukraine the wreckage. But Iranian officials have given conflicting statements on whether they will allow the black boxes to leave Iran.
UIA was the only airline of the top 10 serving Ukraine to cut its flights last year. UIA cut its flights by 5%, to 58,773, according to UkSATSE, the air traffic control agency. All others enjoyed double-digit growth. Discount airlines showed the fastest growth: Ryanair was up 438%, to 9,295 flights; Wizz Air was up 37%, to 20,944; and SkyUp was up 341% to 10,061.
Tomorrow, President Zelenskiy speaks at the World Economic Forum in Davos. Afterward, he will meet with investors at the Ukraine House in Davos town. On Thursday, he will be in Jerusalem, participating in the 75th anniversary of the liberation of Auschwitz.
From the Editor: Ukraine House Davos opened Monday night with a focus on women. After remarks by the all-female board, there was a debate on the topic of Women Leaders: Global Impact. Alexa Chopivsky, executive director of Ukraine House, moderated. Participants were: Sharon Easky, Chairwoman, Supervisory Board, PrivatBank; Shannon Kalayanamitr, Venture Partner, Gobi Partners; and Oksana Lyniv, Chief Conductor, Graz Opera, and Graz Philharmonic Orchestra. With best regards Jim Brooke jbrooke@ubn.news