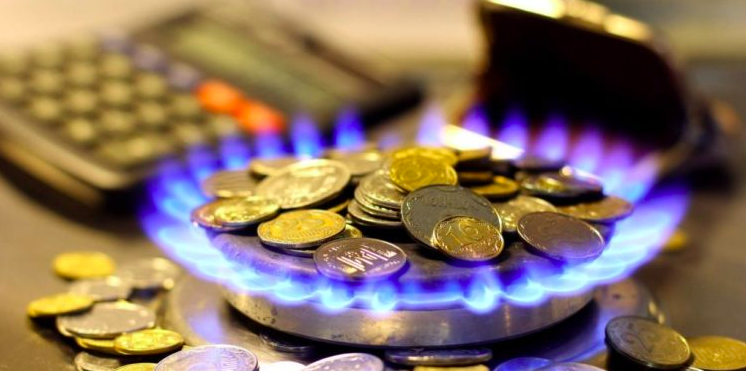 Tuesday, January 19
Price Controls Slapped on Gas…2020 Vision: Farm Production Fell by 11.5%...UZ Moves Half of the Nation's Cargo…Chinese Demand Pushes up Steel Prices, Production…Gangsters Try to Sabotage Sale of State Titanium Co…Flood of Square Meters Could Depress Office Rents in Kyiv…Failure to Procreate: Two Ukrainians Die for Each Baby Born
With gas prices spiking during frigid weather in Europe, Ukraine is cutting household gas prices by 30% and capping them until the end of March, according to a decision posted yesterday on the Cabinet of Minister portal. The decision came after scattered protests across the nation.
This reintroduction of price controls is expected to rule out Ukraine receiving an IMF aid tranche during the first quarter. Timothy Ash writes: "Hard to see the IMF lending while this cap remains in place."
Corporate farms suffered a 14% yoy drop in crop harvests in 2020, the State Statistics Service reported yesterday. While this export-oriented sector was hardest hit, Ukraine's overall agricultural production fell by 11.5% last year. This includes: crops, animals, family farms and company farms. Northern regions had the smallest declines: Rivne minus 3%; Sumy minus 4%; and Chernihiv minus 5%. Due to drought, the biggest drops were in south and central Ukraine: Cherkasy minus 24%; Kirovograd minus 32%; and Odesa minus 38%.
Ukrzaliznytsia trains carried 61% of the Ukraine's grain for export last year, the railroad reports. Overall, UZ moved 35.2 million tons of train last year – 87% for export. Grain accounted for 11.5% of the railroad's cargo tonnage last year.
Ukrzaliznytsia, the workhorse of Ukrainian logistics, carried 40 million tons of cargo between Ukraine and the EU last year, the state railroad reports. One quarter of that traffic was with Poland. Exports to the EU accounted for 28 million tons, imports 4 million tons, and transit 7.5 million tons. Other than to say that cargo between Romania and Ukraine increased by 21%, to 4 million tons, the railroad did not give comparative figures for 2019. The other three big destinations last year were: Slovakia, Czech Republic, and Italy.
Rail container traffic grew by 11%, to 425,000 TEUs in 2020, Ukrzaliznytsia reports. The portion of traffic carried in dedicated container trains jumped by 41%, to 230,000 TEUs. Direct container trains from China to Kyiv started June 8 and rose to the frequency of almost once a week. Next month, Chinese railway operator East Line starts sending container trains to Kyiv from two logistics centers in eastern China: Nanchang, and,1,000 km to the north, Jinan.
Chinese trains passing across Ukraine to the EU "significantly increased," UZ said. Seeking to develop Ukraine as a transportation corridor, UZ is developing new EU routes with DHL Global Forwarding and with Ukrainian companies for a multimodal ferry-train route – Turkey-Ukraine-Poland.
Fueled partly by Chinese demand, Metinvest, Ukraine's largest private company, rode strong steel prices to report steel output growth by 9% yoy last year, to 8.3 million tons. Its Inhulets mining and processing plant in Kryvy Rih, reported a 8% yoy growth in production of iron ore concentrate, to almost 12 million tons. Mariupol Illich Iron and Steel Works, in Donetsk region, increased production of rolled steel products, by 12.4% yoy, to 3.7 million tons.
Looking ahead, Concorde Capital's Dmytro Khoroshun writes: "We expect Metinvest to continue producing steel at daily rates of at least 23-24 kt in January-February in order to make the most of the recently skyrocketed prices."
Ukraine' pig iron exports increased by 20% yoy last year to 3.1 million metric tons, reported Steelorbis news site. In value terms, exports rose 15% to $992 million. The biggest buyers were: US – 58.5%; China -22%; and Turkey – 6%.
Interpipe Steel said that it is the Ukraine's first steel company to meet European Green Deal targets for 2050: its emissions do not exceed 250 kg of CO2 per ton of steel produced. This producer of steel pipes and railroad wheels in Dnipropetrovsk was built from scratch nine years ago involving $1 billion investments. Founded and owned by Viktor Pinchuk, the company made these announcements on the occasion of the arrival of the company's new CEO, Artem Polyakov.
"Law enforcement agencies, former shadow owners and oligarchic groups" and attempting "to stop and roll back the privatization" of United Mining and Chemical Company, Ukraine's state-owned titanium producer, the State Property Fund charged yesterday. If such attacks are not repelled, Ukraine could lose $430 million in budget revenues through aborted privatizations, says Dmytro Sennychenko, director of the Fund. Due to such resistance to privatization, Ukraine has about 3,000 state companies almost 30 years after the fall of communism. In the case of the mining company, 16 investors – national and foreign – have registered for a privatization auction, tentatively set for this spring.
Kyiv's office vacancy rate grew to 12.5% in 2020, up from 9% in 2019, reports NAI Ukraine, the commercial real estate consultancy. At the same time, rents dropped by an average of 20%: to $20-30 per square meter in class A offices and to $12-23 per square meter in class B offices. In addition to the recession, the market took two hits: the addition of 80,000 new square meters and a massive shift to remote working. Largely fueled by IT companies, the volume of gross absorption – or total amount of office space leased in Kyiv — amounted to 85,000 square meters.
This year could be good for renters and tough for landlords. Plans call for developers to unleash 370,000 square meters of new space on the market – almost five times the 2020 amount. At the same time, coronavirus remains a factor. "In 2021, the remote work is likely to continue to prevail: this is fully true for the first half of the year, and from the second half of the year there is a high probability of a gradual return to work in offices," writes NAI Ukraine. "This is a question of the speed and efficiency of vaccinations and quarantine measures. Nevertheless, experience of effective work online will bring changes to the organization of office spaces forever."
The enhanced coronavirus quarantine – or lockdown – will not be extended after Sunday night, Prime Minister Shmygal told Interfax-Ukraine yesterday. On Monday, Ukraine returns to the milder 'adaptive' quarantine, a set of rules that will be in place until the end of March, he predicted. Noting high levels infection in the EU, he said: "So there is no reason to lift [Ukraine's] quarantine. There is no need to prematurely indulge ourselves in illusions. I am sure that the quarantine will last a very long time this year."
The government is negotiating with six vaccine manufacturers with the goal of starting vaccinations one month from now, Shmygal said. Separately, UIA has said it has prepared two Boeings to transport vaccines as cargo. Yesterday morning, 3,034 new coronavirus cases were registered, the lowest level since September. Since March, 20,869 Ukrainians have died of the virus.
In November, the pandemic's peak in Ukraine, the number of people who died in Ukraine was up 35% yoy, to 63,440. In October, the deaths were up 17.5% reports the Civil Service. During the first 11 months of 2020, two Ukrainians died for every baby born. Deaths totaled 549,170, Births totaled 268,900.
Editor's Note – One more weekend of lockdown. Restaurants closed. Shopping centers closed. Movie theaters closed. Watched all the good movies on Netflix. What's a young couple to do? (Fingers tap on coffee table). Why not, um, do your civic duty and procreate? With Best Regards, Jim Brooke (father of four)